Following our recent article on H&R Block (NYSE:HRB) we have turned our attention to what we consider to be its number one competitor: Intuit (NASDAQ:INTU). If you have read our thoughts on H&R Block you'd know how bullish we are on the company. So far this year we've had a great return from its shares, but continue to hold for long-term gains and expect this tax season to be a profitable one.
We like the tax industry because of its consistency and a certain level of sustainability it provides. After all, nothing can be said to be certain, but death and taxes according to Benjamin Franklin.
Among other software, Intuit is the provider of the popular TurboTax software, which allows consumers to prepare and file their income taxes online. It's a great bit of software and quite comparable to H&R Block's own software offering. The real difference lies in the fact that Intuit is a software-only company, whereas H&R Block provides both online and in-person solutions. As of the last financial year, tax made up 50% of Intuit's revenue, with 43% coming in from Consumer Tax and Professional Tax contributing 7% of revenue.
The fact that H&R Block provides both is partly the reason why we have a preference for it, but it's not the full reason. Intuit's software is great, but for us the valuation just isn't. Priced at approximately 66 times trailing earnings, or 36 times forward earnings makes the shares just a little too rich for our blood. Especially at a time when we feel H&R Block could be stealing market share away from Intuit following the TurboTax incident last year, which saw a forced halt to tax filing through it on the back of fraudulent use.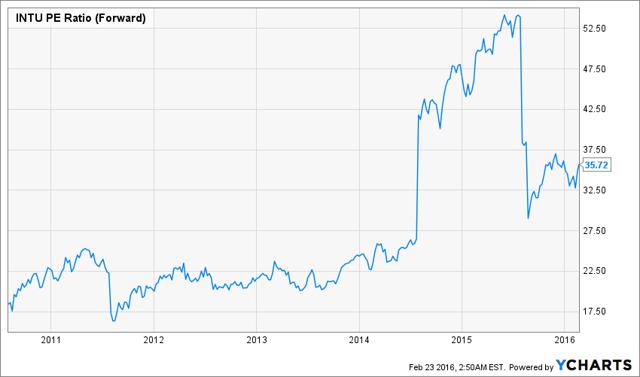 Yes, we realize software companies often trade at high multiples. One needs only to look at salesforce.com (NYSE:CRM) (trading at 195 times trailing earnings). But Intuit has never traded at this level previously. As shown on the chart above you can see the general forward price-to-earnings ratio it trades at is around 25. If we were to look at 25 times the forward consensus earnings estimate of $3.48 per share, it would give us a fair price of $87.00. A full 11.5% lower than where it is last closed at $98.25. Management did offer guidance in the first quarter for full year earnings per share in the region of $3.45 to $3.50, but with three quarters to come, there is a lot of time between now and then for things to change. We actually anticipate earnings coming in below guidance at around $3.38 per share. Based on 25 times forward earnings, this would give us a fair price now of $84.50. Looking at the last ten years, we see a fair price-to-earnings ratio as 28 times earnings, which gives us a one-year target price of $94.64.
If the company could produce earnings growth that supported paying such a premium for the shares, then we might be able to justify it, but we just don't quite see where they are going to pull this growth from.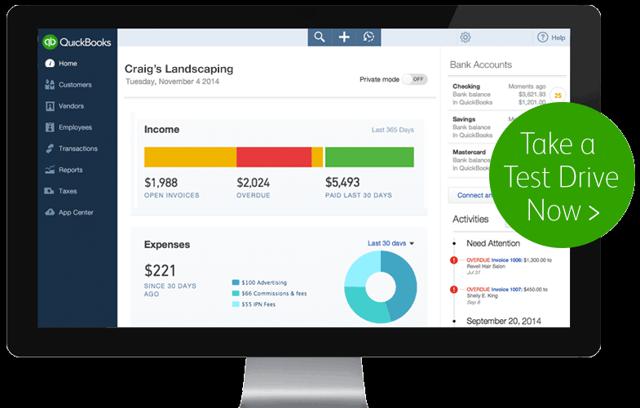 Intuit is, of course, more than just tax. It has the very popular QuickBooks accounting software, which falls into the Small Business segment and makes up the remaining 50% of revenue. The evolution of QuickBooks into cloud-based accounting software is a great move, as was its link-up with salesforce.com, but we need to see hard evidence that the growth we have seen is sustainable before making an investment. Impressively, QuickBooks Online users grew by 57% in the last quarter, but the whole Small Business segment only grew revenue by 5%. So it is going to need to sustain this high level of user growth to be able to grow the top line as significantly as the market is expecting in our view. It is worth noting also that the launch of Block Advisors from H&R Block could have the potential to steal away some of its QuickBooks customers, which could stifle growth.
Intuit announces its earnings on Thursday. We would never recommend trading around earnings because of the high levels of volatility they can bring. So we would hold off shorting the stock until the earnings release has been fully digested. But we cannot help but feel the market has incredibly high expectations for these shares, which won't unfortunately be delivered on.
As mentioned earlier, we do have a current fair price of $84.50 on Intuit and a one-year target price of $94.64, but stress that we will not be taking on a short position until after the earnings release on Thursday. If the company reports outstanding earnings we may have to reevaluate our view accordingly, but we have a strong belief that the shares are going to lose value this year. In our opinion, the catalysts will be a loss of market share to H&R Block, slowing QuickBooks growth and an apparent overvaluation.
We expect the shares to drop below $90 this year, which would then make them an interesting long option. Thursday's earnings release could potentially make this a reality.
Disclosure: I/we have no positions in any stocks mentioned, but may initiate a short position in INTU over the next 72 hours.
I wrote this article myself, and it expresses my own opinions. I am not receiving compensation for it (other than from Seeking Alpha). I have no business relationship with any company whose stock is mentioned in this article.