Introduction
Sometimes I don't invest but speculate, and that's exactly what I did when I purchased my first block of American Axle (NYSE:AXL) at just below $1 during the global financial crisis. I remember that just a few weeks later the share price dipped below the 30 cent level as the whole world seemed to be FUBAR. I had already mentally written off the investment, but American Axle survived the horrible years of 2008 and 2009 and its share price hundred-folded since setting the low in 2009. I sold my position at around $5 later in 2009 (and yes, I still regret that), but after seeing the share price fall by 50% in the past 12 months, I was wondering if I'm getting a second chance to invest in American Axle at a decent price level.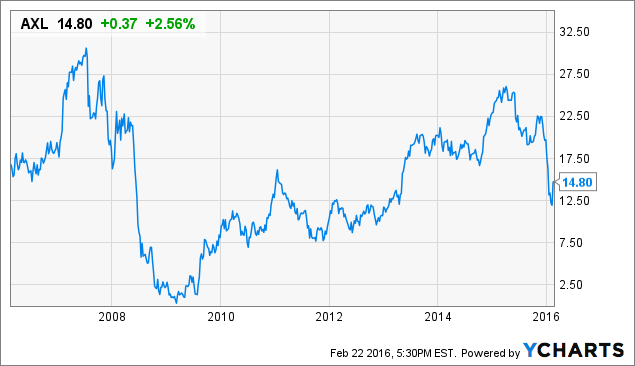 AXL data by YCharts
2015 was another year of deleveraging
American Axle hasn't paid a dividend since the end of 2008, and there's a very good reason for this as the global financial crisis had a devastating impact on AXL's balance sheet. The net debt was high and the company was spending quite a bit of cash on servicing this debt, so paying a dividend was extremely low on the company's priority list.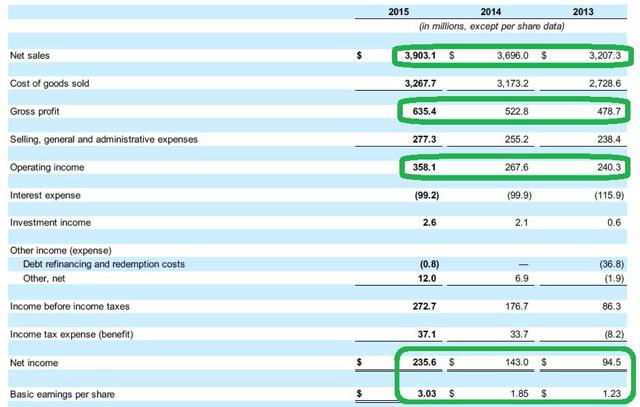 Source: SEC filings
7 years have now passed and American Axle has been focusing on improving its financial performance, and 2015 was once again a pretty good year. The revenue increased from $3.7B to $3.9B, and the company is expecting to see another 2.5% revenue growth in 2016.
The financial results in 2015 were pretty strong, and more importantly, very consistent. The full-year gross profit increased by more than 20% whilst the operating income increased by almost 34% to $358M. That's an excellent performance and it allowed American Axle to see its operating margin increase from 7.24% in FY 2014 to 9.18% in 2015, reconfirming 2015 was a very strong year. This ultimately lead to a 65% increase in the company's net profit to $236M, or $3.02 per share.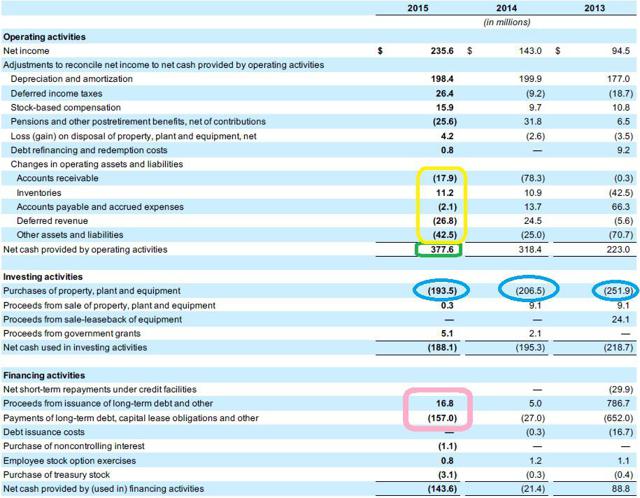 Source: SEC filings
The company's cash flows were also very strong. The full-year operating cash flow was approximately $378M, but this included a negative impact of $76M due to changes in Axle's working capital position. If you would exclude these working capital changes (which were less outspoken in the previous financial years), the adjusted operating cash flow was $457M, resulting in an adjusted free cash flow of $263M which would have been a great result. And even on a non-adjusted basis, the free cash flow of $184M (excluding government grants) is still very respectable.
However, the company does expect its non-adjusted cash flow to decrease from $184M to $120-140M. This sounds very disappointing (especially knowing the official guidance calls for a 2.5% revenue increase), but the lower free cash flow is entirely caused by an expected $60M capex increase. And let's face it, a free cash flow midpoint of $130M is still pretty good for a company with a market capitalization of $1.1B.
The ties with General Motors will be reduced as American Axle wants to penetrate new markets
One of American Axle's main risks was the fact General Motors (NYSE:GM) accounts for a large part of its business, and for an industrial company, it's never good to rely too much on one specific counterparty. American Axle realizes this and has now specifically declared it's looking for new opportunities and expects the level of GM-related work to drop to just 50% of the total revenue.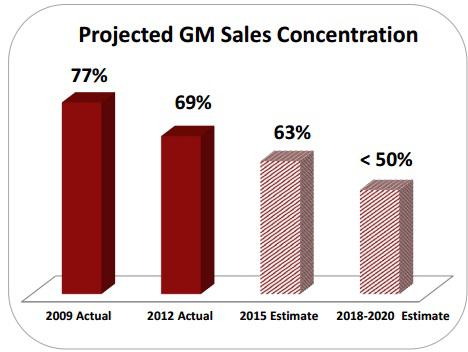 Source: company presentation
That's a good move as it will reduce the reliance on getting orders from just one car manufacturer. From the conference call (the emphasis is mine):
The good news is that we're seeing an increase in customer quoting activity and are presently working on approximately $1.5 billion of new and incremental business opportunities, of which approximately $500 million of these opportunities will fall solely in the 2018 time frame.

These potential awards run across our entire product portfolio such as front and rear axles, drive shafts, metal form products, and of course our latest and newest technology, EcoTrac and e-AAM.

These opportunities are geographically diverse and mostly non-GM as well. We are confident by 2020, AAM's non-GM business will be at or over 50% of total sales, and these are just our organic opportunities.
Of course, no details have been leaked just yet, but it shows American Axle is definitely working on this issue.

Source: company presentation
I think we're looking at a future dividend play here
American Axle has done an amazing job to clean its balance sheet, and the debt levels are now reasonable again. The net debt at the end of last year was approximately $1.1B, but as the EBITDA reached almost $600M, the net debt/EBITDA level fell below 2 which is a substantial increase compared to the ratio of 3.3 just two years ago. The improvement was caused by a continuously decreasing net debt and an increasing EBITDA.
Let's now assume American Axle generates $130M in free cash flow in 2016 and $150M in 2017, reducing the net debt to $825M for a net debt/EBITDA level of 1.3-1.5. At that ratio, the leverage levels are very acceptable and American Axle could quietly start to think about rewarding its shareholders from FY 2018 on. Let's assume American Axle will generate $150M in free cash flow in 2018 (and I actually think it will be higher than that, as every $100M of debt the company is repaying will save it $5M per year in interest expenses, but let's ignore these benefits for the time being) and wants to spend its cash in a 1/3-1/3-1/3 ratio on dividends, share buybacks and debt reduction.
Spending $50M on dividends would result in an annual dividend of approximately $0.65 for a dividend yield of 4.5%. On top of that, if the share price would still be trading around the $15 mark, the $50M earmarked for share repurchases could reduce the share count by 4% per year (allowing the dividend to be hiked at the same rate without having to spend a single additional dollar on the dividend payments).
Of course, depending on where the share price is trading at, AXL could decide to increase or reduce the buyback pace, but I think a combination of these three ways to spend the cash would be the best mix to create quite a bit of shareholder value in a very short period.
Investment thesis
American Axle's healing process is going nicely, but I think the company should take its time to continue to reduce its net debt for the next two years as a lower net debt will a) reduce the interest expenses and b) could allow the company to refinance existing debt at a lower interest rate.
Even if American Axle would spend just 1/3rd of its anticipated free cash flow in 2018 on dividend payments, you could be looking at an initial dividend yield of 4.5%. As American Axle has indicated, it's serious about diversifying away from being predominantly a supplier for General Motors. I think the company could be a very interesting speculative buy in the anticipation of a dividend before the end of this decade.
Disclosure: I/we have no positions in any stocks mentioned, but may initiate a long position in AXL over the next 72 hours.
I wrote this article myself, and it expresses my own opinions. I am not receiving compensation for it (other than from Seeking Alpha). I have no business relationship with any company whose stock is mentioned in this article.