Freeport-McMoRan (NYSE:FCX) made a move that some might consider a tough decision. They sold a significant stake, 13%, in their Morenci joint venture. It was the best news to come out of FCX in a few months and gave solid justification for a substantial rally. Shares of Freeport-McMoRan have seen exceptionally low prices over the last couple of months as the company's survival was at stake. When I was looking at the situation just prior to the sale, I looked at the substantial difference in the bonds and equity. The major problem I saw was that management was incentivized to focus on bond holders more than shareholders. The one major option available to management that would satisfy both groups was the sale of assets. After the continued decline in commodity prices (most notably oil) the company needed to raise cash. Compared to issuing equity, asset sales were substantially more favorable for shareholders.
Analyzing the Sale
I'll only spend part of this article on the mine sale because I believe fellow SA author Lior Cohen already delivered some solid analysis. Check out his net present value calculations on the stake in the mine. The one thing that surprised me in his analysis was a discount rate of only 5% for earnings from the stake. I believe the applicable discount rate for Freeport-McMoRan is no less than 10% and quite arguably it may be materially higher than that. Keep in mind that the bonds of FCX, safer than the equity, had yields ranging from 10% to a little over 20% shortly prior to the announcement. In the WACC (weighted average cost of capital), debt is usually assumed to be materially cheaper than equity due to the lower risk. Interest payments provide a tax shield, but the enormous yield on debt still indicated a very high cost of capital. In my opinion, the asset sale was exceptional. By proving that they could sell a share of their assets at a very respectable price, FCX significantly reduced the expectations for bankruptcy.
Of course, Freeport-McMoRan also had the option to try to avert bankruptcy by issuing enormous amounts of common equity. I think all shareholders could agree that it would have been a terrible option.
Did Freeport-McMoRan get a decent price on their asset? I think so.
When I see the WACC at FCX as being no less than 10%, then I know the sale was a great deal in my book. To be thorough, I ran my own estimations. In 2015 the annual operating profit on the 85% of the mine owned by FCX was $700 million. Given how much prices have deteriorated, I believe assuming those numbers would repeat is fairly generous. Even if they did repeat each year, my calculations suggest that the fair value of the 13% stake to FCX would be in the range of $760 million at a 10% WACC to $625 million at a 14% WACC. At a sale price of $1 billion for the 13% stake, I find this deal very attractive.
The other appealing factor here is that I believe the reduced risk of bankruptcy results in a lower risk profile and thus a lower WACC. If investors want proof of the lower WACC, they need only look up FCX's bonds that mature in 03/01/2017.
The bonds touched their lowest levels during January at around $82 per $100 of face value. They were trading around $87 to $88 before the deal was announced. The day after the announcement the prices had moved up to almost $94. As of my writing, they were last trading between $93 and $94.
Takeover Rumors
Bloomberg posted an article discussing the appeal of a hypothetical deal for BHP Billiton (NYSE:BHP) to buy Freeport-McMoRan. Again, I would have to agree that this would make a great deal of sense. I've previously argued that the mining industry is in need of consolidation and that the strong volume of production from BHP and Rio Tinto (NYSE:RIO) is only logical if the companies are attempting to push weaker peers towards bankruptcy with an eye on consolidating their assets. It is Freeport-McMoRan's weak balance sheet that forces them to continue high levels of production despite falling prices. The weakness of FCX's balance sheet is a reminder of management's decision to pursue oil assets near the top of the oil prices.
The appeal for FCX comes from multiple angles. The first major benefit for FCX from a merger is a substantially stronger balance sheet that would reduce the risk for shareholders and therefore reduce the required return. The second benefit is that consolidation would allow them to be more careful in production since the revenues from sales would not be necessary to immediately deal with debt payments. The third benefit is the potential to receive BHP's management team. I think shareholders of FCX would appreciate a transition that could help put the company's troubled past behind them.
Commodity Movements Compared to Share Price Movements
The following chart uses the iPath DJ-UBS Copper Total Return Sub-Index ETN (NYSEARCA:JJC) and the United States Brent Oil Fund, LP (NYSEARCA:BNO) to estimate the movements in commodity prices through futures contracts. To get a feel for valuation on FCX, I want to want see how they are moving relative to the commodity values.
The following chart covers the last 3 months: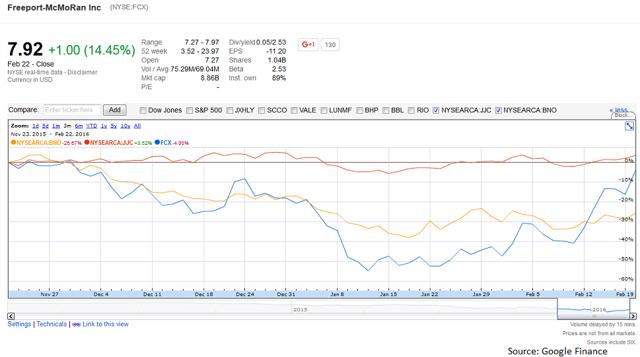 Copper is slightly up, FCX is slightly down, and the oil contracts are down about 30%. I don't have to run the more complex models to know what this chart is telling me. Freeport-McMoRan is flying much higher as investors rejoice over an excellent asset sale that materially reduces their risk. However, the wave of optimism also provided the exit point I was looking for. Therefore, I took the opportunity to sell my shares in FCX.
Conclusion
The news for shareholders of FCX is great. The company engineered an excellent transaction that served both bond holders and common shareholders. Rumors about the potential for a deal may also be pushing share prices higher and if I was confident that the deal would happen, I would be much more inclined to stay. Instead, I took the opportunity to adjust my portfolio and work on moving it towards the risk profile that suits me best.
Disclosure: I/we have no positions in any stocks mentioned, and no plans to initiate any positions within the next 72 hours.
I wrote this article myself, and it expresses my own opinions. I am not receiving compensation for it (other than from Seeking Alpha). I have no business relationship with any company whose stock is mentioned in this article.
Additional disclosure: Information in this article represents the opinion of the analyst. All statements are represented as opinions, rather than facts, and should not be construed as advice to buy or sell a security. Ratings of "outperform" and "underperform" reflect the analyst's estimation of a divergence between the market value for a security and the price that would be appropriate given the potential for risks and returns relative to other securities. The analyst does not know your particular objectives for returns or constraints upon investing. All investors are encouraged to do their own research before making any investment decision. Information is regularly obtained from Yahoo Finance, Google Finance, and SEC Database. If Yahoo, Google, or the SEC database contained faulty or old information it could be incorporated into my analysis.