JERRY: I still don't know what the idea is.

GEORGE: It's about nothing.

JERRY: Right.

GEORGE: Everybody's doing something, we'll do nothing.

JERRY: So, we go into NBC, we tell them we've got an idea for a show about nothing.

GEORGE: Exactly.

JERRY: They say, "What's your show about?" I say, "Nothing."

GEORGE: There you go.

(A moment passes)

JERRY: (Nodding) I think you may have something there. - The Jerry Seinfeld Show: "The Pitch" by Larry David
So here we are, post a highly informative Winter Analysts Meeting, and Micron's (NASDAQ:MU) stock has actually rebounded somewhat based largely on analysts' hopes for MU's 3D NAND product. Some are also crediting the DRAM story with some upside based on two factors; the first factor being a maturing 20nm shrink, bringing a surge of less costly DDR4 bits to the market in FY Q3 onward, and the second being Micron's purchase of Inotera. There is plenty of reason to think that neither is likely to result in a profitable enterprise soon, though the additional $600m a year in positive cash flow from Inotera will certainly help offset the enormous $5B CapEx spend projected for this FY.
If 90% of success is just showing up, timing is the other 10%, and Micron's timing could hardly be worse. Unfortunately, the surge of additional DRAM bits will simply add capacity to a market already struggling to find profitable homes for its supply. It's certainly a good thing that Micron's DRAM cost basis will drop 15-25% per year over the next two years, but all that will do is keep its DRAM business from showing negative gross margins in FY 2016. My prediction: 10% gross margins on perhaps 5% greater bit shipments this year translate into a DRAM business returning maybe 5% operating margins.
No, for this year and probably next, the game is 3D NAND. If there is a game, that is. And it is to that story that we now turn.
From a competitive perspective, the Intel (NASDAQ:INTC)/Micron partnership's (IM) 3D design looks to be coming up aces, with density and cost advantages that appear to be significant compared to Samsung's (OTC:SSNLF) V-NAND design. Here are the numbers that Micron is hanging its hat on from the recently concluded Winter Analysts Meeting: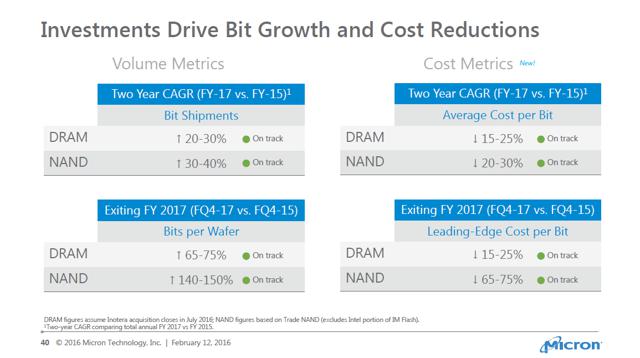 So, a 20-30% CAGR cost reduction cadence leading to 65-75% lower costs by the end of FY 2017 certainly looks promising for competitive advantage, especially since Samsung has yet to make a claim that its 48L 256Gb TLC die has achieved cost parity with 16nm planar. The jury is still out on the SanDisk (SNDK) BiCS design, but with commercial output of that 3D NAND product scheduled for late 2017, it's hard to see how it will be a serious contender until well into 2018, if then.
Be that as it may, Micron is hardly in a position to take significant advantage of any presumptive cost advantage in 2016. This is because it simply doesn't have the bits until much later in the year. Here's how MU positioned its bit share position in the Winter Analyst Meeting: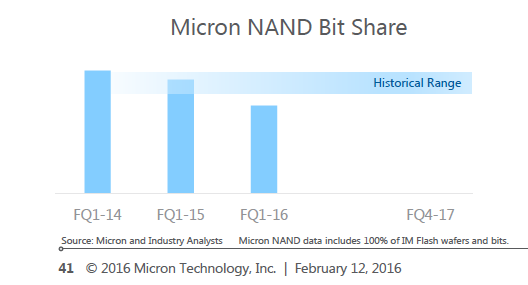 Here's another chart that shows why it projects it will catch up to the historic bit share by the end of FY 2017:

So bits really skyrocket as Micron exits FY 2016 (ending August 2016) and then the curve shifts sharply upward, providing ample evidence that MU's past statements touting 50% + CAGR growth capability from its 3D NAND approach are coming true. This factor, when combined with a solid cost advantage, would seem to offer Micron two things that have very hard to come by - NAND revenue increases and solid profitability gains. So can we, investors, take this to the bank? Not necessarily.
To understand why, we need to step back and take a hard look at its IM partner, Intel. On the surface, Intel and Micron seem to have a perfect commonality of interests - both have NAND-based businesses that they want to grow, both will share in the Singapore output of this exciting new product, and both share a common interest in touting the capabilities of their new uber chip. Well, yeah, but so what?
The fact is, once we get past the raw product dimension, the two companies have nothing in common. One could say that they are marketing competitors, but that would do a disservice to Intel, which really has no Micron competition in the data center for its high-performance, high-profit SSDs. To illustrate this point more broadly, let's consider the business unit's results.
The contrast with Micron could not be more starker. Intel just reported Q4 results that topped off a year in which it grew its "memory" business 21% to $2.5B. In contrast, MU's Storage Business Unit declined 6% year on year to $4.3B as a result of shipping more bits than the year before, but getting more than commensurate price declines. Though Micron does not report the profitability of its NAND business, the best guess is that it is only marginally profitable, if not actually losing money. Its Storage Business Unit (SBU), which includes the bulk of its NAND sales, reported a loss of 5.4%. Mobile NAND is doing better but not enough to lift overall results that much, and even that business is under pressure now because of tepid demand. In comparison, and Intel does not report profitability of its SSD business either, the likelihood is that it is harvesting excellent margins from its high-valued-added strategy of packaging NAND into top-of-the line data center SSDs.
Metaphorically, we see a real "Upstairs Downstairs" contrast between the two IM partners. Intel, one of the pioneers of the NAND business, has a laser-like focus on the data center/enterprise SSD market where it holds #1 share (slide 56) because of its controller and packaging technology. As a result, INTC has consistently produced the fastest and most reliable products in the space. Micron, a relative latecomer to the NAND business, has struggled to deliver much more than NAND boards and wafers to the channel in the 10+ years it has been in the business. The consequence of this low value-add strategy? Low prices and even lower margins.
Unlike Intel, Micron has up until recently thoroughly fumbled controller technology, failing to see the need for a robust TLC (triple level cell) controller until it was too late to capture any share of the low-end PC client market. How bad has the fail in TLC been? Maybe no better indicator is that even now; with over 50% of industry bits being TLC, Micron is at a 10% ratio and has no plans to increase that share until the advent of its upcoming 32L TLC 384Gb product later this year. Add it all up and Micron has been largely a failure in its efforts to add value to its NAND product, failing at both the low-end TLC SSD product for the PC client space and the high-end MLC SSD product for the data center and enterprise market. The one area where it has been successful in adding some value is the mobile NAND arena where its eMCP packages of NAND with DRAM and a controller have sold well. Commenting on its enterprise strategy, one observer pretty much summed it up:
"In the past few quarters - from my perspective and past conversations with Micron re enterprise SSD - I rated Micron as having a very weak direct understanding of the enterprise SSD systems market and no real strong products apart from standard offerings which are easily substitutable. (…) For years they didn't understand the enterprise and they still don't have the IP or brands needed. (…) Taken together Micron's enterprise storage strategy has not met the basic needs of Micron as a memory company. It doesn't have any strong SSD architectures and systems roadmaps of its own." - Zsolt Kerekes of StorageSearch.Com - May 2015
Sounds about right. Ultimately, and up until very recently, Micron's NAND story is one that lacks focus. This is not surprising. If there is one thing we investors have learned, it's that, for better or worse, in good times and bad, Micron is a DRAM dog wagging a NAND Flash tail. And however mangy and flea-ridden that dog might get at times, it was best viewed head on. You did not want to look too closely at that drooping appendage in back. The NAND business has been that bad. Lately, however, things are beginning to change, and I will address those changes below. For now though, the end result for Micron is a barely profitable business (at best!) with approximately a 15% share of the NAND market, trailing Samsung, Toshiba (OTCPK:TOSYY), and SanDisk, and barely exceeding SK Hynix (OTC:HXSCF). Intel, with its laser focus on the small but rapidly growing enterprise market, has a 7% share and is in the number 6 position.
With the hiring of Darren Thomas and the announcement of 3D NAND in March of 2014, the picture for Micron has begun to change. The appointment of Thomas brings with it an experienced executive knowledgeable about the enterprise storage market. Perhaps one concrete evidence of the much needed business focus that Thomas is bringing to the party is the recent purchase of Tidal Systems and its NVMe controller expertise (We'll talk more about the importance of this move below, but for now it's important to know that a strong NVMe controller implementation is absolutely critical to any chance Micron may have in being successful in the SSD market ongoing).
Add all this up and what we are left with is following question: can Micron change from being a low-margin commodity supplier of raw technology to a high-margin purveyor of high-function, market-focused end products and systems?
How could the answer to that question be anything other than a skeptical: if ever, not soon. As to the "ever," I'll give Thomas the benefit of the doubt - he can turn the ship around. But it won't be soon: not in 2016, for sure, and probably the soonest we could expect something credible would be late FY 2017 before any successful strategy could gain traction and products could be qualified.
So is there any hope for Micron to show anything more than marginal revenue and profit growth from NAND this FY? For the sake of argument, let's assume that a) IM's 3D NAND is materially lower cost than Samsung's product, and b) that by Q4, it will have cost cross-over and be able to begin harvesting better margins on shipments of its 3D TLC product to its major OEMs like Seagate (NASDAQ:STX) and IBM (NYSE:IBM). We can certainly be confident that all the OEMs have 3D product and are building it into SSDs. Once built, though, these SSDs have to go through rigorous and lengthy testing and qualification cycles with end users. Is there enough time in FY 2016 for this to happen with just six more months left on the fiscal calendar? Even if we assume that all of the above will happen, can we also assume that Micron will be able to achieve premium pricing for its commodity die shipments?
Face it - the odds are low. Sure, Micron has its own SSD line, and, given that its raw technology cost advantage holds true, one would think that it would get some improved SSD volumes in the client PC and end-user direct markets. If it does, the best we're looking at would be maybe 10 points of revenue growth and 5 points of margin gain on the year for NAND. Hey, maybe SBU could actually make money in 2016! Yeah, it's that bad.
Let's wrap this up with a brief discussion of a topic posed above - NVMe controllers. For a really good discussion of the marketing and technical rationale for this technology, I'd point you to the following link to Samsung's SSD Global Summit held late last year in which Ryan Smith gives a compelling talk explaining why the company has committed so wholeheartedly to NVMe controllers for its V-NAND SSDs. After you've listened to Smith, you may want to review Micron's recent Analyst Day slides to see if you can find any mention of NVMe.
I'll save you the time; there was no mention of it - not in the body of the presentation - not in the Q&A. None. Does this mean that Micron is ignoring NVMe? No, as mentioned above, the Tidal Systems acquisition certainly provides evidence that it is at work on it. What it does mean though is that it is already late. Its prospective competitors, Samsung and Intel, already have robust NVMe controllers; already have qualified product in the field; and already have a refined marketing message positioning their high-value, high-margin SSD systems incorporating NVMe. Imagine Micron as the anti-Gretzky and you'll have it about right.
So let's wrap this up. We started out to determine if 3D NAND could be a technology that could grow Micron's overall business and provide some much needed profit to help offset its DRAM business softness this fiscal year. The answer, clearly, is no. Do I think SBU will actually lose money this year? No, my estimate is that SBU will break even, maybe even show a slight profit. For Micron's business as a whole, this is not good news. It'll lose more money in Q2 than the 5-12 cents loss projected, and will continue to lose money in Q3. My estimate is a -$.25/share loss in Q2 followed up by -$.10/share in Q3. Q4 will be better (unless the externals all freak out), but probably not enough to get MU north of $1/share EPS on the year. For reasons related to 3D XP potential, I think a range of $10-12 per share makes sense by year end, but the dips in between could be really ugly, especially after its Q2 report.
How about next year - 2017 (and beyond)? To that topic, I will turn in my next article. For now, though, I've got this really great show for you. It's about Micron and the NAND business. No violence, no sex, not a lot of action - seriously. If you're thinking that as far as we investors are concerned, this show could be something about nothing, hold that thought.
You could be on to something there.
Disclosure: I/we have no positions in any stocks mentioned, and no plans to initiate any positions within the next 72 hours.
I wrote this article myself, and it expresses my own opinions. I am not receiving compensation for it (other than from Seeking Alpha). I have no business relationship with any company whose stock is mentioned in this article.