Spreadtrum Communications (NASDAQ:SPRD) reports 4Q11 results on February 29 before the market opens. The Street expects the company to earn $0.71 per share on $191 million in revenue.
In Q3, Spreadtrum reported:
Revenue: $185 million, + 92% y/y and 15% q/q (10th straight 10%+ q/q revenue increase)
Gross margin: 41.8% compared to 44.1% in 3Q10
Non-GAAP EPS: $0.83 per share, compared to $0.43 per share in 3Q10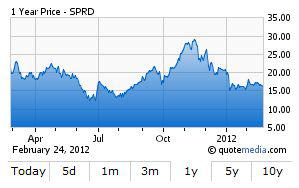 The company expanded its market share in the TD-SCDMA market to above 50% with more than 30 customers with over 72 handset models, and completed the acquisition of majority 85.6% ownership of MobilePeak to prepare for the WCDMA/HSPA+ solution by the middle of this year.
On December 8th, management reaffirmed its previous Q4 guidance of $188 - $194 million in revenue and gross margin of 41%. In addition, the company also announced the launch of two key products for the low-cost Android smartphone platforms, SC8805G for TD-SDMA and SC6810 for EDGE/WiFi.
For 2012, investors can expect Spreadtrum to remain aggressive on TD-SCDMA shipment and continued share gain in the 2G segment.
During a recent investors meeting, CEO Dr. Leo Li estimated that TD-SCDMA device shipment is expected to grow to 85 - 90 million units in 2012 from 45 - 50 million units in 2011. The company plans to stay aggressive and maintain 50%+ market share in this segment. The expected exit by ST-Ericsson is could also bode well for Spreadtrum to achieve its market share goal.
Spreadtrum will continue to gain market share from rival MediaTek as it expands its geographic footprint in growing markets such as India, Latin America, and Africa, in my view. According to Dr. Li, Spreadtrum expects China-based OEMs to ship 900 million 2G/2.5G units in 2012, with approximately 80% of these units sold outside of China in emerging markets and the rest within China. As Spreadtrum transitions from the 0.15um to 40nm technology, the improved power and performance in its products should ensure continued market share gain in the 2G/2.5G segment.
Disclosure: I have no positions in any stocks mentioned, and no plans to initiate any positions within the next 72 hours.