During the summer of last year, I made a decision to stop my accumulation of Prospect Capital (NASDAQ:PSEC) shares via dividend reinvestment. Additionally, I wished to exit the position once I saw a recovery in the share price in order to rebound from my incurred losses. My strategy was to sell my position in PSEC and move it to Main Street Capital (NYSE:MAIN) where I thought it would be safer. When that strategy was altered because a nice opportunity in MAIN opened up prior to dumping my PSEC shares, I contended that I could continue waiting until I found a satisfactory exit point (ideally where capital gains and dividends collected balanced out to breakeven).
Since that time there has been a lot of volatility in PSEC, including most recently new 52-week lows. But in the last few months, I've been noticing a fundamental change in the company's stability in net investment income ('NII'), dividends and the coverage of said dividends. Therefore, I have realigned my strategy to reflect this perceived change.
What Prompted The Original Strategy
To make a comparison to my new strategy with PSEC, we will cover what my strategy's stance was in the summer of last year first. Basically, this comes down to the fundamentals and sentiment that surrounded the company and stock leading up to Q2/Q3 of last year.
I signed up expecting earnings would increase - or at least stay stable - and not decrease. Coincidentally or not, it was the following earnings report in August of 2014 that set that NII trend in stone. It was at that point where it seemed obvious a dividend cut was in the cards. I would agree with those who say I was a quarter too soon in better evaluating the downtrend in net income. I put together the following chart to better show this trend: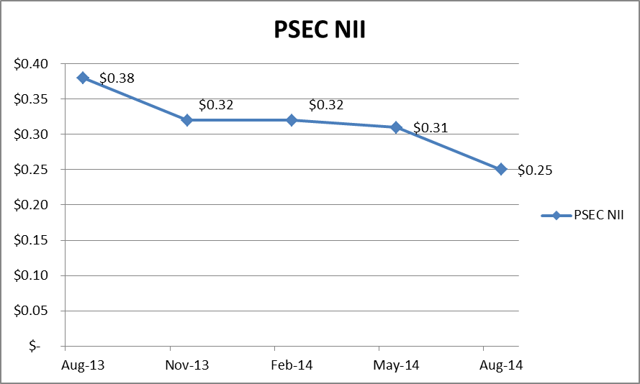 This, of course, put the dividend in danger because, at the time, it totaled $0.33 per quarter. After the company announced a cut to the dividend in December of 2014, and eventually distributed those dividends starting late in the first quarter of 2015, I felt a decent blow to my investment thesis. Most of my reason, if not all of my reason, to acquire PSEC was for the dividend income. A cut was obviously a step in the opposite direction. This became strike two in my desire to flee PSEC, but I didn't pull the sell trigger here. I understood the cut in the dividend was to realign the company with what its recent earnings were and what it expected going forward. It was prudent in one way, but still poorly received by the investment community at large.
Of course, at this point, I became much less laid back with my investment in PSEC and decided to very closely watch all of management's decisions. By the summer of 2015, I had stopped all reinvestment into PSEC and allocated the dividends elsewhere. I turned my sights on waiting for a meaningful bounce in the stock price to get out with the least amount of damage to my capital. It seemed inevitable that earnings would continue to slide and I was not willing to bear another dividend cut.
I decided to stay patient throughout this strategy and not compound one mistake by following through on another. What happened, however, is that I attained my goal of putting the remaining capital from PSEC over to MAIN, but not by the original strategy. I instead used cash to make a purchase of MAIN, while it was on relative discount, which made my need to exit PSEC less pressing. All of this kept buying me time - and dividends.
The Change In My PSEC Outlook
Since I had not sold any of my PSEC position and had no imminent need to reallocate those funds, I decided to see what the end of 2015 and beginning of 2016 brought for the company. This way I could better gauge its future and earnings - something I didn't do so well on my buy-in process.
What I found in the last two quarters was management coming through on the NII front. Instead of just missing or barely covering the dividend, they were meeting and exceeding dividend. This was a much different turn of events than what I had stepped into. The proceeding chart is the continuation of the previous one, and we can see the trend downward has stopped and, in fact, begun to reverse when it comes to NII.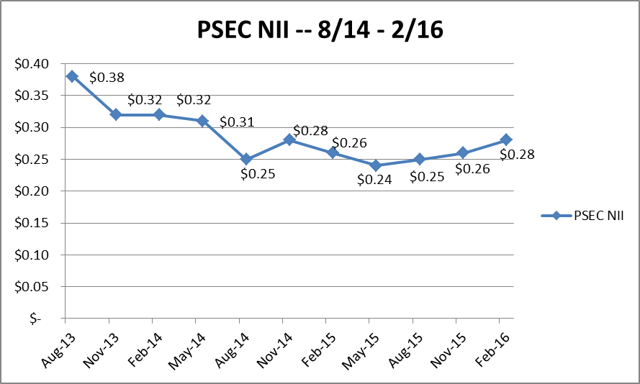 Three out of the last four earnings have met or exceeded the $0.25 quarterly dividend. This means the company has excess funds and can begin to bank what is left over after meeting the minimum 90% distribution to maintain tax-free status. In the latest earnings, PSEC is already meeting the minimum 90% distribution on the current dividend so this means it is free to use the remaining income as reinvestment into its loans.
Additionally, management has issued stable dividends out through May. I expect that this means management anticipates covering next quarter's dividend as they have done the previous three quarters. If this coverage begins to exceed the dividends by a material amount and falls under the 90% distribution, shareholders could see a special dividend issued. This would be beneficial to me as it would begin closing the gap that the year-ago dividend cut created. However, I will be satisfied with stable dividends and long-term NII growth, for now.
Beyond the dividend is the huge gap in net asset value ('NAV') that has occurred with the stock price. Even though PSEC has taken a write-down in NAV over the last year, the company has been trading at a substantial discount to this value. Recently, with Prospect trading at $5.21 per share, it meant that shares were trading at a 49% discount to FQ1 NAV of $10.17 (prior to recent earnings) and 46% to FQ2 NAV of $9.65 (as of earnings).
After reading the FQ2 numbers, I decided with this discount, along with the dividend being well-covered, that I would increase my stake in the company to both dollar cost average and gain more monthly dividend income (but still a loss to my original investment yield). I made a purchase at $5.64 and thereby increased my holding 23%. This has allowed my average to go from being above NAV to materially below NAV, giving me a small cushion in the future.
Strategy Continues
Now even though I believe management has begun to level the ship and put it on course for more prudent coverage and earnings, I still must be on watch for the NAV that continues to deteriorate. This erosion will put pressure on the stock price and, given the sentiment to keep PSEC at a material discount to NAV, could be the buffer that keeps shares lower.
However, it is encouraging to see that the discount to NAV has been materially reduced over the last week or so since earnings. As of this week, shares of PSEC have risen to the $7 mark, which brings the discount to NAV to around 27%. While not outstanding, it is an improvement for this BDC, and with momentum on its side, it could continue to see the discount contract.
Having made the decision to take a larger stake in the company, I must reevaluate my dividend reinvestment now that I have increased that particular income by 23% as well. My strategy is that as long as shares trade at a decent discount (more than 15%) and the coverage of the dividend continues, I believe I can reinstate my DRIP and leverage the discount to my cost basis.
All in all, I believe PSEC is beginning to form a bottom, not only in its stock but also in the company's business. If management continues to execute as they have and issues stable dividends with excess income for capital, I have no reason to exit the position. With my other goal met in entering MAIN, I feel like I can put PSEC to good use and keep my monthly dividend income stable, if not growing.
Disclosure: I am/we are long PSEC,MAIN.
I wrote this article myself, and it expresses my own opinions. I am not receiving compensation for it (other than from Seeking Alpha). I have no business relationship with any company whose stock is mentioned in this article.