Self-storage is one of the few REIT sectors that seems to defy gravity.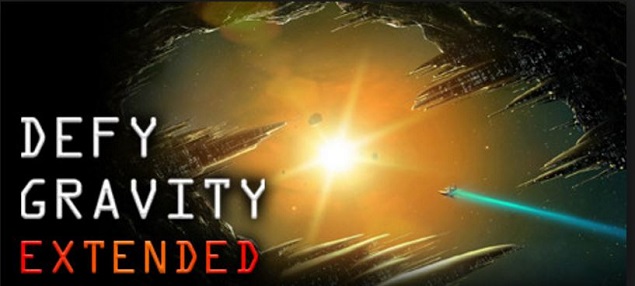 Source: Store.steampunk.com
The "Big 4" self-storage REITs continue to report strong results for FY 2015, and also foresee 2016 as yet another good year. The supply/demand fundamentals remain strong, at least for the near term, with the possible exception of a few local markets.
Recent IPO National Storage Affiliates Trust (NYSE:NSA) is a self-storage REIT with an interesting twist. This 2015 addition to the self-storage REIT sector was a roll-up of six regional self-storage operators.
One way that NSA had hoped to grow was by attracting additional Preferred Regional Operators, or PROs, to its platform.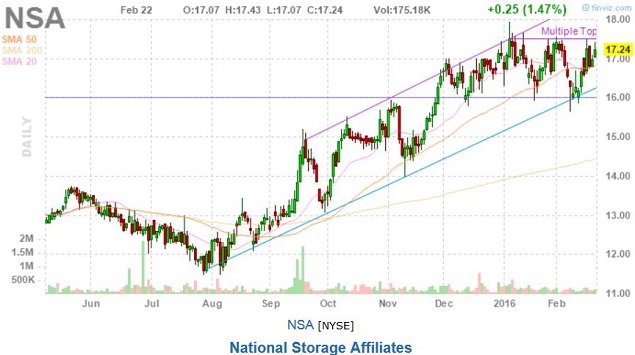 Since its 2015 IPO, National Storage has traded in a range of $11.50-17.94 per share.
It's a small-cap alternative to Public Storage (NYSE:PSA), Extra Space Storage (NYSE:EXR), CubeSmart (NYSE:CUBE), and Sovran Self Storage (SSS).
Tale Of The Tape - Past Five Years
In case you are new to REIT investing, or simply have never considered investing in self-storage, here is a chart that should immediately get your attention: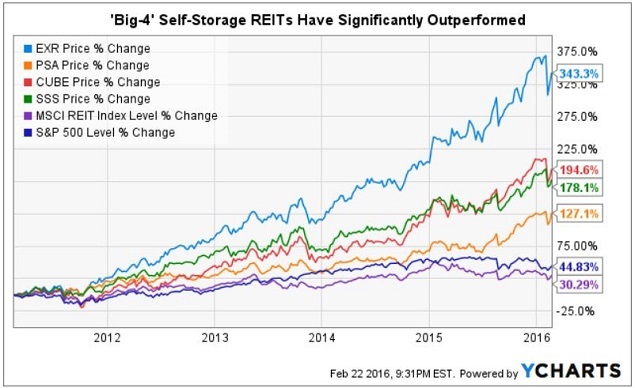 Public Storage was the self-storage REIT pioneer. PSA owns over 2,400 facilities, sports a market cap of $43.9 billion, and trades at a remarkable 2016 FFO multiple of ~28.5x, with a correspondingly low 2.68% yield.
I suggested some of the reasons why Public Storage is trading at such a high premium in an SA focus article last week. Brad Thomas just published "Sleep Well At Night With Public Storage Preferred Shares," with two suggestions for income focused to get a yield-to-call of ~5.5%.
NSA - Big Picture
The National Storage market cap is less than $800 million and represents an opportunity for investors to own shares along with top-notch self-storage PROs which believe they can grow NSA significantly moving forward.
National Storage has demonstrated the ability to raise its dividend distribution multiple times during the short time it has been a publicly-traded REIT. The current quarterly distribution of $0.20 per share yields 4.64%, as of this writing.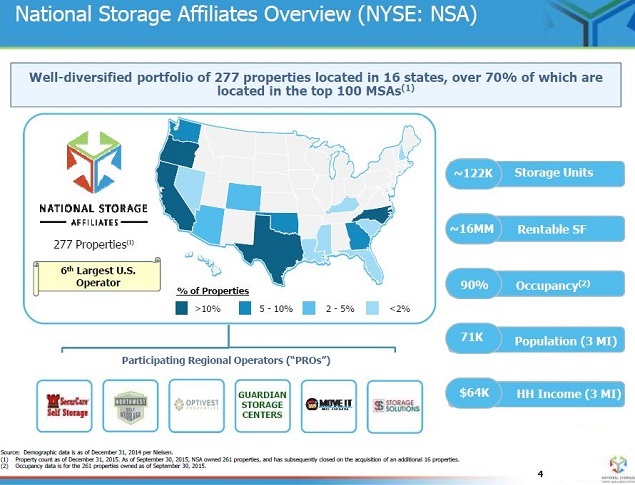 Source: NSA - January 2016 presentation (for all slides)
The National Storage business model offers a unique opportunity for select regional self-storage operators that desire to continue operating and growing their business.
If you are completely unfamiliar with National Storage Affiliates, here are links to my two previous focus articles: NSA - Catch A Rising Star and NSA - Strong Q3 Results Validate Business Model.
NSA's Unique Value Proposition
In many cases, small self-storage business owners are happy to cash out after years of running a business. If the properties they own are located top markets, institutional quality, and stabilized, they are in high demand by cash buyers.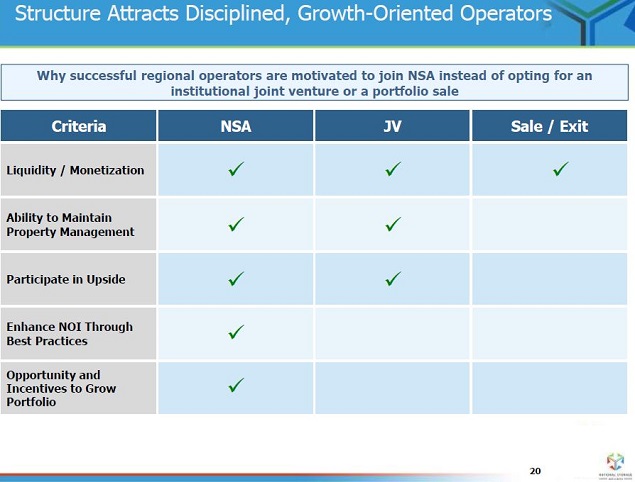 On the other hand, NSA offers business owners the ability to have their cake and eat it too by "selling" while still participating in the upside of growing their regional platform.
However, on the Q3 earnings call, NSA's management acknowledged that it was a long sales cycle in order to bring on new PROs. Fast forward just a few months later, and the last piece of the PRO puzzle has now been put in place.
It is usually a good sign when management "under promises" and "over delivers."
New PRO Validates NSA Strategy
On February 8, National Storage announced Hide-Away Storage Services, Inc. of Sarasota, Florida, will become NSA's seventh Participating Regional Operator.
"The transaction is expected to close early in the second quarter of 2016, following the satisfaction of customary closing conditions. Consideration for the transaction is expected to include approximately $60 million in units of NSA's operating partnership, assumption of approximately $42 million in mortgage principal indebtedness and the repayment of existing indebtedness and fees using cash funded by the Company's revolving line of credit."
Upon closing of the transaction, 14 properties will be contributed to NSA for approximately $115 million. This 14 property Hide-Away portfolio includes approximately 1 million rentable square feet and 9,354 self-storage units.
Hide-Away currently operates 16 self-storage properties under its Hide-Away Storage and Xpress Storage brands, along Florida's west coast from St. Petersburg south to Naples.
Hide-Away Fits The Profile
National Storage is looking to a select group of operators to expand the PRO footprint.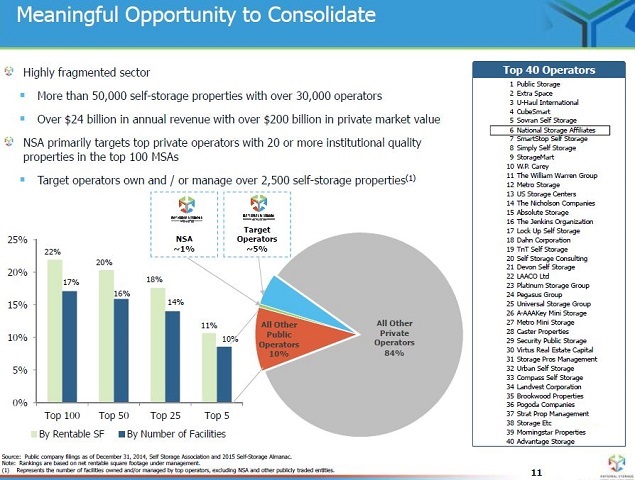 Notably, Hide-Away founder Stephen Wilson has served for more than 35 years as the President of Hide-Away and its related entities, and is a former Chairman of the national Self-Storage Association.
Attracting "best-in-class" regional operators provides a foundation for growth. These PROs become platforms to attract smaller mom and pop operators as bolt-on acquisitions in surrounding markets.
A Virtuous Cycle
NSA's strong Q3 2015 operating metrics, along with several dividend increases since its 2015 IPO, have resulted in the company having a strong currency to use (OP/SP units) for acquisitions.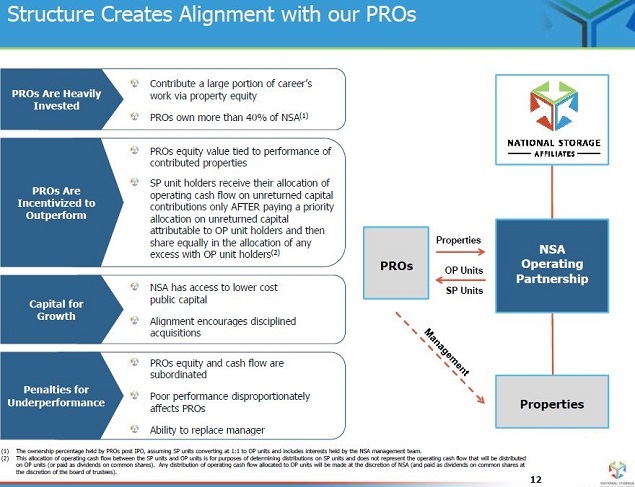 This allows NSA to attract new PROs into the fold while the acquisition is accretive to existing PROs and common shareholders.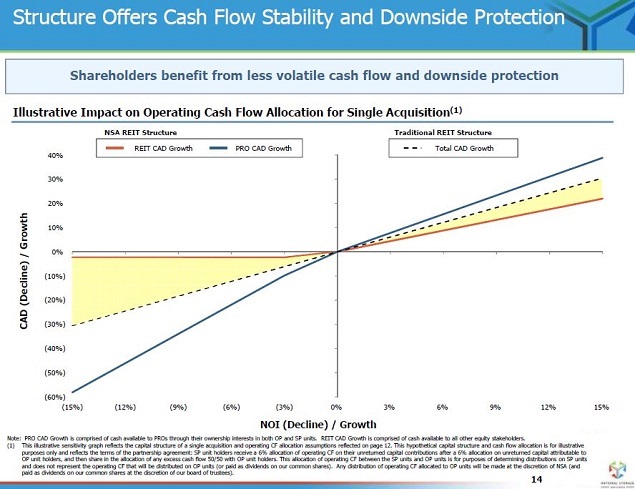 The regional operators shoulder a much greater percentage of downside risk while also reaping the reward for outperformance with the NSA OP/SP unit structure.
NSA - 2016 Catalysts
1. There is an existing pipeline of existing PRO owned and managed self-storage facilities that help provide earnings visibility.
2. NSA has already demonstrated the ability to grow ssNOI organically through raising street rates, bumping up rents on existing customers, and increasing fee income.
3. There is a new revenue management system which has been in "beta testing." It was originally rolled out in about a quarter of the NSA properties. The management anticipates that this system will be rolled out across all of the platforms in 2016. This could begin to have a positive impact on same-store NOI during 2H 2016.
4. Closing the first new PRO will generate positive headlines and demonstrate momentum. The first one is usually the hardest. Given NSA's relatively small base, each new PRO will help to move the growth needle. Each PRO brings a captive pipeline (other owned properties), shadow pipeline (managed facilities), and provides bolt-on acquisition opportunities in new markets.
Investor Takeaway
Each time I have written about National Storage Affiliates, it has been prompted by a milestone achieved by management during the short time NSA has been publicly traded.
Back in October 2015, NSA's shares had already gained some momentum after the management announced a $350 million unsecured revolver and $200 million term loan in August. In my eyes, having a group of commercial banks scrutinize NSA and agree to extend $550 million of credit was a game changer. The shares were trading at $15.00, and I viewed the new REIT as a speculative buy.
In November 2015, after National Storage reported a strong quarter and raised the dividend twice in rapid succession, its shares were trading at $14.60. I recommended NSA as a buy. It was clear to me that the same fundamentals that were driving the Big 4 ssNOI (organic growth) were working just fine for the "new kid on the block." In fact, NSA has even more room for improvement in the existing portfolio.
Most recently, I pointed out the company as one of my two small-cap REIT picks for 2016, in early January. At that time, NSA's shares were priced at $17.10 per share.
It is internally managed, and majority owned, by self-storage professionals. The management appears to be aligned with both shareholders and PROs. Both groups of stakeholders win when all acquisitions are required to be accretive to earnings (This was a mantra reinforced on NSA's Q3 2015 earnings call).
I remain constructive regarding National Storage Affiliates. I fully expect that NSA will report another strong quarter next week, with increases in FFO per share, ssNOI, rent per square foot and higher occupancy. NSA is in the right sector, with the right product, at that right time.
I think that long-term investors can still nibble at these levels and add more shares on REIT sector pullbacks. More conservative investors might have a problem of paying 19.1x 2015 FFO for an "unproven" REIT. However, a distribution yielding over 4.6% is attractive - especially in light of the growth prospects.
Additionally, NSA still has many regions of the country available for new PROs to stake a claim. My sense is that based on the self-storage REITs, which have already reported earnings, NSA's FY 2015 results and initial 2016 guidance should become a catalyst for another leg up for its shares.
Disclosure: I/we have no positions in any stocks mentioned, but may initiate a long position in NSA, EXR, SSS, CUBE over the next 72 hours.
I wrote this article myself, and it expresses my own opinions. I am not receiving compensation for it (other than from Seeking Alpha). I have no business relationship with any company whose stock is mentioned in this article.