Earlier this month, Linn Energy (NASDAQ:LINE)/LinnCo (NASDAQ:LNCO) announced that it had begun exploring strategic alternatives geared toward strengthening its balance sheet and that it had elected to draw down the remainder of its credit facility, an amount that came out to $919 million. In a previous piece, I highlighted that I do not like the uncertainty associated with the company's move and that, in response to this, I elected to sell my firm's stake. The move was a painful one but I continue to watch from the sidelines until more clarity becomes available, something that should be happening fairly soon.
Linn's financial position looks okay... for now
In the table below, you can see what the cash flow position for Linn looks like for each of the next four years. During 2016, the company should generate cash flow totaling $439.61 million. This assumes, of course, that current oil prices of $31.54 per barrel persist and that the same applies with natural gas, which is currently selling for $1.813 per Mcf. During 2017, the picture worsens materially, with cash flow declining to a negative $209.70 million before blowing out the bottom in both 2018 and 2019.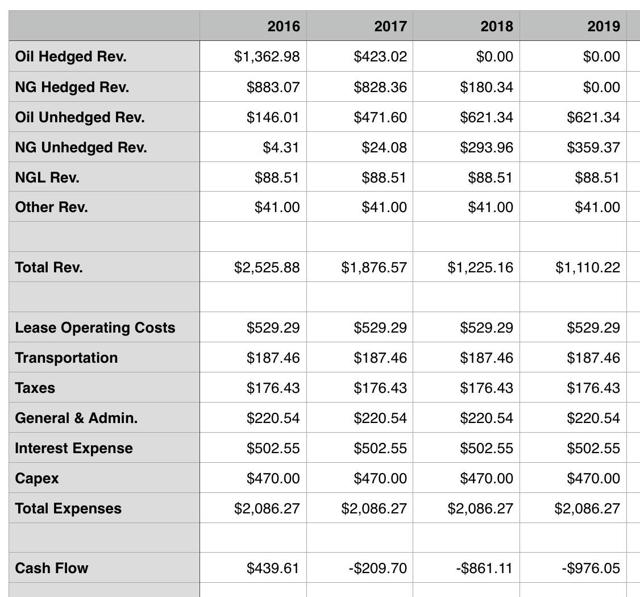 In response to these troubles, I have repeatedly called for management to engage in debt buybacks by using this cash flow, combined with the estimated $149 million in excess cash generated during the fourth quarter of last year. At this moment, debt for the company is going for between $0.03 on the dollar and $0.093 on the dollar, indicating that Mr. Market has a high expectation of bankruptcy within the next several months. However, the upside to this is that management could acquire all of the company's publicly-traded debt for next to nothing and that it could allocate the rest of its capital toward paying down either its Second Lien Notes (pending a change to the company's agreements) or (more preferably but unlikely given that they just drew down their credit facility) paying down the credit facility to some extent.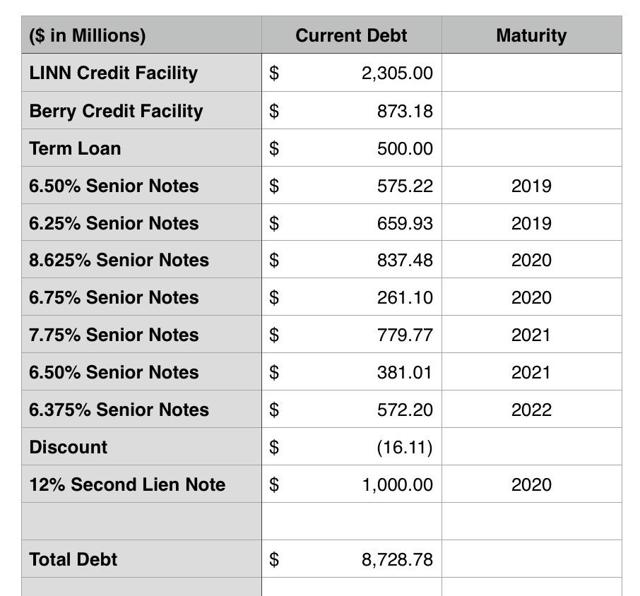 The benefit to this approach is that, by buying back all Senior Notes at a discount, Linn would save $290.17 million in interest expense each year, guaranteeing that it would be cash flow positive during 2017 as well. On top of this, the company still has opportunities associated with its deal with Quantum and it could always cut capital expenditures to zero, allowing production to drop. This latter idea would reduce costs for one year by $470 million, enough to allow the business to pay down more of its credit facility near term. In essence, all of these moves would allow the company to avoid bankruptcy until at least the first half of 2018, assuming that the business could stave off its credit facility lenders in some way, shape or form.
But clarity is desperately needed... and likely coming soon
All of this data seems to indicate that the fundamental picture facing Linn isn't anywhere near as bad as the market has been suggesting, especially for the company's Senior Notes. However, that is not what management has pointed to with its "strategic" news. Fortunately, though, there may still be an opportunity for investors to get a glimpse at what management is expecting moving forward because, sometime soon, Linn should be releasing its fourth quarter earnings results for its 2015 fiscal year.
No date has been set regarding this news release just yet, but it will be during this timeframe that some clarification can be expected from management. My own expectation is that there's a modest probability that management will allude to some sort of restructuring plan regarding its creditors but that it will strive to do so without having a materially-adverse impact on its unit-holders that are still in the game.
This could involve a deal with its credit facility lenders whereby Linn uses its cash hoard to buy back as many Senior Notes as possible while potentially negotiating with its Second Lien holders for some sort of buyback, followed by a partial debt issuance or meaningful capital expenditure reductions aimed at paying down credit facility lenders. However, the path of events thus far suggests a higher probability that they could announce that this may have become a going-concern issue, whereby the risk of a bankruptcy filing is now present.
Takeaway
At this moment, I'm on my seat's edge waiting for what Linn will announce. Certainly, management has something in mind because any scenario involving their credit facility drawdown doesn't seem to jive too well with an imminent bankruptcy filing (though is certainly not unlikely). Having said this, I do not like a picture that lacks clarity so, for the moment, I'm watching what transpires before considering buying back in. If management does come through with a solid plan, I have no trouble jumping back in, but I can't justify it without additional information.
Disclosure: I/we have no positions in any stocks mentioned, but may initiate a long position in LINE over the next 72 hours.
I wrote this article myself, and it expresses my own opinions. I am not receiving compensation for it (other than from Seeking Alpha). I have no business relationship with any company whose stock is mentioned in this article.
Additional disclosure: I may buy but only if clarity comes.
Editor's Note: This article covers one or more stocks trading at less than $1 per share and/or with less than a $100 million market cap. Please be aware of the risks associated with these stocks.