Frontier Communications Corporation (NASDAQ:FTR) has been a stock that I have been following for a while and last covered once it started a new chapter in its history with the completion of a major purchase of assets from Verizon (NYSE:VZ). For a long time, I had worries over the sustainability of the company's dividend, and sure enough, it had been cut over time and the stock had to be reverse-split, but it has managed to keep the payouts going. Simply put, Frontier has done it.
What is going on here today with the stock up strong on heavy volume? Well, I think much of this is because the dividend is safe going forward. I see it as maintainable so long as revenues aren't expected to drop off significantly, which in previous work I have stated as something that I do not see happening. Frontier has pulled back since the highs in spring 2015, and has been a strong stock to buy around $4.50 and sell around $5.50. What I mean is that it is a stock that can be traded. Ultimately, it is name that I would keep a core position in, collecting the bountiful dividend, but making additional profit in by trading around the position. Of course, for this plan to hold water, performance is absolutely key. The company has just released Q4 data, and so an investigation into the performance is warranted.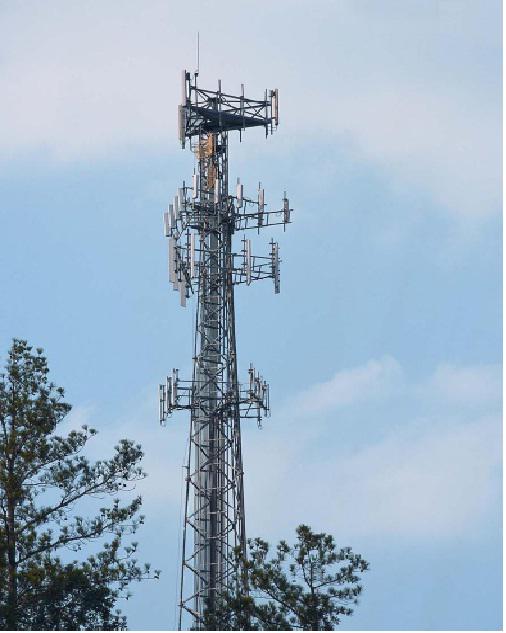 Source: AmerTower.com
Today, Frontier reported Q4 2015 revenue of $1.413 billion, operating income of $182 million, and operating income margin of 12.9%, compared to operating income of $207 million and operating income margin of 14.6% in Q3 2015. Well, while operating income and margins were positive. However, when combined with expenses (discussed below), net loss attributable to common shareholders was $103 million, or $0.09 per share. Now, that is a GAAP figure, so it may not be entirely as informative as you would like. Thus, if we exclude acquisition-related interest expense of $178 million, acquisition and integration costs of $86 million, and certain tax benefit items of $7 million, adjusted net income was $56 million, or $0.05 per share.
One concern was that revenue declined. Revenue for Q4 2015 was $1.413 billion, which was a decrease of $11 million, or 1%, from $1.424 billion in Q3 2015. The issue is that there has been some customer turnover. At the end of the quarter, Frontier had 3,124,200 residential customers. Now this was a net loss of 0.7% of its customers. That hurts and follows a loss of 0.9% of customers in Q3 2015. Total residential revenue was down to $594 million for Q4 2015, compared to $606 million in Q3 2015. The average monthly residential revenue per customer has been on the decline as well. It was $64.43 in Q2 2015, $63.83 in Q3 2015 and declined to $63.14.
What about the business client side of the company? At the end of the quarter, Frontier had 289,200 business-based customers. This was a loss of 1.7% of its business-based customers, and it follows a loss of 1.7% of its business class customers in Q3 2015. With the loss of these customers, total revenue from business-based customers was down to $613 million versus $617 million for Q3 2015 - a decrease of 0.7%. One good piece of news here is that the average monthly business revenue per customer was $700.03, an increase of 0.9% over Q3 2015, and has been rising steadily over time.
I also want to point out that broadband has been a real source of strength Frontier. At the end of the quarter, the company had 2,462,100 broadband customers. It added 28,500 net broadband customers during Q4 2015. Obviously, this is welcome news, and this is the 12th consecutive quarter that the company has shown such growth.
Of course, the largest prevalent risk that we need to be aware of is the loss of customers, and you are seeing that impact a bit here, both on the residential and business client sides. Residential and business customers are declining. That is a weakness that we must be mindful of. Thankfully, the company saw higher revenue per customer on the business front, but the fact is many telecom customers are constantly leaving their existing service for cheaper alternatives or switching to companies offering incentives. Frontier has been a victim here.
What we need to watch are expenses. Obviously, to grow revenues, expenses often have to rise. I want to be transparent and provide the expense-specific data here. Frontier saw administrative expenses fall to $343 million, compared to $344 million in Q3 2015. Network access expenses rose for Q4 2015 and were $165 million, compared to $159 million in Q3 2015. Network-related expenses were up significantly to $318 million, down from $331 million. Interest expense for Q4 2015 was $362 million compared to $246 million in Q3 2015. Capital expenditures for Frontier's business operations were $185 million for Q4 2015, compared to $177 million in Q3 2015. Acquisition-related capital expenditures were $86 million in Q4 2015 and $58 million in Q3 2015.
So, if we take all of these expense categories together, we see that total expenses actually rose to $1.231 billion from $1.217 billion in Q3 2015. This pressured margins. Why? Because revenues declined and expenses rose. That is obviously going to squeeze margins and pressure earnings.
Now, let us not forget that this is an income name. So what really matters is cash flow. It helps cover dividends and is a measure of strength. Operating cash flow was $501 million for Q4 2015, resulting in an operating cash flow margin of 35.4%, compared to operating cash flow of $532 million and an operating cash flow margin of 37.5% for Q3. Free cash flow was $243 million for Q4 2015, compared to $229 million in Q1 2015. So, here is the best piece of news out of the quarter. The company's dividend represented just a 43% payout of free cash flow for Q4 2015. This is down from 46% in Q3, and down from 54% back in Q1 2015.
So, what is the take-home? The dividend is secure. That was the big takeaway. Customer decline continues to be a big risk, and interest expense continues to be a large source of expenditures. That said, the company achieved another year of strong broadband growth, representing its third consecutive year of broadband additions in excess of 100,000. The purchase of the Verizon assets is complete. Frontier will begin operating the Verizon California, Texas, and Florida markets on April 1, 2016. This will drive its competitive ability. With these results and the new expansion the company is seeing, I see the dividend as sustainable and the payout ratio being at acceptable and attractive levels.
So, what do you think? Do you think the dividend is safe? Are you a buyer here? What other risks do you see for the company? Let the community know below.
Note from the author: Christopher F. Davis has been a leading contributor with Seeking Alpha since early 2012. If you like his material and want to see more, scroll to the top of the article and hit "Follow." He also writes a lot of "breaking" articles, which are time-sensitive, actionable investing ideas. If you would like to be among the first to be updated, be sure to check the box for "Real-time alerts on this author" under "Follow."
Disclosure: I/we have no positions in any stocks mentioned, and no plans to initiate any positions within the next 72 hours.
I wrote this article myself, and it expresses my own opinions. I am not receiving compensation for it (other than from Seeking Alpha). I have no business relationship with any company whose stock is mentioned in this article.