Every three months, investors get to hear from all of the REITs as they announce their operating performance for the prior period. While all management teams look to present their companies in the best possible light, intelligent investors look across multiple companies to find trends and themes that they can apply to their investments for the upcoming year.
One general theme for REIT investors to follow has been the macro-economic trends to gauge which sector will benefit best over the long term.
As the U.S. population is getting older and more people are getting healthcare through the Affordable Care Act, I have become a big fan of the healthcare space. The growth in this sector has been consistent and defensive. That does not mean, however, that there will not be bumps in the road for some of the individual property types - with winners and losers.
So far this month, I have covered all of the "big 3" healthcare REITs including HCP, Inc. (NYSE:HCP), Ventas, Inc. (NYSE:VTR), and Welltower (NYSE:HCN). In addition, I have written on Omega Healthcare Investors (NYSE:OHI), Physicians Realty (NYSE:DOC), and National Healthcare Investors (NYSE:NHI). I intend to cover Care Capital Properties (NYSE:CCP) and LTC Properties (NYSE:LTC) in a few days, after earnings are released.
As I wrap up year-end earnings reports, it has become clear that medical office buildings (or MOBs) stand alone in this current environment as the best and safest place to invest for income and growth. As I've talked about previously, MOBs offer stable and growing cash flows that are far removed from operating risk, changes in reimbursement, and new supply that are negatively impacting senior housing and skilled nursing.
As a result, the medical office sector is getting increased focus from investors, especially since there are now three public REITs that focus here, but one of my favorites is Healthcare Trust of America (NYSE:HTA), whom I have written about previously.
The others are Healthcare Realty Trust (NYSE:HR), and Physicians Realty Trust. All three of these REITs will benefit from positive trends in MOBs, but they really have different strategies and invest in different specific property types under the MOB umbrella. Let's take a closer look at what those are.

Dissecting Medical Office Buildings
In my research, I have found that there are really 4 or 5 subsectors within medical office.
a. On-Campus MOBs: Traditionally, most investors have focused on investing in medical office buildings that are located on or around hospital campuses. These MOBs benefit from the need for physicians to be close to hospitals to perform surgeries and see patients. In many cases, it is difficult to build more MOBs on these campuses, giving them a competitive advantage that is attractive.
While these are good traits, on-campus MOBs are also impacted by things like the quality and activity of the hospital itself, restrictions placed on the MOB by the hospital, and the fact that while convenient for physicians, hospital campuses are not the most patient friendly locations and can be difficult to navigate.
b. Off-Campus MOBs: These are medical office buildings that are located away from hospitals and are closer and more convenient for patients. Physicians in these locations still benefit from being close to other providers and rarely move. However, the location and other characteristics of the buildings are critical to long-term performance. There are a few different types here.
(1) Community Core: This is the classification that HTA gives to clusters, or groups, of MOBs, that are located off-campus, but in highly desirable retail or residential settings. These group of buildings will house almost every kind of healthcare provider you will need, except for overnight beds.
This includes everything from general practitioners to surgery centers where physicians can do more and more procedures as technology advances. I would compare this to a healthcare mall, a true real estate destination for healthcare providers. Almost every healthcare system I listen to is discussing ways to get closer to the patients and these allow this to occur.
(2) Single Tenant Health System Affiliated: These are similar in concept to community core MOBs, but are generally leased solely to a single health system and may be standalone in nature. These can have great credit during the length of the lease. However, because they are purpose-built only for the health system, they may have difficulty holding rates when it comes times to re-leasing them.
(3) Single Community MOBs: These are generally one-off medical office or professional buildings located in the community. They can be leased to multiple tenants, but generally compete on the basis of pricing. As a result, investors demand the highest yields on these assets as their long-term growth will generally follow the market in which they are located.
c. Academic Medical Centers: These are hospitals that are affiliated with leading medical schools (think Yale Medical Center in Connecticut), where health systems are focused not only on providing care, but also on teaching the next generation of physicians and researching cutting edge treatments.
Real estate on these campuses will include traditional on-campus MOBs, but also will include other facilities that are focused on teaching and research. Their proximity to both a hospital and medical school give them great long-term stability, especially as more and more funding goes into education and research.
d. Retail/New Concepts: As healthcare continues to push into the community, healthcare providers are experimenting with new types of access points, including free-standing urgent care clinics and emergency rooms, retail locations, and pop-up stores. Health systems are looking for ways to get closer to the patients and trying new ideas. While these are interesting, there is very little evidence these will be around in 10 years and are truly speculative at this point in time.
What Sandbox Does HTA Play In?
HTA is focused on investing in 3 of these sectors, including on-campus MOBs, academic medical centers, and community core locations. The company generally invests all within key markets in which it has a strong presence. This approach allows HTA to invest in the growing segments of the MOB market and really establish strong presence and relationships within markets that it expects will grow over the next 10 years.
This strategy has enabled HTA to grow at a solid pace, averaging around 10% external growth per year since it came public in 2012. This strategy has also served investors well, enabling it to return over 10% per year since it was founded in 2006. That is good in any environment, especially given the uncertainty we are seeing these days.

Of the other two, HR is focused solely on on-campus MOBs; a narrow focus that is causing it to shrink its portfolio. Its 10-year shareholder returns are a paltry 27% (as of 12/31), significantly less than other healthcare REITs and the broader REIT index - so buyer beware. DOC is focused primarily on a mix of assets located in secondary markets and has been growing quickly. All three companies should benefit from positive trends, but my pick for stable growth is HTA.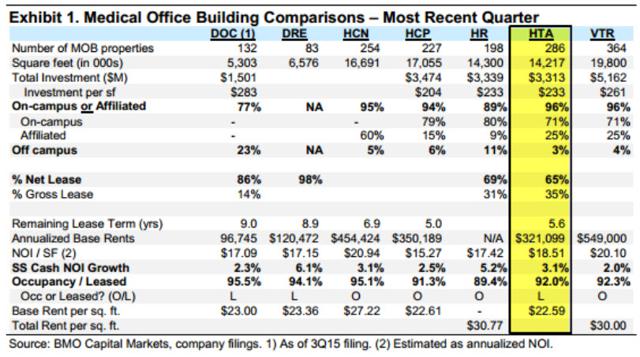 HTA's Latest Earnings Results
At year end, HTA's portfolio consisted of almost 16 million square feet located across 15 to 20 key markets in 27 states. Here's a snapshot of the company's growth history since the IPO.
Currently, around 70% of HTA's assets are directly on hospital or academic medical center campuses. Another 27% are affiliated with large healthcare systems with over half of these in a high traffic area or on a multi-clustered MOB campus that is a community core location and critical to the healthcare delivery within the community.

From a leasing standpoint, the occupancy of HTA's off-campus MOBs performed well, slightly higher than the 92% portfolio-wide occupancy of the entire portfolio. HTA currently property manages and leases over 95% of the portfolio or just over 15 million square feet.
For the fourth quarter, HTA's normalized FFO increased 12.1% to $50.7 million, and on a per-share basis, normalized FFO was $0.39, an increase of almost 5.5% compared to the fourth quarter of 2014.
HTA's normalized FAD for the quarter which incorporates recurring capital expenditures and leasing costs as well as straight-line rent increased 9.4% to $0.35 per share, putting the dividend payout ratio at approximately 84%.
For the full year of 2015, HTA's normalized FFO increased almost 11% to $196 million with normalized FFO per share increasing to $1.53 per diluted share, an increase of almost 5% compared to 2014. Normalized FAD per diluted share increased 8.6% to $1.39.
In terms of acquisitions, HTA guided to $300 million of net acquisitions in 2016 including $156 million of acquisitions subsequent to year end (Texas Medical Center, Yale Medical Center).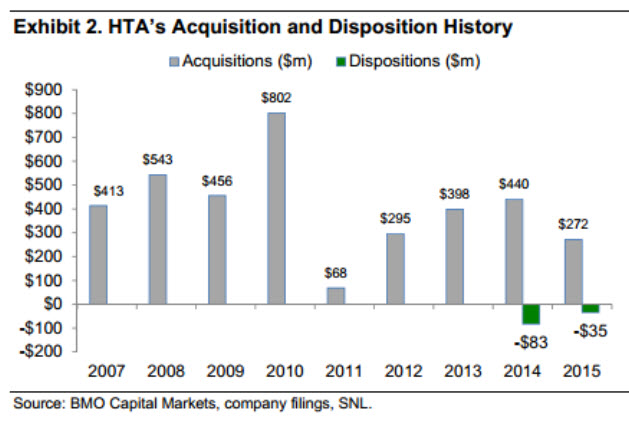 HTA has an investment grade rated balance sheet (Moody's Baa2 and S&P BBB), and the company continues to focus on low leverage with financial flexibility. The company ended the year with 31.4% debt to total capitalization and approximately 6x debt-to-EBITDA. HTA has access to multiple sources of capital that can be utilized to grow the portfolio, and thus it plans to fund acquisitions with its equity ATM program as well as $100-200m in dispositions (HTA indicated that its remaining senior housing assets are high on the priority list).

So Why Is HTA A Logical Pick?
A few days ago, I wrote an article explaining that "from a cash flow perspective, Senior Housing and SNF operators only generate cash flow to cover their rent payments by 1.5x on a good day. For MOBs, that number is closer to 10x! That kind of cash flow cushion provides great support that is difficult to ignore."
Also I argued that "MOBs have the lowest exposure to government reimbursement or changes in reimbursement patterns. On average, physicians receive only a very small portion of their overall revenue from Medicare and Medicaid, limiting the impact of sudden changes in reimbursements that are impacting other sectors, like skilled nursing facilities."

Conclusively, MOBs are a great asset class that has stable and growing cash flows. What's also great is that public REITs like HTA have a significant opportunity for continued public growth. There are over $350 billion worth of MOBs in the U.S., with less than 15% of that held by public REITs. This compares to most other asset types where REITs and institutional buyers own 40 to 50% of the total.

HTA is an intelligent healthcare REIT without headline risk. Shares are trading at $27.09 with a P/FFO multiple of 17.6x. The dividend yield is 4.4%, and while that is not as high as many of the other peers, there are reduced risks that should drive shareholder value through 2016. I am maintaining a BUY rating on HTA and I will consider adding more shares on price weakness. Furthermore, HTA is an essential "pure play" REIT that should be considered as you build out your basket of healthcare REITs.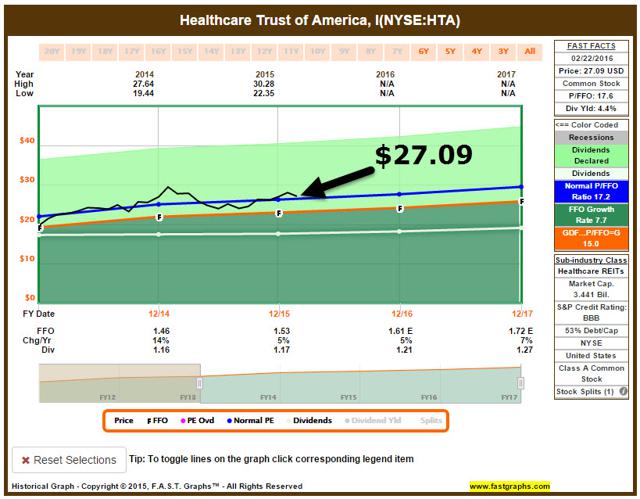 Author's Note: I'm a Wall Street writer, and that means that I am not always right with my predictions or recommendations. That also applies to my grammar. Please excuse any typos, and I assure you that I will do my best to correct any errors if they are overlooked.
Finally, this article is free, and my sole purpose for writing it is to assist with my research (I am the editor of a newsletter, Forbes Real Estate Investor), while also providing a forum for second-level thinking. If you have not followed me, please take 5 seconds and click my name above (top of the page).
The only guarantee that I will give you is that I will uncover each and every rock I can, in an effort to find satisfactory investments that "upon thorough analysis promises safety of principal and satisfactory return. Operations not meeting these requirements are speculative." (Ben Graham)
Disclaimer: This article is intended to provide information to interested parties. As I have no knowledge of individual investor circumstances, goals, and/or portfolio concentration or diversification, readers are expected to complete their own due diligence before purchasing any stocks mentioned or recommended.
Source: SNL Financial, F.A.S.T. Graphs, and HTA Q4-15 Supplemental.
Disclosure: I am/we are long O, DLR, VTR, HTA , STAG, GPT, ROIC, HCN, OHI, LXP, KIM, WPC, DOC, EXR, MYCC, BX, TCO, SKT, UBA, STWD, CONE, BRX, CLDT, HST, APTS, FPI, CORR, NHI, CCP, WSR, CTRE, WPG, KRG, SNR, LADR, HCN, HCP.
I wrote this article myself, and it expresses my own opinions. I am not receiving compensation for it (other than from Seeking Alpha). I have no business relationship with any company whose stock is mentioned in this article.