Rice Energy (NYSE:RICE-OLD) is a name we've followed for quite some time now. Our interest in the name started years ago with its much-followed, much-hyped IPO and has continued as the E&P has participated in a meteoric rise to fame and fortune. In our opinion, Rice Energy is one of the single most watched names in E&P (primarily focused in the Marcellus/Utica resource plays); not an easy title to earn. If nothing else, Rice Energy is interesting.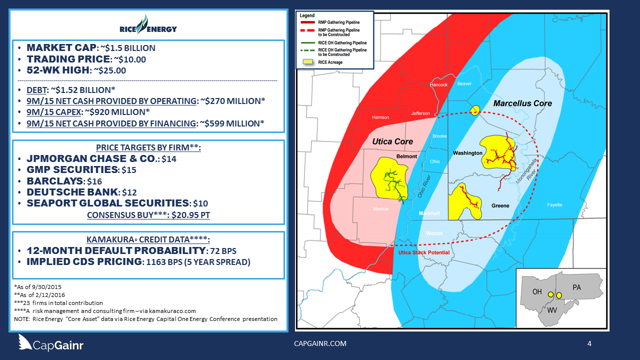 But Rice Energy is so much more than that and we believe the E&P is only just now at a point of maximum interest and "thickened-plot". In fact, Rice Energy's implied Credit Default Swap data is telling us the story is just now starting to become one that should get more national notice - it was the Credit Default Swap data that compelled us to make public this deck. As Rice Energy has become more and more stressed - with the majority of the stress being put on its model over the last 12-15 months - its story has become more and more interesting and its cap structure more and more actionable.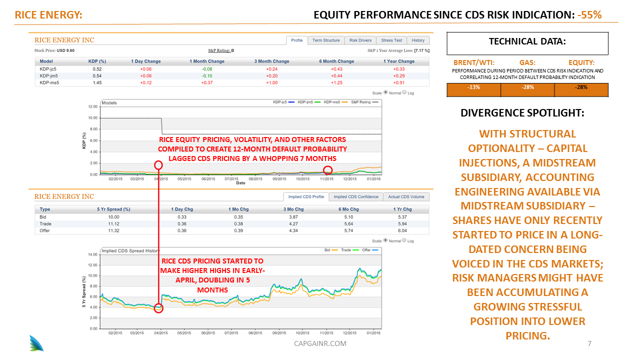 (SOURCE: CapGainr.com)
But interesting isn't always a good thing for shareholders. It certainly hasn't been for Rice Energy shareholders so far. We've detailed this via Credit Default Swap data here and via peer-group credit and non-credit risk indication data here and here. Again, we've been following the deteriorating credit story at Rice Energy for quite some time.
Over the last 52-weeks Rice Energy shares have fallen from ~$25 to ~$8 as its implied Credit Default Swap pricing has moved higher and higher. Yes, this is primarily the result of precipitously falling natural gas pricing but in saying that it should be noted that there is absolutely nothing Rice Energy can do to change this all-important, viability determining variable. It's true that Rice Energy does have some hedging on the books into full year 2016; but Rice Energy is greatly exposed to spot natural gas pricing and it might become even more exposed to spot pricing driven decrementals if its model and/or overall spot pricing pressure cause it to reduce utilization leverage. Yes, this matters greatly. It will matter even more if the E&P is forced - again via commodity pricing pressure, via financial market contagion from ancillary E&P credit events, etc., - to reduce overall activity levels in defensive posturing efforts.
It's in this - that the E&P is currently operating at deeply negative "at the bit" IRR's and that the E&P will see its hedging greatly reduced as 2016 progresses - that we caution investors against taking on too much Rice Energy exposure. In fact, we caution investors in holding any Rice Energy exposure currently or until further notice despite what are bullish analyst reports across the energy space. We believe Rice Energy can and should price much, much lower and potentially into "stressed" pricing levels in time. We cannot understate the risk being implied by Rice Energy's deteriorating credit data.
In that, we've provided a "roadmap" of events that would be considered productive in our assessment of Rice Energy's risk. We advise those holding exposure to Rice Energy to use our "roadmap" as a barometer of overall model health and viability. While we're not advertising the impending doom of the E&P just yet we do want to be very clear that the stress on the model could become much, much greater over the next quarter or so without execution.
Going forward we'll be opening up regular coverage of Rice Energy for clients and also - in limited capacities - for freemium users of our blog. Our priority coverage, 1:1 consultations, as well as any unique ancillary information which we can source as a result of our network's reach will only be provided to premium clientele. Existing clients following some of our other premium tickers know just how valuable this information can be to risk managing a particular narrative.
That said, we believe the following deck is an excellent "roadmap" for risk managing a Rice Energy position. We believe that we summarize the real-time narrative as of the most recent close and that we present both the current risk picture as well as a dynamic roadmap for tracking overall structural stress levels at the E&P. The hope for those still long this name is that the E&P can successfully destress.
Again, we've provided a comprehensive breakout of what investors should be looking for Rice Energy to accomplish and what model stress-indications any progress might negate. Tracking this changing equation of risk and long-term potential is going to be paramount in knowing when to hold position, when to add to position, and when to exit position - even if at a near-catastrophic loss. Rice Energy, despite overall market bullishness and still has very real risk of continuation of loss.