Score one for Chinese consistency. Back in December, Chinese officials suddenly announced that they were pulling back the Minxin PMIs of smaller and mid-sized businesses in both manufacturing and services. Broadcasting the need for "major adjustments," China Minsheng Banking Corp. and the China Academy of New Supply-side Economics had previously estimated a huge decline in economic activity suggested by their numbers. The manufacturing version had dropped to 42.4 in November, while the non-manufacturing series PMI was estimated at just 42.9.
Minxin is now back and apparently adjusted sufficiently by whatever unannounced standard, and the results are actually worse. The new manufacturing PMI was updated to a disastrous 37.5 in February (and 41.8 in January), while the non-manufacturing version was worse dropping to the same 37.5 but from 43 last month.
Private gauges of manufacturing and services fell to new lows, a reading of business confidence slipped, and interest in small and medium sized businesses deteriorated, the readings show. If confirmed in official data for February that starts to roll out from March 1, such weakness would suggest a slowdown in the nation's old growth drivers may be deepening.

Still, private data can be volatile, and readings may be distorted by the week-long Lunar New Year holiday in February. That was the government's official view Monday, when it said there's "no hard landing." The 2015 slowdown "was not as bad as some would make it out to be," the Xinhua News Agency said in a commentary.
It's quite typical in the attempted exercise of control, as the same warning over "distorted by the week-long Lunar New Year holiday" was issued about Total Social Financing and China bank debt before being totally discarded so that those volatile (and often contextually different) figures could be celebrated as optimistic gospel. The logical fallacy marches on, so it's no wonder that economists (and government economists) keep looking for China's bottom, only to be surprised month after month in not finding it.
In fact, anecdotally and certainly in view of market turmoil that doesn't want to end, there are many reasons to suggest China is much worse than even these numbers suggest. Using China's Northeast region in isolation, two Deutsche Bank (FWIW) analysts place geographical 2015 GDP at just 1%, with FAI collapsing by 11.6% (rather than the very weak +10% reported by the National Bureau of Statistics for China overall. There might be such regional differences as to explain the disparity, but there is also another that is likely more uniform across that country.
The sharp contrast between weak economic activities and strong credit growth shows that banks in the northeast likely supported, through renewed lending, the weak corporate sector regardless of economic viability, which helped to avoid unemployment and bankruptcy. In this case, it is the government's priority of maintaining social stability that overrode profitability considerations.
China optimists will claim that though the manufacturing and industrial sectors are in sharp decline, China's transition to a services or consumer-led economy relegates that to a moot point. If what is proposed above is true (and another reason to look at surging bank lending from a different, pessimistic perspective), however, then the difference between what China's economy would look like with the full pressure of the industry slowdown and collapse and how it actually appears now is not at all reassuring. Zombified industry still points in the same direction if the pathway to get there is somewhat diverting.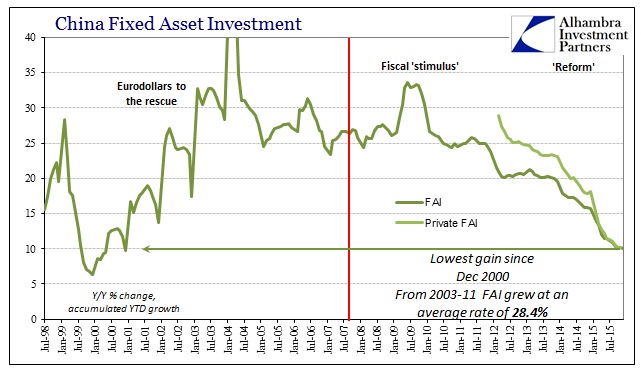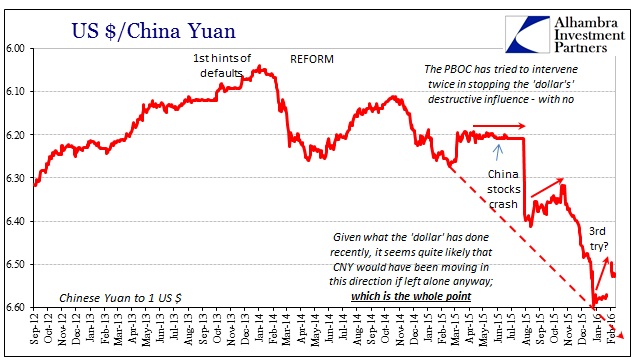 The Chinese government, through especially state-owned institutions and businesses, can certainly reduce the blow to China's economy by infusions such as Deutsche's analysts suggest, but that is not at all the same thing as proclaiming a consumer-led re-orientation. In fact, in many ways this government prop version is much worse; should it end, likely due to financial pressure, the overall economic convergence of the whole economy to industry will only be that much sharper and more intense. Should it not end, and government continuing to support failing enterprises, welcome to Japan in the 1990s (which received none of the predicted growth from "aggregate demand" efforts but still repeated and increasingly more serious financial turmoil related to the desperate mismatch between zombie banks and corporations and actual monetary and financial conditions dependent on things like actual and sustained economic growth).
If nothing else, it would show that the government doesn't believe its own proclamations. If there is no "hard landing," then there really isn't any reason for major support of the industrial sector's negative pressures. If it's all no big deal, then workers displaced in the transition should be allowed, to their own long-term benefit, the forces of market-based redistribution - out of industry and into the future of services. Unfortunately, what these analysts propose is perfectly in line with not just other economic accounts and increasing market turmoil, but the palpable desperation of the PBOC and other government agencies that comes with it all.
The Chinese government claims there was and will be no "hard landing" but increasingly acts like that might be the best case - implying they hope it all leads to an actual "landing." The next time any government, let alone China, forthrightly and ably projects recession and economic (or financial) turmoil will be the first.