I. Introduction
This is part of a series of quarterly reviews that analyze the performance and portfolio characteristics of interesting equity managers running either public (mutual funds) or private pooled investment vehicles (hedge funds) that are not accessible by retail investors. Our aim is to provide readers:
An analysis of the manager's return and risk characteristics.
An analysis of the manager's top portfolio holdings.
An opinion on whether readers should replicate their portfolio.
All analysis is based on a clone portfolio of the manager's top 10 disclosed holdings, which allows readers to replicate the portfolio with ease if desired. It may not be an accurate reflection of the manager's actual investment performance.
That said, it is possible for some clone portfolios to outperform the manager's actual portfolio over time due to the following factors:
No Fee Drag: High base fees and excessive performance fees in some cases eat into returns. Investors can buy the stocks directly to access the manager's stock-picking skill.
No Over-Diversification: Managers typically over-diversify. Returns from the best ideas are usually diluted by a long tail of lower quality ideas. We focus only on the top 10 holdings.
No Fancy Sizing: Managers may have good stockpicking skills, but can be terrible at sizing ideas. Our clone portfolios are equally-weighted so each idea have an equal impact.
No Tinkering: Managers typically add or trim positions on the margin too regularly, since afterall, they are paid to "actively manage" the portfolio. Quarterly rebalancing in line with 13-F releases reinforces a buy-and-hold discipline and reduces costs.
No Shorting: Shorting requires a very different skillset which not all managers are good at. Alpha from successful longs can be severely diluted from bad shorts or dynamic exposure management that does not add value over time.
II. Manager Brief
| | |
| --- | --- |
| Manager Name: | Teton Capital Partners LP |
| Location: | Austin, TX |
| Year Founded: | 1999 |
| Investment Style: | Equity Long/Short, Value |
| Lead Portfolio Manager(s): | Quincey Lee |
| Number of Employees: | 9 |
| MV of Latest 13-F Holdings: | $547m |
Quincey Lee is a value investor who is said to have compounded capital at 20% p.a. net of fees for his partnership since inception.
Lee is the former VP of finance for Rackspace Hosting Inc. From September 1999 to April 2000, he was the company's CFO. From August 1998 to March 1999, he was VP of finance for Fort Worth-based FlashNet Communications Inc., an Internet service provider.
According to an article on The Economist, Lee prefers to keep his fund small to remain nimble.
III. Performance Analysis
Our clone portfolio returned an annualized +27.3% for the past 3 years, versus +15.1% for the S&P 500. The manager delivered impressive performance in 2013, as well as in 2015 when the market is flat.
This excellent performance was achieved at market-like beta (0.98) and low correlation (0.53).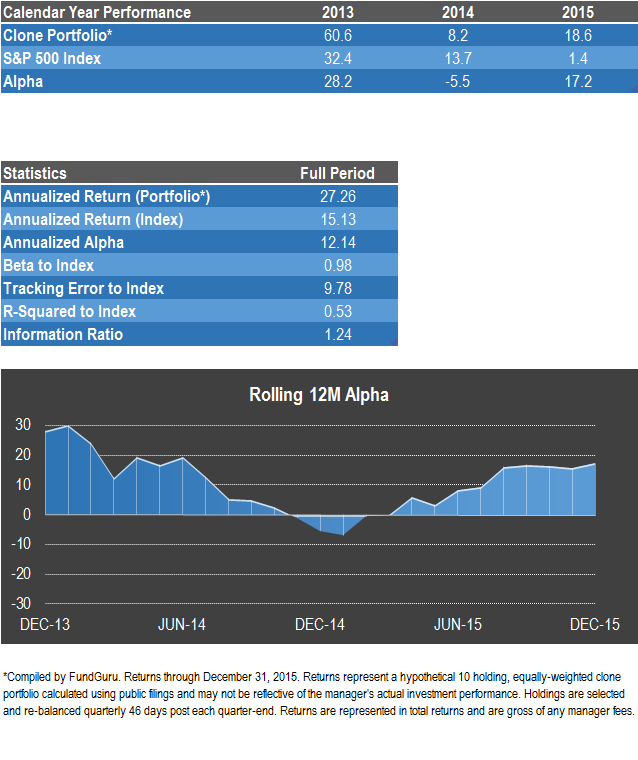 IV. Holdings Analysis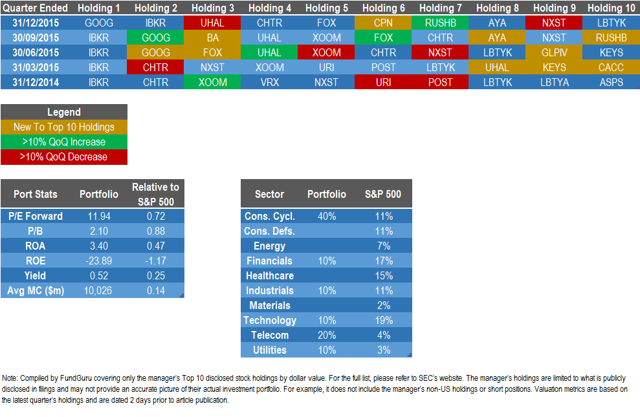 Portfolio Characteristics
This is a value portfolio with lower P/E and P/B relative to the S&P 500. It is also mid-cap in nature, with an average market cap. of $10bn. The portfolio is currently concentrated in Consumer Cyclicals.
Individual Names
QoQ turnover of quite high in this portfolio. Of the current top 10 names, only 4 have been in the portfolio for the full 2015. This is how they have performed: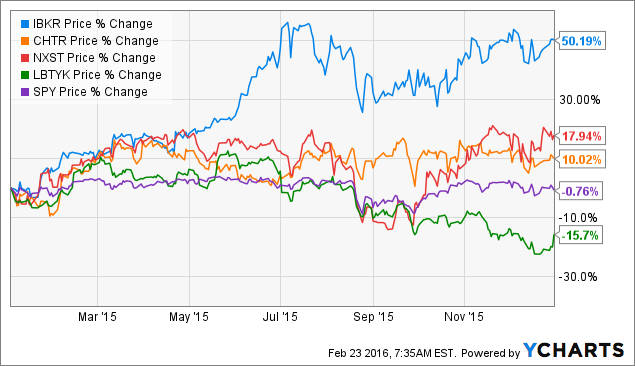 The strongest name was Interactive Brokers (NASDAQ:IBKR), which returned an astonishing 50% last year. The weakest was Liberty Global (NASDAQ:LBTYK).
Both names have taken a beating YTD, particularly IBKR which sold off with the rest of the financials sector. Liberty Global is a diversified media company controlled by the well-regarded capital allocator John Malone. It is a favorite among many hedge funds we track. LBTYK is in the middle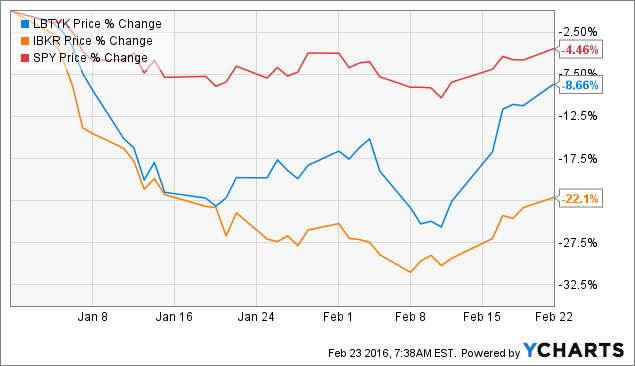 LBTYK broke its losing streak recently after reporting good results and reported to be merging its Dutch operations with Vodafone. For more details, refer to SA's post here.
Recent Activity
Teton's newest purchase was Calpine Corp (NYSE:CPN), an owner and operator of natural gas powerplants in North America. Its share price has been hammered of late and is now trading at levels last seen in mid-2010. We estimate shares were acquired at a range of $11.75-$16.6 in Q4. It was trading at $12.3 as of 02/22 close.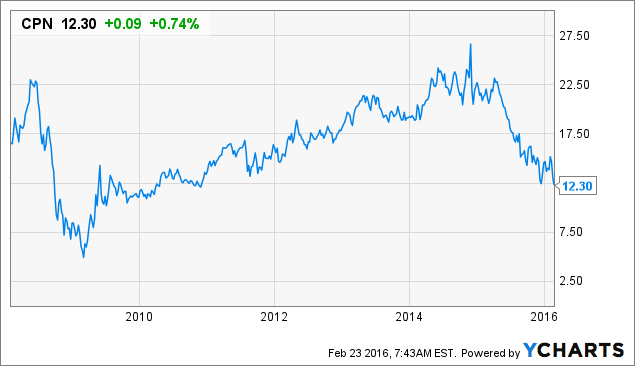 We believe the manager's main thesis is based on low valuations (low PE and high FCF yield) and aggressive capital returns (19.2% over the trailing 12 month period). Further, its CEO Thad Hill appears to be compensated on long-term share price performance. He has been at the company since 2008.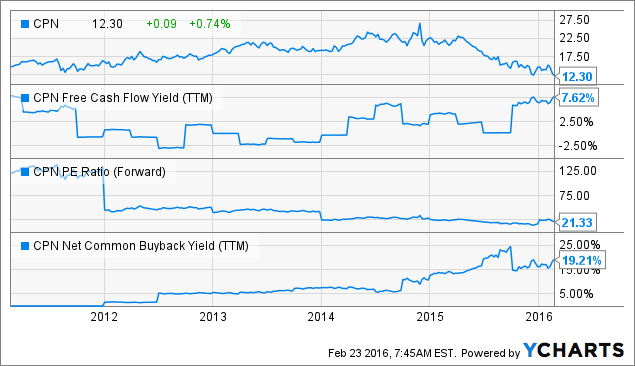 Teton also topped up its investment in Rush Enterprises (NASDAQ:RUSHB) in Q4, which is a retailer of commercial vehicles and services. Its share price has tanked of late: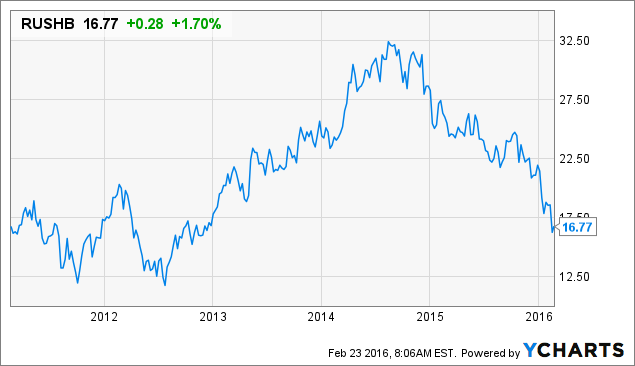 This is a family run small-cap ($668m) company. It was founded in 1965 by Marvin Rush, who remained chairman of the board until 2013, when he was succeeded by his son. The company began as a dealership for Peterbilt trucks, but expanded greatly in the intervening years through acquisition of dealerships.
Finally, here is the performance of the top 10 holdings YTD: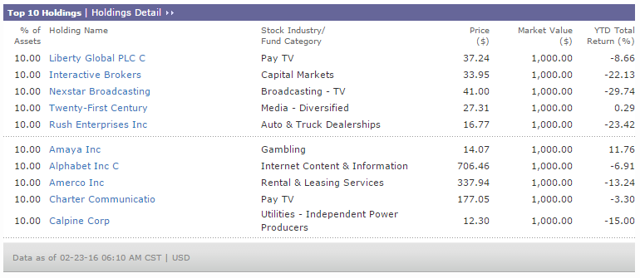 V. Summary Thoughts
We Liked:
Interesting small/mid-cap portfolio
Stellar trailing 3-year performance, achieved with little correlation to the broader market
Capped asset base
We Didn't Like:
Bottom Line:
This is a relatively unknown, interesting manager who is running a small asset base and investing in small/mid-cap names. The manager has done very well of late, which indicates that returns could be weaker in the short- to medium-run. We will continue to monitor this portfolio and wait for an attractive entry point. For now, readers should take a look CPN, RUSHB, and LBTYK.
Interested in Following More Alpha?
Follow us now to get live updates as we post new reviews, and/or see our Schedule of Manager Reviews for an up-to-date list of the managers we have assessed so far.
Disclosure: I am/we are long LBTYK.
I wrote this article myself, and it expresses my own opinions. I am not receiving compensation for it (other than from Seeking Alpha). I have no business relationship with any company whose stock is mentioned in this article.