Vedanta Ltd. (NYSE:VEDL) which is India's largest commodities group has seen its stock price crater, due to a global commodity price rout. The company is a large conglomerate with presence not only in mining, but is also one of India's largest private sector power generators. It owns a large mineral base and has substantial operations in oil & gas, as well as commercial power. The stock has lost ~66% of its value in the last year itself. While I was not a fan of buying VEDL earlier due to corporate governance issues, the distressed stock price has made it a good buy now given its leading position in India, large asset base and potential to satisfy the huge power demands in the country.
Why Vedanta is a buy
1) Recent Quarter performance has been decent, despite the oil price decline - The third quarter results was driven by strong production across all segments specially aluminum and silver. Though revenues fell 23% Y-o-Y due to fall in oil and metal prices, increasing volumes and reducing cost drove the EBITDA margins up to 26% for Q3'16. To tide through this weak market, the company is focusing on cash flow optimization and savings in operating expenses.
Tom Albanese, Chief Executive Officer, Vedanta Limited, said: "In the weak commodity price environment, we remain committed to optimising our operations, leveraging our high quality asset base, and proactively managing our balance sheet. I am encouraged to see the positive results of our cost reduction programme gaining momentum, and believe that this relentless focus on efficiency will not only make our business more resilient through the cycle but position us favourably for any future improvement in market conditions. Despite challenging market conditions, these efforts have allowed us to generate a robust EBITDA margin of 26%."

VEDL Q3'16 PR
2) Low cost Asset base - The company has operations across zinc, lead, silver, oil and gas, iron ore, copper, aluminum and commercial power. Vedanta delivered $205 million cost and capex savings in 9M FY'16 and is on track to deliver another $300 million in FY'16. The company manages to extract zinc, silver and copper at very low costs, which means that it will survive this global downturn in which numerous companies are either going bankrupt or shutting down their mines. Its oil and gas subsidiary Cairn India gets most of its crude oil from oil fields, where the cost is as low as $6 a barrel. Similarly, its other major subsidiary Hindustan Zinc mines zinc at extremely low costs, leading to huge cash flows each year.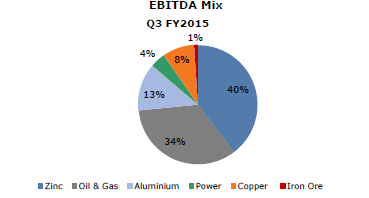 VEDL Q3'16 ppt
3) The Indian growth story - India is arguably one of the only economic bright spots in the world right now, with low interest rates and favourable structural reforms. The GDP is still expected to expand by more than 7% in 2016. India's currency Rupee has stood strong at a time, when most currencies tumbled against the USD. Major economies are feeling the heat, with a slowdown in the Chinese market.. India has been relatively insulated mostly because of its low reliance on the Chinese economy. Vedanta has most of its mines and fields located in India and has a huge advantage over other mining majors such as BHP Billiton Ltd. (NYSE:BHP), Vale and others as its logistics costs are much lower. As the Indian economy continues to expand at a fast clip, Vedanta will have a large captive consumer base.
4) Low valuation - The analysts have become negative on VEDL with CRISIL revising the company's long term credit rating to AA. However, I would rate it as a buy. According to me one should buy a stock when there is blood on the streets and this should be a good time for VEDL. The company has cash and liquid investments worth $ 7.6 billion and undrawn committed facilities of $ 0.7 billion as of December 2015, with net debt of $ 4.6 billion. The company does not face any major liquidity issues and could comfortably survive a prolonged downturn in commodity prices. It has got extremely high quality assets which provides a floor to the stock price.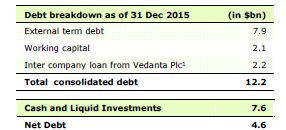 Source: Vedanta Ltd.
Risks
a) Corporate governance issues - Vedanta management has not proved too friendly to minority investors which had made me avoid this stock in the past. Its decision to advance a large billion dollar loan from Cairn India to Vedanta was not a good decision for Cairn investors. Even in the past, Vedanta management has taken decisions which were not favourable towards minority investors.
b) Weakness in commodity market and debt levels - With falling Chinese market and dipping oil prices, major commodities across the globe have taken a hit. Since Vedanta deals in oil and minerals, it too has been hurt severely. Though the company is resorting to various means like capital control, cost reduction and volumes delivery to tide through difficult times, another major decline in prices could lead to further problems.
On the plus side, it also has subsidiaries like Hindustan Zinc and Cairn India which are extremely cash rich and are still generating large cash inflows. This has enabled Vedanta to generate Rs. 6,800 crore FCF and reduce net debt by Rs. 1,300 crore in 9M FY'16.
Stock Performance
The stock is currently trading at INR 73 which is near to its 52 week low price. With the weakness in commodity price, the prices may fall further. The market capitalization stands close to INR 216 billion currently and the stock has lost ~66% in value in the last one year. The P/E stands at ~14x, which is a cheap valuation, given that its earnings are near the bottom of the cycle.
Conclusion
The stock has the potential to almost double in the long term, given its huge asset base and cash rich subsidiaries. I think it offers a good value proposition at the current price for long term investors. Since the company has pretty low cost of production, it stands a good chance to survive the downturn. The company will benefit from cheap captive power consumption and the fact that India should see its power demand grow between 5-10% over the long term. It could be a good investment for investors in the long term when the commodity prices rebound.
Disclosure: I/we have no positions in any stocks mentioned, and no plans to initiate any positions within the next 72 hours.
I wrote this article myself, and it expresses my own opinions. I am not receiving compensation for it (other than from Seeking Alpha). I have no business relationship with any company whose stock is mentioned in this article.
Additional disclosure: I hold mutual fund units in the country which might invest in the above mentioned stocks.