I. Introduction
This is part of a series of quarterly reviews that analyze the performance and portfolio characteristics of interesting equity managers running either public (mutual funds) or private pooled investment vehicles (hedge funds) that are not accessible by retail investors. Our aim is to provide readers:
An analysis of the manager's return and risk characteristics.
An analysis of the manager's top portfolio holdings.
An opinion on whether readers should replicate their portfolio.
All analysis is based on a clone portfolio of the manager's top 10 disclosed holdings, which allows readers to replicate the portfolio with ease if desired. It may not be an accurate reflection of the manager's actual investment performance.
That said, it is possible for some clone portfolios to outperform the manager's actual portfolio over time due to the following factors:
No Fee Drag: High base fees and excessive performance fees in some cases eat into returns. Investors can buy the stocks directly to access the manager's stock-picking skill.
No Over-Diversification: Managers typically over-diversify. Returns from the best ideas are usually diluted by a long tail of lower quality ideas. We focus only on the top 10 holdings.
No Fancy Sizing: Managers may have good stockpicking skills, but can be terrible at sizing ideas. Our clone portfolios are equally-weighted so each idea have an equal impact.
No Tinkering: Managers typically add or trim positions on the margin too regularly, since afterall, they are paid to "actively manage" the portfolio. Quarterly rebalancing in line with 13-F releases reinforces a buy-and-hold discipline and reduces costs.
No Shorting: Shorting requires a very different skillset which not all managers are good at. Alpha from successful longs can be severely diluted from bad shorts or dynamic exposure management that does not add value over time.
II. Manager Brief
| | |
| --- | --- |
| Manager Name: | BloombergSen Inc. |
| Location: | Toronto, Canada |
| Year Founded: | 2008 |
| Investment Style: | Long equities, Value |
| Lead Portfolio Manager(s): | Johathan Bloomberg |
| Number of Employees: | 10 |
| MV of Latest 13-F Holdings: | $1.35bn |
Johnathan Bloomberg, founder, was a former VP at Burgundy Asset Management, a value equity shop. Prior to joining Burgundy, Bloomberg was a senior analyst with SG Capital, a private equity house in New York.
Per its website, BloombergSen is guided by four principles:
Absolute Return: We aim to generate consistent long-term high rates of return irrespective of market performance.
Concentrated: We will only invest in our best ideas. We don't dilute returns through over-diversification. We will, however, own enough ideas to be adequately diversified.
Long-Term: As business investors, we take a long-term approach to investing. We believe the majority of market participants have a short-term orientation, which creates attractive opportunities to look beyond the next few quarters.
Value: We only invest in businesses that are selling for significantly less than our conservative estimate of their intrinsic value. Incidentally, our definition of value does not exclude growth; rather, we view growth as a driver and key component of a company's intrinsic value.
The firm manages a single equity strategy, which is long-only in nature.
III. Performance Analysis
Our clone portfolio returned an annualized +18.1% for the trailing 3 year period, versus +15.1% for the S&P 500. After outperforming the index in 2013, performance has been fairly market-like in 2014 and 2015.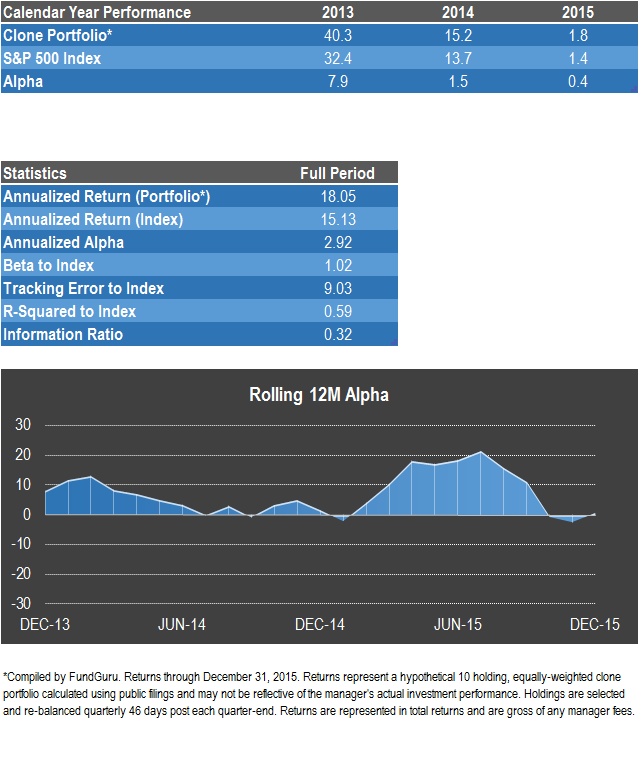 IV. Holdings Analysis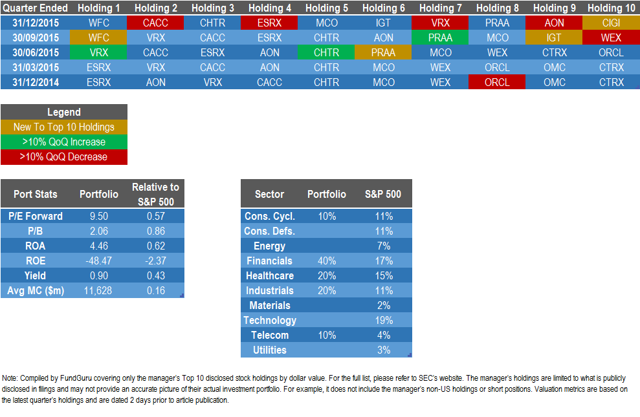 Portfolio Characteristics
It's good to see the manager stick to its core investment philosophy of "Value" and "Long-Term". The portfolio does indeed exhibit a value tilt, with a lower P/E and P/B to the S&P 500. Turnover is also fairly low. New names are introduced fairly infrequently.
Holdings of Interest
Of the current top 10 names, 7 have been in the portfolio over the course of 2015. Wells Fargo (NYSE:WFC) was previously a warrant. This is how the names have performed: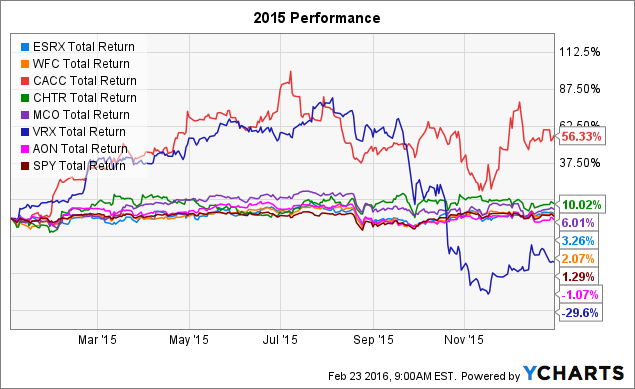 Most names have been flat in 2015. The only two that stands out are Credit Acceptance Corp (NASDAQ:CACC) and Valeant (NYSE:VRX).
While the story with VRX is well-known (and the manager trimmed its position by 25% in Q4), CACC is more intriguing.
This is a $3.9bn market cap company and is a provider of financing programs to automobile dealers. The company's programs are offered through a network of automobile dealers; from repeat and referral sales generated by customers, and from sales to customers responding to advertisements for it products.
The company has grown its revenues very consistency over the past decade: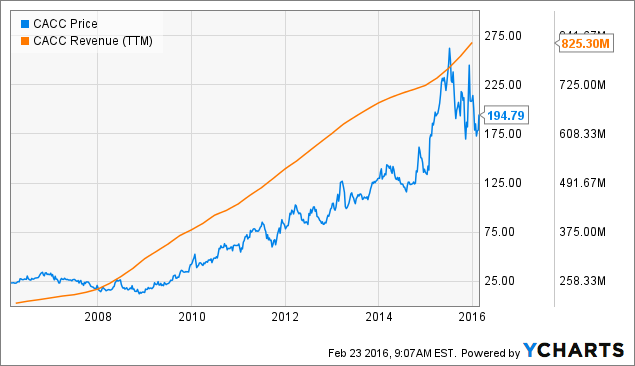 Shares also appears to be inexpensive relative to history: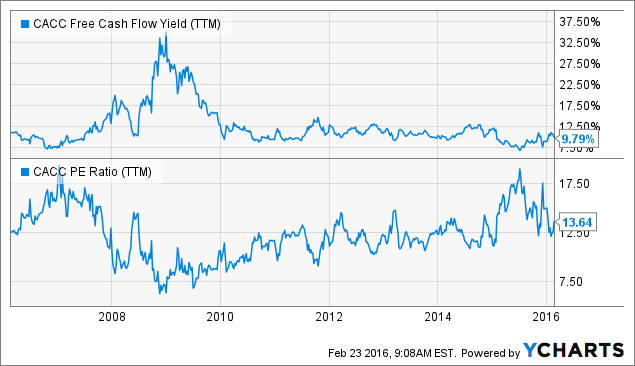 In addition, half of the firm's shares are held by institutional investors, of which BloombergSen is a large shareholder with 5% of outstanding shares.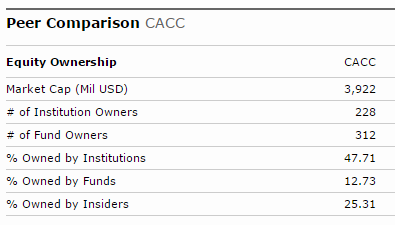 25% of shares are owned by insiders. The major owners are founders Donald Foss (3.9m shares) and wife Karol Foss (2.2m shares). However, the firm's short float is high at 32%, which is noteworthy.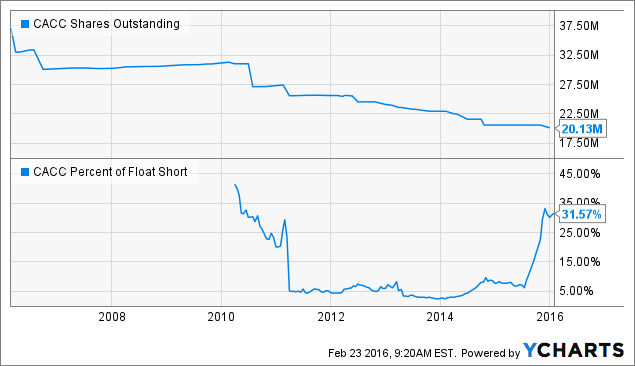 Recent Activity
BloombergSen reduced its shares in CACC after it spiked in October/November last year. It also reduced its stake in Express Scripts (NASDAQ:ESRX) and Aon (NYSE:AON).
Finally, here is the top 10 performance YTD: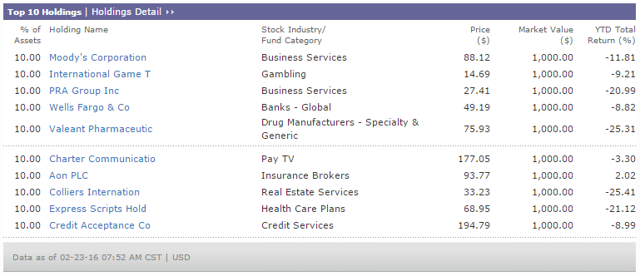 V. Summary Thoughts
We Liked:
Bottom-up analysis of its 13-F shows that the manager has stuck to its core philosophy (concentrated, long-term, value), which is attractive
Firm manages a single equity strategy
We Didn't Like:
Its AUM has grown considerably over the past few years
Use of warrants and call options, which makes this strategy a more complex one to capture. The founder's background in a traditional equity shop doesn't appear to align with use of derivatives
Bottom Line:
We like BloombergSen's philosophy, but its use of call options to generate additional upside seems to be contradictory to the founder's background in a traditional value shop. If the manager's cyclical performance pattern holds, we believe a period of better performance may be in the cards. We will continue to monitor this manager to see if is worth cloning.
Interested in Following More Alpha?
Follow us now to get live updates as we post new reviews, and/or see our Schedule of Manager Reviews for an up-to-date list of the managers we have assessed so far.
Disclosure: I am/we are long VRX.
I wrote this article myself, and it expresses my own opinions. I am not receiving compensation for it (other than from Seeking Alpha). I have no business relationship with any company whose stock is mentioned in this article.