Our elevation portfolio is up around 2.3% since the start of the year with our main winner thus far being IBM (NYSE:IBM), as it is up already 10% from our buy-in price. The S&P 500 (NYSEARCA:SPY) has slipped in recent sessions and is down again today in pre-market, so the possible bubble phase is still off the cards as we haven't had a strong breakout above 1,950. Therefore, we will be honoring stops on all positions at the 1,880 level if that trend line gets breached as protecting the downside is key. Wal-Mart (NYSE:WMT) has recovered very well from its disappointing set of fourth quarter earnings as the stock price has bounced back to pre-earnings levels.

We sold the January 2017-$70-Call against our long stock before earnings last week for $310. In this article, you will see exactly how volatility impacts option prices. As you can see from the table below (which is from Wednesday the 17th), the stock was trading at $65.9 and the January 2017-$70-Call was trading for around $310. Remember these option prices were taken before Wal-Mart's fourth-quarter earnings, so implied volatility was inflated.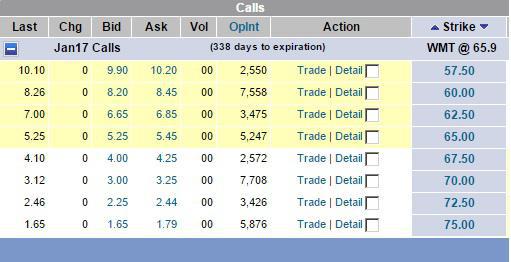 Fast forward to today and call option prices have decreased substantially even in the face of Wal-Mart being up $0.60 a share since Wednesday of last week. Call option prices should actually rise when the price of the underlying rises, but not if implied volatility falls significantly which is what we have had over the last 6 days. As you can see from the table below, call prices at the same strike price ($70) have dropped to around $280 which is a reduction of $30 or almost 10%. Furthermore, the price of the underlying has rallied since we took on the covered call position, meaning we have an unrealized gain on our stock and our call position which was the goal at the outset. If the call premium (around $280) currently continues to fall off, we will consider buying back the call. It makes no sense to hold onto this option for the next 332 days just to make an additional $280. When I make the "call" (no pun intended...), I will post it as an update here on the elevation portfolio.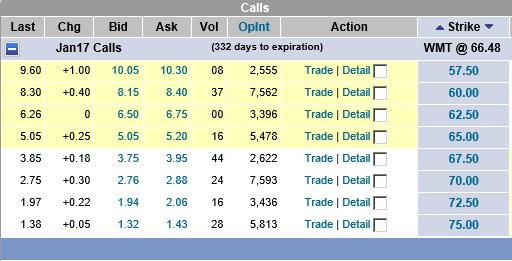 A good way to check implied volatility of Wall-Mart is to check it at this website and see where its implied volatility is at the moment compared to where it has been over the last 12 months. As we can see from the chart, implied volatility is around 21% but it rose to almost 40% a week ago when Wal-Mart was about to announce its earnings numbers. Therefore, going forward, all you need to know is that implied volatility is basically an estimation of how much the given underlying will move over a period of time. As the chart shows, selling premium last week was advantageous in the fact that Wal-Mart's implied volatility was well above its 12-month average. If we hold onto our call, we will watch ex-dividend dates to make sure we collect all of Wal-Mart's quarterly payouts. Why? Well sometimes the investor on the other side of this covered call trade may exercise the call option (remember we are the sellers and he is the buyer) in order for him to be long the stock so he can collect the dividends. However, I don't see this occurring as I usually buy back call positions (as discussed above) when we have at least 50% of max profit achieved.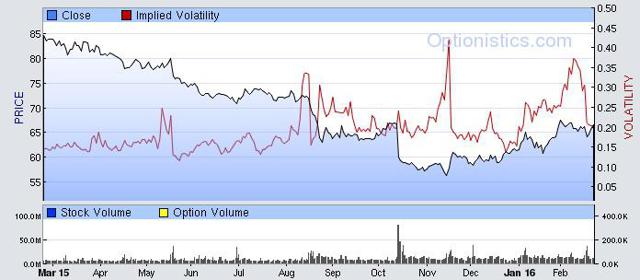 Here is a screenshot of where the portfolio is at the moment. Honor stops on all positions at the 1,880 level.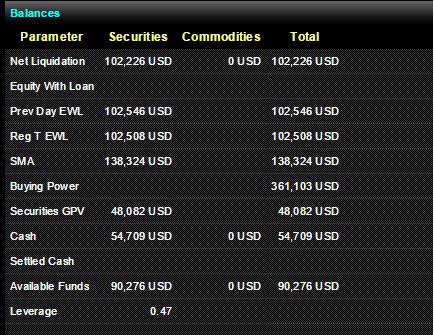 This portfolio will be all about increasing trade activity among some overvalued dividend growth stocks like McDonald's (NYSE:MCD) so that over time we can pump more capital into our lower valued dividend growth stocks which by nature should be paying higher dividends - IBM. We need to do this to keep the portfolio diversified as this increases our reward potential going forward as income portfolios are all about share count which we will increase substantially over time.
I'm going to be adding a good few dividend stocks to the elevation portfolio over the next several weeks when I see value. It's imperative that they are not correlated and all don't have similar valuations to ensure income is brought in every month which over time will increase our share count. Follow along by pressing the "Follow" button above. Let's see how quick we can get this to $20k in annual income.
Disclosure: I am/we are long WMT, CSCO, IBM, AXP, VLO, EMR.
I wrote this article myself, and it expresses my own opinions. I am not receiving compensation for it (other than from Seeking Alpha). I have no business relationship with any company whose stock is mentioned in this article.