In my last analysis of Kellogg (NYSE:K), I had predicted that on the basis of its business model and prior trends, Kellogg would continue to grow dividends but earnings would ultimately stall, yielding a target price of $61, and leaving the company overvalued at the current price of $74. The purpose of this article is to follow up on the company's subsequent performance to see if those assumptions still hold. Additionally, I had also previously remarked that Kellogg could see limited success given that the company has encountered obstacles in breaking into the Chinese market. In this context, I also wish to examine whether China will be a significant impediment to Kellogg in this regard, or if the company is in a better position to capitalise on growth in developed markets.
I had offered the caveat previously that my expectations for growth are not high for Kellogg, although I expect dividends to continue increasing. Specifically, I had anticipated that while dividends would continue to grow by 10%, the following were my scenarios assuming 1) no earnings growth and 2) 5% earnings growth:
0% earnings growth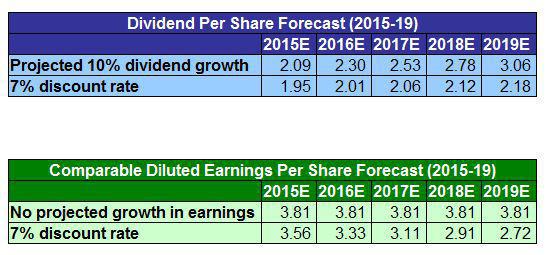 5% earnings growth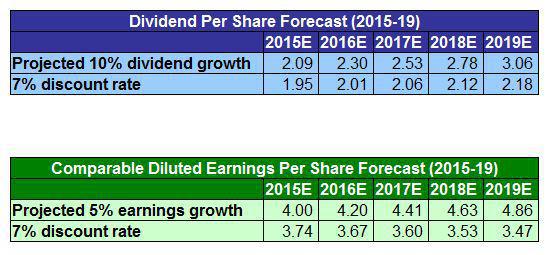 Since this time, actual performance has met expectations of no growth in earnings, as earnings per share (on a comparable basis) came in at $3.53, which is below the $3.81 expected for 2015 assuming no growth (reported earnings per share came in at $1.72, with items affecting comparability coming in at $1.81).
Dividends per share for 2015 amounted to $1.97, which is just above the projected growth to $1.95 per share assuming a 7% discount rate. While I expect dividends to continue growing, growth in free cash flow has been stagnant since mid-2012, hitting a four-year low of $969m: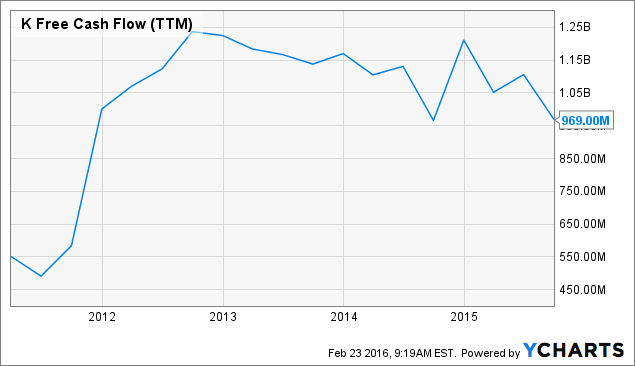 What's more, the price to free cash flow has continued to increase over the last four years, suggesting that Kellogg could potentially be overvalued on this metric: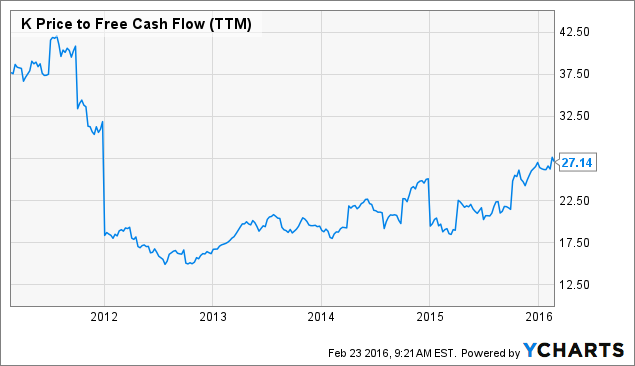 Moreover, as expected, Asia was a significant drag on operating profit. We see that while Latin America grew by a robust 46%, North America grew by only 3% while Asia declined 13%: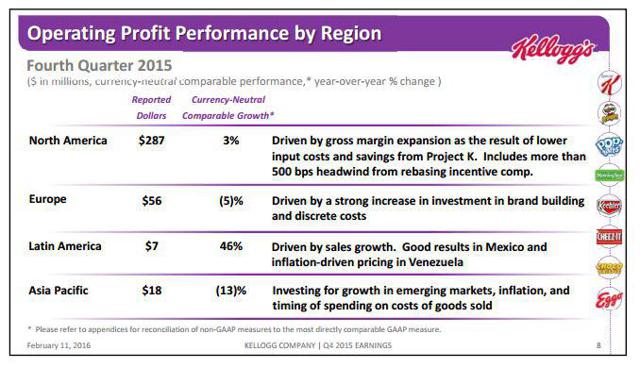 While the Pringles brand continued to see strong growth in China, the cereal market remains highly competitive and competitors such as Nestle have continued to establish a significant foothold in this market. Moreover, with a growing trend towards healthier cereal options, Kellogg could be increasingly unable to compete with the likes of Nestle which has introduced tailored options such as the "Nesvita" brand for elderly customers.
To conclude, my prior forecast of no earnings growth for Kellogg has so far been in line with expectations. Given the growing influence of Asia (in particular, China) in the world cereal market, I anticipate that Kellogg will need to come up with more innovative ways of competing in this market to ensure holistic sales growth globally and indeed a renewed growth in earnings.
Disclosure: I/we have no positions in any stocks mentioned, and no plans to initiate any positions within the next 72 hours.
I wrote this article myself, and it expresses my own opinions. I am not receiving compensation for it (other than from Seeking Alpha). I have no business relationship with any company whose stock is mentioned in this article.