Every three months, we take a snapshot of the expectations for future earnings in the S&P 500 at approximately the midpoint of the current quarter. Today, we'll confirm for the fifth time that the earnings recession that began in the fourth quarter of 2014 has continued to deepen.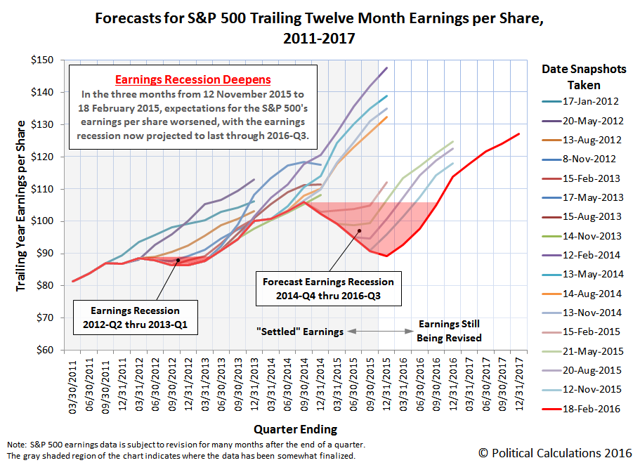 In the chart above, we confirm that the trailing twelve-month earnings per share for the S&P 500 throughout 2015 has continued to fall from the levels that Standard & Poor's had projected they would be back in November 2015. And for that matter, what they had forecast they would be back in August 2015, May 2015, February 2015 and in November 2014.
There is some good news. Although the latest projection confirms that the earnings recession is continuing to deepen, the current estimate indicates that the fourth quarter of 2015 is the first time that the rate at which the earnings recession is deepening has begun to decelerate. As we have seen in previous quarters however, that is no guarantee that we've yet seen the bottom.
Standard & Poor's Howard Silverblatt described what he's seeing in 2015-Q4's earning reports (via S&P's Index Earnings Report Excel spreadsheet), which will only present the following comments for a very limited time (most likely, they'll be superseded in less than a week)...
With almost 90% of the Q4 2015 earnings reported, 67.6% of the issues are beating estimates (the historical rate is two-thirds), but only 36.8% beat As Reported GAAP rule based earnings estimates and less than half, 46.8%, beat sales estimates.

Explained 'responsibility' for any short fall on the cost side includes currency costs and a growing list of special one-time items (never to be repeated, of course).

On the income side, helping earnings, are the 'difficult decisions made' by companies under the heading of cost-cutting (as layoffs and location changes appear to be on the rise).
Speaking of layoffs, here's a list of those making the news on just the two days of 22nd February, 2015 through 23rd February, 2015, where the sample of just those in the U.S. indicate a wide geographic dispersion as well as a widening list of affected industries.
Data Source:
Silverblatt, Howard. S&P Indices Market Attribute Series. S&P 500 Monthly Performance Data. S&P 500 Earnings and Estimate Report. [Excel Spreadsheet]. Updated 18th February, 2016. Accessed 19th February, 2016.