Industrial production surged in January by .9% from the previous month, which was the largest monthly gain since May 2010. This broad measure of everything produced by mining, manufacturing and utility companies was driven by auto production, which increased 2.8% in response to strong sales, and electricity production, which increased 5.8%, due to the extremely cold weather. Some hailed this report as an indication of stabilization for the manufacturing sector, as mining production, which includes oil drilling, was unchanged after four months of declines. Additionally, machinery production rose for the first time in five months. Yet these monthly figures do not adequately represent the underlying trend the way that the year-over-year numbers do.
To that end, the year-over-year change in industrial production was a decline of .7%, as can be seen below. This shows a trend that is very troubling, and not one that is stabilizing. What concerns us now is that the strength in auto production is likely to fade, given the buildup in existing inventory and what looks to be peak sales for this cycle.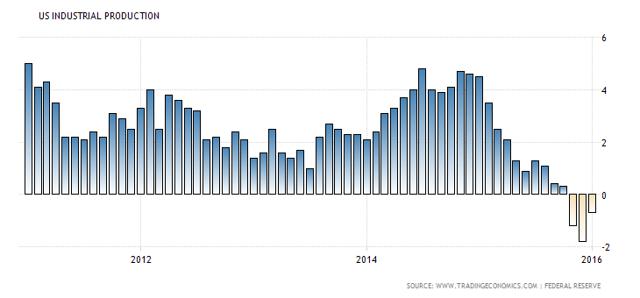 The Consumer Price Index, or CPI, is not a leading indicator. It has no forecasting value, but it does have relevance in terms of consumer spending power. It determines what workers earn on an inflation-adjusted basis, or what is known as real wages.
The Department of Labor reported last week that the core rate of consumer prices, which excludes food and energy, increased a greater than expected .3%, which was the largest increase in more than four years. The increase was led by price gains in rents and medical care expenses. This core index increased year-over-year by 2.2%. It also lifted the overall CPI to a year-over-year gain of 1.4% from what was just .7% in the previous month.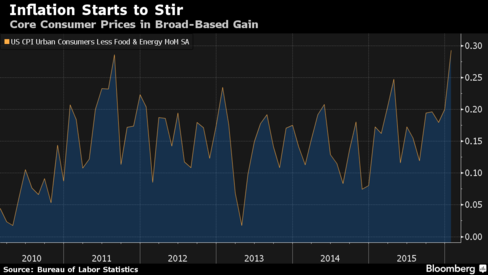 This report was welcomed as good news, because it arrested fears about deflation and was viewed as moving the Federal Reserve closer to its mandate of a 2% rate of inflation. Yet it doesn't bode well in another respect, which was revealed in the Labor Department's report on real average hourly earnings.
Real average hourly earnings for all employees increased .4% from December to January, which was the largest increase since August, and the second largest monthly increase since the recovery began. The year-over-year increase was 1.1% after factoring in the rise of 1.4% for the overall Consumer Price Index.
The concern is that real average hourly earnings were rising 2.4% year-over-year in January of 2015. So the rate of increase in real wages has slowed substantially, which has negative implications for consumer spending as we move forward, unless average hourly earnings increase at a rate commensurate with the increase in the overall CPI. Again, there are reasons for concern. January tends to be the best month for increases in average hourly earnings because of cost-of-living increases and the scheduled upward adjustments in the minimum wage. Approximately 4.6 million people in 14 states realized a one-time increase in pay because they were making less than the new minimum wage in their respective states. It is unlikely that we will see as substantial a gain in average hourly earnings in the months ahead as we saw in January.
It is important not to misconstrue the relevance of the monthly statistics. They can often make for great headlines, but the year-over-year measurements are far more relevant in determining the underlying trend. It is the trend that tells us if the economy is weakening or strengthening. Based on the data for industrial production and real average hourly earnings, the economy continues to weaken.
Disclosure: I/we have no positions in any stocks mentioned, and no plans to initiate any positions within the next 72 hours.
I wrote this article myself, and it expresses my own opinions. I am not receiving compensation for it (other than from Seeking Alpha). I have no business relationship with any company whose stock is mentioned in this article.