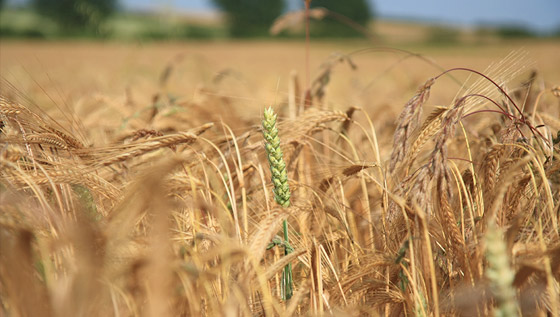 Yesterday was a very eventful day for commodity prices which saw considerable declines across the board. But amongst all the red screens one commodity stood out in the brightest of greens and put on a fantastic 8% gain, and that was sugar (NYSEARCA:SGG).
We have been long sugar since the start of February and bought in at $12.41. As we laid out in our previous thesis, we had been anticipating riding it up to around $15, but we have decided to sell now at $13.89, for a 12% return on our initial investment. Sugar's recent rally was sparked after the International Sugar Organization increased its global deficit forecast. This followed a similar move last Friday which saw F.O. Licht warn of a high probability of short supply hitting markets also.
Selling out of our position in sugar did not come easy, and we may live to regret exiting it a little over half-way to the target price we laid out. However, we just felt as though the sugar price could hold at this level now for the short-to-medium term, and would reallocate our capital elsewhere. Given the declines in the commodity market there were a number of interesting options to choose from. Wheat has just hit a six-year low, cotton continues to look incredibly cheap, cocoa looks like it wants to rally, and coffee looks attractive. Of all the options available to us, the one which we find most compelling is wheat. The oversupply of wheat should keep its price down for a while yet according to some. But, we are betting against this and have taken a long position.
The reason is that the warm winter that Europe has experienced has meant the crop has not developed its cold-resistance, and is therefore extremely vulnerable to frost. According to the European Union's crop monitoring agency, the Monitoring Agricultural Resources, or Mars for short, the winter crops spread around western and southern Europe have not hardened. Hardening is what happens when the starch in crops converts into glucose. It is this process which prevents the plant from freezing damage during the winter dormancy period. Ukrainian authorities believe over a third of their crop is at risk and has been labeled as being in a poor state. The Ukraine supplies around 5% of the world's wheat, which means we could see a reduction of up to 1.67% of world supplies from their issues alone.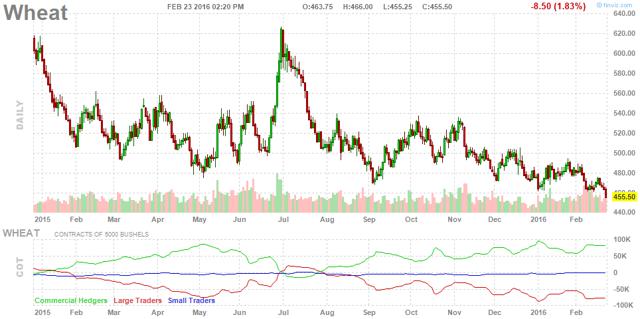 In our opinion commodity traders have priced in the delivery of all of these crops to market and the continued oversupply it would cause, as demonstrated by the big decline in price in the last two weeks. If a portion of these crops were to be taken away through frost damage, then we would expect the wheat price to rally. We don't expect the wheat price to be taken much lower than where it is currently at the six-year low, as mostly all crop harvests have been accounted for within the price now.
All eyes will be on the United States Department of Agriculture Outlook Conference later this week which should reveal the acreage for U.S. suppliers. We are hoping for lower levels of acreage which we think could be the catalyst to a small spike in price.
We think a great way for investors to buy into wheat is through the Teucrium Wheat Fund (NYSEARCA:WEAT). Like most funds in the commodity space it provides investors with unleveraged and direct exposure to wheat without any need for a futures account.
In the long-term we anticipate wheat eventually finding its feet a rising to 600.00, but for the short to medium-term we believe 525.00 to be a fair price. We feel it is inevitable that demand will catch up with supply eventually and start to drive the price up. If the European crop yield does suffer due to frost damage, then we can see this happening much sooner. From the current trade price of 455.50, our short-to-medium price target would give us a return of 15.2%, and our long-term price target 31.7%.
For those that still own sugar, we're not calling for a sell on it, this is merely a reallocation of capital. Although our skin is no longer in the game with it, we still believe sugar will make it to 15.000 and therefore offers investors a good return from where it is now.
Disclosure: I am/we are long WEAT.
I wrote this article myself, and it expresses my own opinions. I am not receiving compensation for it (other than from Seeking Alpha). I have no business relationship with any company whose stock is mentioned in this article.