Texas Roadhouse (NASDAQ:TXRH) delivered a solid beat on earnings ($.32 compared to estimates of $.30) for the fourth quarter. The strong beat and favorable guidance sent shares climbing higher, though there is at least one substantial question that still must be answered.
Earnings
A beat of $.02 sounds large enough to be significant when it represents about 6% to 7%. The strong earnings were lifted by a couple of factors including strong comparable sales and better margins for the fourth quarter year over year.
I put together a couple of charts from the information that makes it easier to explain the performance:
Relative to the last quarter of last year, the total costs were down and the reduction came from the "other operating" and "cost of sales" categories. Cost of sales simply refers to the food and beverage cost. Beef prices were a major headwind for 2015 with total food cost inflation for fiscal 2015 running 4.9%.
The full year numbers tell the tale on the headwinds from higher ingredient prices.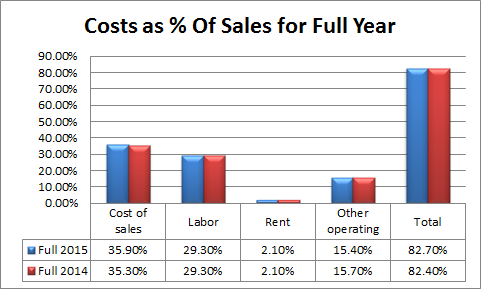 The 35.4% figure for the fourth quarter is materially lower than the full year average of 35.9%.
For investors that are unfamiliar with the "other operating" cost category, it is defined in a quarterly filing as:
"Restaurant other operating expenses consist of all other restaurant-level operating costs, the major components of which are utilities, supplies, local store advertising, repairs and maintenance, equipment rent, property taxes, credit card and gift card fees, gift card breakage income and general liability insurance. Profit sharing incentive compensation expenses earned by our restaurant managing partners and market partners are also included in restaurant other operating expenses."
So far, everything looks fairly good for Texas Roadhouse, but there is a story behind the performance. While margins for the fourth quarter were back on par with full year performance from 2015 (total costs = 82.40%), earnings per share were up substantially as the company repurchased a large volume of shares and drove comparable sales higher.
Comparable Sales
The comparable sales figure is enormous for the long run performance of Texas Roadhouse. They beat their comparable figures (Q4 of 2014) by 7.2% for company restaurants and 6.5% for franchised restaurants. Each analyst may have their own explanation for the strong comparable sales figures, but mine is fairly simple. When beef costs were rising, the desire of Americans to eat beef did not change. While the grocery stores were raising prices on beef, Texas Roadhouse was willing to take a hit on their margins and held their price lower. Consumers responded to lower comparable prices by visiting Texas Roadhouse more frequently. This theory is supported by breaking down the comparable sales figures.
Traffic and Check
For full year 2015: The average check was up 1.7% but customer traffic was up 2.8%.
For Q4 of 2015: The average check was up about 2.7% to 2.8%, but customer traffic was up 5.4%.
The numbers bear out the story of Texas Roadhouse driving their growth in earnings through higher sales and generating those higher sales by keeping prices relatively low and focusing on getting more people into the restaurant.
The Only Challenge
Texas Roadhouse has already made changes to the physical restaurants to create additional seating. At least some of the restaurants are already packing in the customers, getting food to them quickly, and turning the table over with great efficiency. The potential for gains through increased traffic per store will be limited unless they are able to encourage customers to pick up dinner and take it home. Otherwise, they will need to look at price increases as a larger portion of driving comparable sales within the next few years or relocating restaurants to larger locations to accommodate the demand that exists at current prices.
All in all, there are worse problems that could exist for a restaurant than running out of places to seat customers. However, it is a challenge that investors should keep in mind. During guidance for 2016, management reaffirmed expectations for growth in comparable sales in 2016 and indicated that over the first seven weeks of 2016, they were up over 4% year over year.
If TXRH opts to raise prices, it would be favorable for competitors that are losing their traffic to TXRH. If they opt to acquire larger locations, it would be a significant threat to the sector.
Disclosure: I/we have no positions in any stocks mentioned, and no plans to initiate any positions within the next 72 hours.
I wrote this article myself, and it expresses my own opinions. I am not receiving compensation for it (other than from Seeking Alpha). I have no business relationship with any company whose stock is mentioned in this article.
Additional disclosure: Since Texas Roadhouse has already worked to expand seating for customers, they will need to look at higher prices or larger restaurants