Introduction
I have been in awe of Northern Star Resources' (OTCPK:NESRF) business strategy for a while now, as the company has timed its asset acquisitions perfectly. It bought several producing mines for pennies on the dollar (one of the acquisitions even had a payback period of less than one year), and is now generating tonnes of free cash flow.
Northern Star is an Australian company operating in Australia, and for liquidity reasons, I could strongly recommend you to trade in the company's shares through the facilities of the ASX. Northern Star's average daily volume is 6 million shares, resulting in an average daily dollar volume of $17M. The ticker symbol is NST.
The production rate remains high and the cheap Aussie dollar expands the margins
Northern Star produced in excess of 285,000 ounces of gold in the first half of its financial year (which ends in June 2016), which puts the company on track to meet the higher end of its full-year production guidance, which has been estimated at 535,000-570,000 ounces of gold. The company can count its blessings for being an Australian operator, as the very weak Australian dollar is definitely boosting the company's results, and 4 of its 5 mines were cash flow positive on an operational basis with an average all-in sustaining cost per ounce of A$1062 ($770) on a consolidated basis.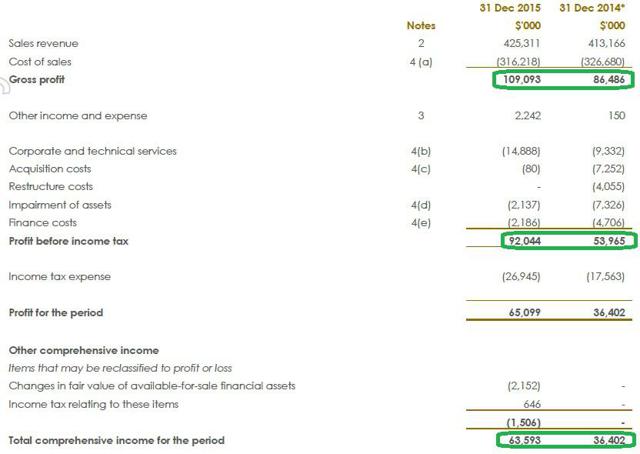 Source: financial statements
That's absolutely excellent, and this is clearly visible in Northern Star posting excellent financial results. Thanks to the weak Australian dollar, Northern Star's revenue actually increased to A$425M ($308M) which resulted in a 26% increase in its gross profit and a 75% increase in the pre-tax income. The higher tax payments couldn't ruin this party and the net income increased by a stunning 80%! Okay, yes, a net income of A$64M ($46M) and an EPS of A$0.11 ($0.075) don't sound too exciting when your share price is trading at almost A$4 ($2.9), but keep in mind I wrote my first article on this company when it was trading at approximately A$1.20 ($0.87) per share.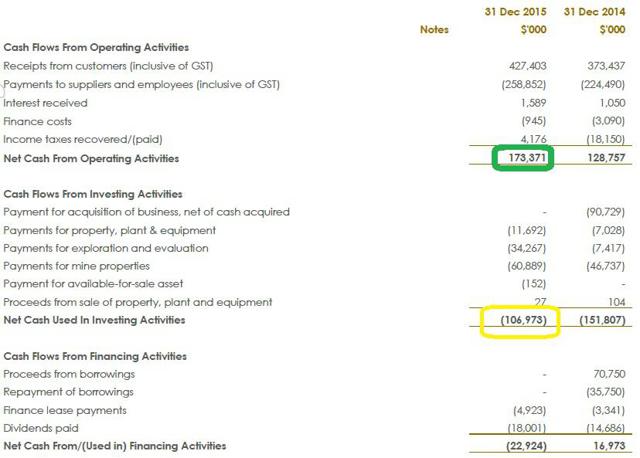 Source: financial statements
The cash flows were also very strong as Northern Star's operating cash flow increased pretty fast to A$174M ($126M) due to a change in the cash component of the taxes. Despite this, the free cash flow seemed to have remained pretty stable as the company spent A$105M ($76M) on its properties. However, Northern Star has really thrown everything on the same pile, and the capex also contains the payment to acquire the rights to an initial 60% of the Central Tanami gold project as well as the due diligence expenses and expansionary exploration expenses. So the normalized free cash flow should be higher, and I think this will be confirmed in the financial statements of the second half of this year (as the one-time acquisition-related events should remain limited to the past semester).
This allowed the company to increase its dividend to A$0.03 ($0.0215) per share, and Northern Star remains on track to pay a full-year dividend of at least A$0.05 ($0.035) per share, resulting in a yield of 4% on the average cost basis.
There could be some M&A in the near future
Northern Star has been a consolidator for several years, but times they are-a-changing. The company has disclosed it has received several expressions of interest from third parties that would be very interested in acquiring the Plutonic mine. This interest was probably fueled by a very interesting economic study on some new zones at Plutonic.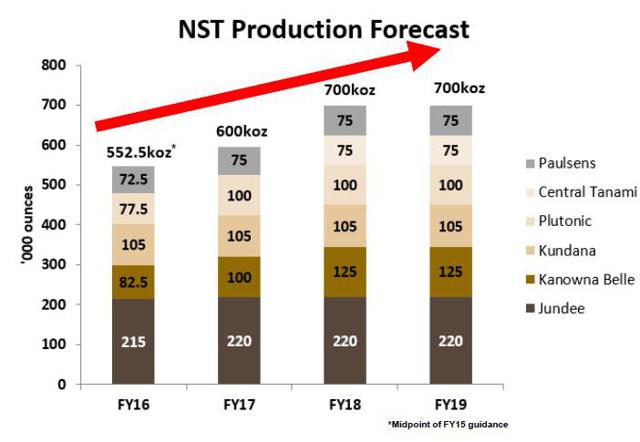 Source: company presentation
It will be very interesting to see how much Northern Star thinks it will be able to receive for the company as it paid just A$28M ($20M) when it acquired the asset just two years ago. Even though Northern Star's management thinks the recent fall in the production costs will be sustainable, it's open for all offers as, and I quote, 'they are a business first and a mining company second', so if someone would make a very nice offer I have no doubt Northern Star's board will take it into consideration.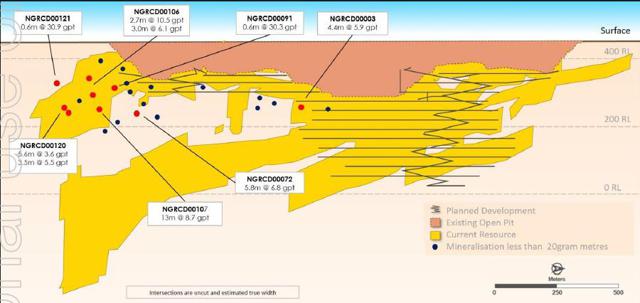 Source: press release
This would also unlock more capital for Northern Star in case any other opportunities pop up, or in case it wants to self-fund the development of the new Tanami project. Whatever the outcome of this sale process will be, Northern Star is starting the negotiations in a strong position as the company is debt free (except for a low-single-digit amount) and has a positive working capital position of A$160M ($116M) (which has very likely increased to A$200M ($145M) by now due to the expanded operating margin).
Investment thesis
I'm expecting a lot from Northern Star's second half of the year as the gold price expressed in Australian dollars is approximately A$1700, resulting in a huge operating margin of A$600/oz ($435M) on an all-in cost basis. Assuming an H2 production rate of 260,000 ounces gold, it's not unlikely to see Northern Star's net working capital to increase to in excess of a quarter of a billion Australian dollar.
That being said, I consider the recent run in the share price to be a good moment to take some partial profits and would recommend to take at least your original investment out of the company in case you haven't already done so. It's a great company, but it looks pretty fairly valued now.
Disclosure: I/we have no positions in any stocks mentioned, and no plans to initiate any positions within the next 72 hours.
I wrote this article myself, and it expresses my own opinions. I am not receiving compensation for it (other than from Seeking Alpha). I have no business relationship with any company whose stock is mentioned in this article.