There has been a lot of debate about the value that dividends bring to long-term investing results. At one extreme, there are those investors who focus entirely on the income their stocks produce and how quickly that income grows. At the other are those who argue that wise retirees should care more about how much their total investment ends up being worth as shares can always be sold to provide needed income.
To get a better idea of how investing for dividend yield really performs over time compared to investing for total return, I decided to examine the actual performance of a group of actual stocks. To make the results relevant for dividend growth-focused investors, I decided to see how investing based on yield affected the returns of a highly select group of dividend growth stocks.
Welcome To The Survival Bias 13 - The Dividend Growth Champs Whose Dividend Vs. Total Return Performance We Will Explore
The first stocks I chose to examine were the 10 most popular stocks taken from a list that Mike Nadel published after polling a group of Seeking Alpha's Dividend Growth gurus back in October of 2014. He called this list the Dividend Growth 50. These are the stocks that current Dividend Growth Investors (DGIs) consider the strongest of all those that survived the many reverses of the last 25 years. Because DGI investors focus on increasing income, you would expect that these stocks would also be those chosen under the influence of recency bias - the tendency to draw conclusions based on recent experience. Each of the top 10 stocks in the Dividend Growth 50 is also a current Dividend Aristocrat.
To make things more interesting, I added three other current Dividend Aristocrats to the top 10 Dividend Growth 50 stocks. These last three stocks had not made it into Nadel's Dividend Growth 50. They are not favorites of the Seeking Alpha DGI gurus and are rarely discussed in DGI discussions here on Seeking Alpha. However, these stocks are also current Dividend Aristocrats. I chose them because they appear on quite a few lists of the Dividend Aristocrats with the best recent performance: Those three stocks are Sherwin-Williams (NYSE:SHW), V.F. Corp. (NYSE:VFC) and Ecolab (NYSE:ECL).
Why I Choose To Track Performance From The Beginning Of 1998 To The Beginning Of 2008
I chose to examine how these stocks, which I will call the "Survival Bias 13" performed over the decade extending from 1/2/1998 through 1/2/2008. This period has some interesting parallels with the present. It began as the bull market of the 1990s was drawing to a close. This was followed by a significant three-year market decline followed by a strong recovery. The period ends at a point in the business cycle very much like where we find ourselves today: a point where the market had just begun to retreat from an all-time high but had not yet entered the profound decline of the Great Recession.
Methodology
All the charts below assume that the investor bought $10,000 worth of shares in each stock at the price at which stocks closed on the last day of 1997. All dividend and total return figures were captured on February 20, 2016. All figures for yield, share appreciation, and total return with dividends reinvested come from data supplied by S&P IQ as reported by F.A.S.T. Graphs.
What Yields Were Available At The Beginning Of This Period?
Below, you can see a chart depicting the tickers and yield of the stocks in the "Survivor Bias 13" as they stood on the first day the market was open in 1998:

Note that the 10-year Treasury bond was paying more than any of these stocks. So the investors who bought any of these stocks in 1998 knew they were trading a higher guaranteed income for the prospect of enhanced share price growth - i.e. for total return.
Dividend Returns From 1/2/1998 To 1/2/2008
Below, you will see the graphed total amount of dividends paid by each stock to investors who owned these stocks between 1/2/1998 and 2/20/2008.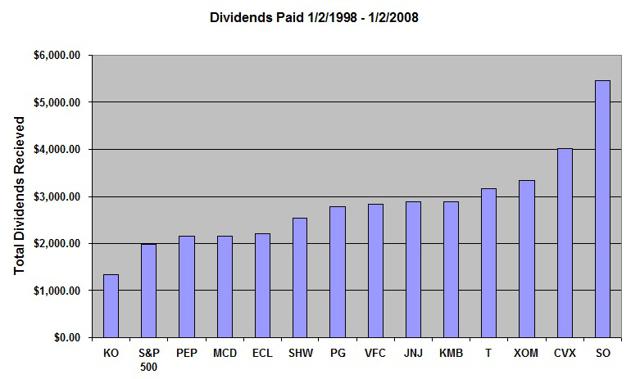 As you would expect, the dividends paid by the stocks with higher yields in 1998 delivered more dividends over the next decade than did those with lower yields. The investor who invested $10,000 at the start of this period in the highest-yielding stock, Southern Co. (NYSE:SO), received a total of $5,457 in dividends over the following 10-year period. In contrast, the investor in the lowest-yielding stock, McDonald's (NYSE:MCD), received less than half of that amount, $2,168. Surprisingly, Coca-Cola (NYSE:KO), the second most popular stock on the Dividend Growth 50 list not only paid the worst dividends of the group, but it also underperformed the S&P 500 for a decade's worth of dividends. Seeking Alpha favorites Procter & Gamble (NYSE:PG) and Johnson & Johnson (NYSE:JNJ), which had started this period paying relatively low dividends, fell in the middle of the pack.
The Best Stocks For Total Return Were Not Predictable From 1998 Dividend Yield
During this period, the stocks whose share prices rose the most varied significantly from those who paid the best dividends. The chart below shows what the value of a $10,000 investment was in each stock at the end of this period: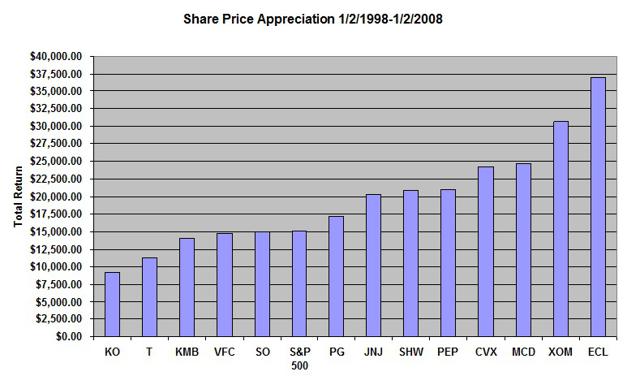 Low-yielder KO, which was extremely overvalued at the beginning of this period, was the worst performer of the decade both in terms of dividends and share price. $10,000 invested in KO at the beginning of 1998 was reduced to $9,203 at the very end of 2007.
But three of the highest-yielding stocks, AT&T (NYSE:T), SO, and Kimberly-Clark (NYSE:KMB) also underperformed the S&P 500 in terms of how the value of their shares increased. Shares of T bought for $10,000 were only worth $11,348 a decade later.
Of 1998's five highest-yielding stocks, only the big oils, Exxon Mobil (NYSE:XOM) and Chevron (NYSE:CVX), made it into top 5 by share appreciation. Meanwhile, several of the lowest-yielding stocks doubled investors' money over the decade, including JNJ, PepsiCo (NYSE:PEP), and Sherwin-Williams. The worst dividend payer, MCD, was the third best stock in terms of share price growth, while investors in Ecolab, whose dividend yield had been placed in the bottom half of these stocks at the start of 1998, saw the value of their $10,000 almost quadruple. The value of the shares they had bought for $10,000 rose to $36,950.
Did reinvesting dividends offset the huge differences in share appreciation? Not much.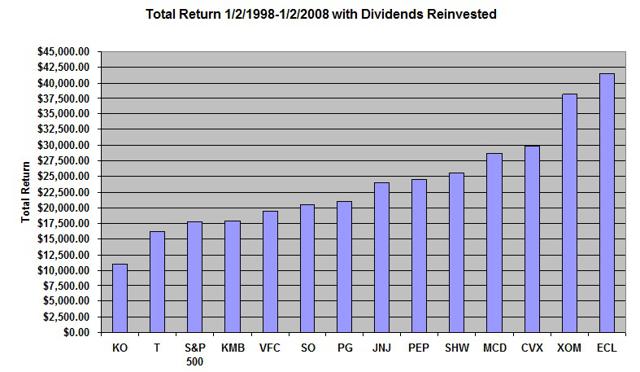 Investors in the highest yielding of the Survival Bias 13, SO, ended up with $20,428 after a decade of reinvesting their dividends while investors in the lowest yielding, MCD, ended up with $28,636. The MCD investors earned almost a third more.
Meanwhile, investors in share appreciation champion ECL earned twice as much: $41,453.60. The retirees who had invested in KO received a total of $11,073 on their 10-year investment. They would have done better investing in that 10-year Treasury bond, which returned $15,540 over this same period without dividends reinvested.
What Happened To The Investors Who Held From 1998 To The Present?
We all know what happened to share prices in the months after the beginning of 2008, they crumbled, which is why some Dividend Growth Investors insist on completely ignoring price.
So next, let's look at what happened to the investors who continued to hold these same stocks throughout the Great Recession and through the present day, through a period when plummeting rates for fixed income drove many retirees to move from CDs and bonds to dividend stocks to supply the income they needed to live on. Did a focus on yield provide a better outcome in this next period?
Dividend Returns In This Group Of Survivors Held Up Through The Great Recession
Investors who had the intestinal fortitude to hold onto the stocks they had bought in 1998 did see the dividends earned by the Survivor Bias 13 hold up well. Of course, this is has to be true, because the main reason these stocks made it into a 2014 list of the best Dividend Growth stocks was precisely because their dividends had held up well through the Great Recession.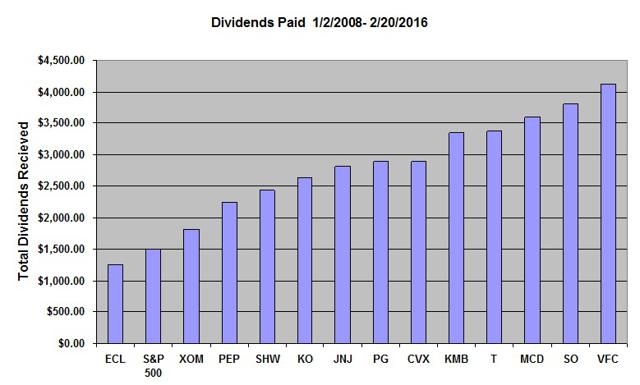 Certainly, one look at the graph above showing the total dividends paid between the beginning of 2008 and the present makes it clear why Ecolab and Sherwin-Williams didn't make it into the Mike Nadel's Dividend Growth 50, as their dividends paid over the past seven years fall toward the low end of the chart. On the other hand, so did the total dividends paid by Dividend Growth 50 top picks XOM and PEP.
Most oddly, VFC, whose investors received the most dividends through this recent period, also remains curiously absent from Nadel's Dividend Growth 50.
Did Investing For Dividends Rather Than Return Benefit Investors During This Challenging Period?
The charts below, which display the share price appreciation and the total return with dividends invested of the Survival Bias 13, answers that question with a resounding "No!"
The total return of the stocks that had the highest yields in 1998 was much poorer than that of the companies that had started with modest, or in several cases, tiny, dividend yields.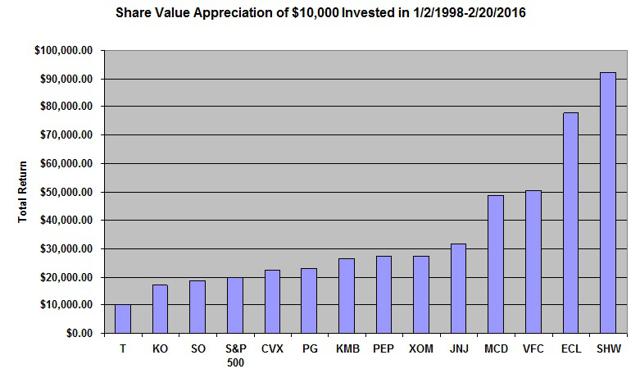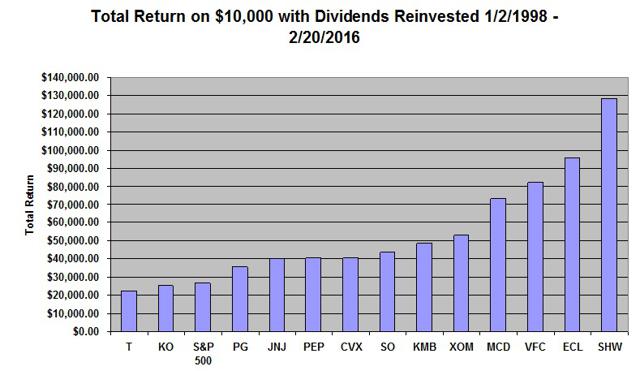 Though four of the five highest-yielding stocks tracked here outperformed the S&P 500 in terms of total return from 1998 until now, their performance was nowhere near as good as that of the three stocks that did not make it into the Dividend Growth 50 at all. The other high yielder, T, performed the worst of all stocks tracked.
And MCD, which had the lowest yield of all these stocks at the start of 1998, outperformed all the other stocks that made it into the Dividend Growth 50.
The Magnitude Of This Outperformance Is Startling
The investor who put $10,000 into top-yielding SO in 1998 now holds shares worth $18,771. With dividends reinvested in SO, the total return was much better, coming in at $43,496. But that return is dwarfed by the returns received by investors in 1998's lowest yielder, MCD. Their shares are now worth $48,809 and their total return with dividends reinvested over this period is $73,027. The investor who put $10,000 into MCD and held it has a whopping $29,531 more today than does the investor who put that same $10,000 into SO.
And the return from MCD pales in comparison to the return from the three members of today's Dividend Aristocrats that mysteriously never made it into that nifty Dividend Growth 50.
V.F. Corp. was a Dividend Aristocrat in 1998. Shares of VFC bought for $10,000 in 1998 are now worth $50,366, just a bit more than the shares in MCD. But with dividends reinvested, the current value of 1998's $10,000 investment in VFC is $82,111. Those reinvested dividends combined with rising share price put $31,745 more dollars into those lucky investors' brokerage accounts.
Total Return Gives The Investor More Choices For Income In Retirement
That extra money comes in very handy for the retiree looking for safe income. The investor entering retirement today, who had invested in VFC in 1998, can sell off the $31,745 worth of shares due to previous dividend reinvestments today. If they invest the proceeds of that sale in an ultra-safe five-year CD earning 2.25%, they will earn $743 in income by the end of the year.
This would be considerably more income than the poor investor in T will earn on the $9,985 his original $10,000 investment is worth today. Even with T's high 5.2% yield, those shares would only produce $519 in income - and there is no guarantee that it will be able to sustain the dividend and deliver those $519.
If a retired investor in VFC who has been living on dividends all along decides to sell off all his shares in the company now, the proceeds from that sale would yield an amount around $73,027. If he invested those proceeds in that 2.25% CD, it would earn $1,643 a year in guaranteed income, which is twice the $826 that the investor in SO will earn this year from his shares, currently worth $18,771 and yielding 4.4%.
And VFC had only the third best total return in this group. ECL had only a seven-year history of increasing dividends in 1998 though it is a Dividend Aristocrat today. But investors who put their $10,000 into Ecolab in 1998 have received dividends of $6,844 from 1998 to the present day. This is the identical amount of dividends they would have received from popular Dividend Growth 50 stock PEP. The difference is that if they had bought $10,000 worth of shares in ECL rather than the same amount of PEP, those investors would also now own shares worth $77,759, which is $50,290 more than the shares of PepsiCo bought in 1998 are worth. And that's not all. Had investors reinvested their dividends from Ecolab over this entire period, their total return on that original $10,000 investment would be $96,037. This is almost 10 times their original investment.
I saved the best for last. Sherwin-Williams blows the doors off all of these stocks. It had been paying an increasing dividend for 19 years back in 1998. Investors who put $10,000 into this powerhouse dividend growth stock in 1998 now own shares worth $92,075.58. Those who reinvested their dividends since 1998, now hold shares worth $128,211.81, almost 13 times their original investment.
Bottom Line: Maximizing Total Return Dwarfs The Advantages Of Maximizing Dividends
This chart spells out the cost to the investor of focusing on yield over a long period of investing history. Investors who emphasized yield when purchasing stocks from this group of beloved cherry-picked Dividend Growth stocks missed out on earning the equivalent of a year's worth of a nice middle-class salary over the 18 years studied here.

If you really don't care about how much money you have in your investment account on the day you retire or how the balance in your brokerage account holds up as you get older, go ahead: Ignore everything but yield.
But any investor should be able to see from these statistics that even when focusing on dividend growth stocks, attention paid to maximizing total return will, over a decade or two, make a huge difference in how much money you have: money you can enjoy or invest in a wider range of opportunities to generate the income needed for your later years.
Disclosure: I/we have no positions in any stocks mentioned, and no plans to initiate any positions within the next 72 hours.
I wrote this article myself, and it expresses my own opinions. I am not receiving compensation for it (other than from Seeking Alpha). I have no business relationship with any company whose stock is mentioned in this article.