Stock markets all over the world have had great runs so far in 2012. In contrast, U.S. Treasury bonds have lagged significantly behind and are pretty much stuck in the mud for the past three months. In my view, the reason is pretty simple: There are two forceful forces countering each other in this tug of war for Treasury bonds:
At one side is the formidable buyer with super deep pockets - the U.S. Federal Reserve. After the last Fed meeting, the Fed made a pledge to keep the short-term interest rate low for two more years under the assumptions that the recovery of the U.S. economy will continue to be sluggish and that inflation will be very tame for this period. I think that these assumptions are premature and in danger of being broken soon. Regardless, that's what the Fed believes right now, and thus the Fed is comfortable pumping a huge amount of money supply into the market to keep Treasury yields low.
At the other side are several super weight economic forces that are eager to drive investors out of Treasury bonds and their miserable, historically low yields. Seriously, 10-year and 30-year Treasury yields, shown in the two graphs below, are at the lowest points over the past 60 years.
images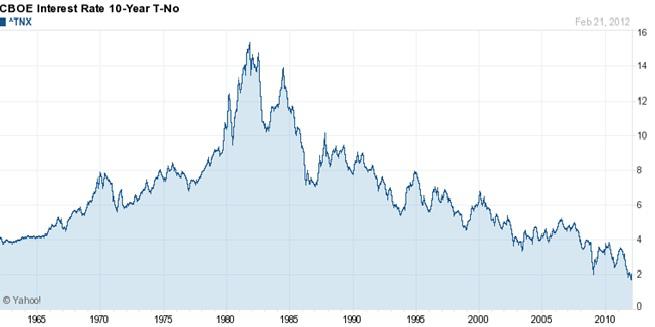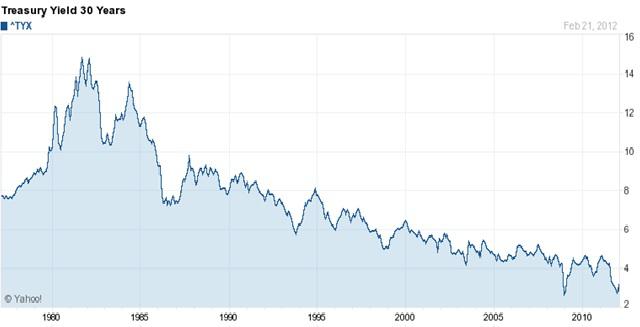 From a long-term standpoint, investing in Treasury bonds is the most guaranteed losing strategy because the returns an investor get will not match inflation, which averages to about 3.5% per year over the past 100 years. Nobody is satisfied with the returns from Treasury bonds or CDs, yet many people and institutions have kept on parking money in U.S. Treasury bonds since last summer just as a safe harbor to shield their capital from the European debt storm.
How long can investors bear the dismal return? I think the day of reckoning for Treasury bonds likely is coming because negative catalysts have stacked up and supporting forces are dwindling. The list below shows key macroeconomic developments / events that can swiftly make a serious blow to the prices of Treasury bonds:
The U.S. economy growing faster than the Fed expected. Many gauges of economy - weekly jobless claims, unemployment rates, consumer spending, housing starts, factory outputs, etc. - have been improving at faster speed over the past couple months. Therefore, one of the two arguments for accommodative monetary policy is quickly diminishing. In addition, inflation may follow the footsteps of U.S. economy to move up soon, taking away the other argument Fed uses to keep money high.
Rising demand for mortgages. As the level of residential real estate transactions bottomed and is now trending up again, demand for mortgages may soon increase. This will push up mortgage rates and drive many bond investors from U.S. Treasury bonds into real estate mortgage products, pushing down demand and prices for Treasury bonds.
Rising overall inflation rates. Fast inflation can happen even in the absence of fast economic growth. There were several occasions of stagflation in the history. Let's not kid ourselves. Almost all major economies in the world - EU, U.S., Japan, Korea, China, etc. - are printing money at fast speed to prevent their economies from slowing down too much. The positive correlation between money supply and inflation is an unbreakable economic rule for centuries. For the past couple of years the positive correlation did not manifest because many financial institutions and people who got the additional money used the funds to reduce their debts or make ends meet when their income decreased or disappeared. However, as a huge portion of bad debts have been dissolved, it is becoming more and more likely that more of the excessive money flowing to the market will go into consumer spending, raising demand for goods and pushing up their prices. The sign of inflation is starting to appear on commodity prices, particularly in crude and gasoline prices. If annualized inflation rate marches above 3%, Fed will have no choice but to raise interest rates to try to contain it from running out of control.
The situation in Europe improving, staying the same, or simply not getting much worse. In my opinion the amount of money being moved from European assets to U.S. Treasury bonds in the second half of 2011 probably accounted for 50% of the rise of the prices of U.S. Treasury bonds. Most "weak hands" who would park money in U.S. Treasury bonds even at dismal yields have already done so. Moreover, most investors have already assumed that the European economy and debt problems stay the same or become a little bit worse this year. So, as long as Europe doesn't suddenly fall over a cliff, the hype of moving money from Europe to U.S. is over. As soon as there are signs of small improvements in European economy or debt situation, many investors, especially instructional investors, may quickly withdraw capitals out of U.S. Treasury bonds and put it into European bonds or other assets. Don't forget that China political heads just said this past week that China wants to be more involved in helping European economy recover. With foreign reserves in trillions of U.S. dollars, China central government has more ammunition to deploy than U.S. Fed has right now. If it does put a lot of money to help Europe, the situation can turn quickly there.
The Chinese currency appreciating against the U.S. dollar at a faster speed. Over the years China has been pushed by all developed countries to let its currency appreciate faster, and now the Chinese government has come to the realization that it is to its own benefit to let its currency appreciate more to reduce imbalances and risks to the world economy and to combat its domestic inflation over the long term. More importantly, China is pursuing the status of a new leading world currency for its Yuan and thus is planning to open the gate soon to let its currency be exchanged more freely. It has signed free currency exchange agreements with other countries recently and is making Shanghai the global RMB exchange center. If Chinese currency appreciates faster against U.S. dollar or is allowed to be exchanged more freely, a huge amount of hot money likely will fly out of U.S. Treasury bonds into Chinese government bonds and other assets. This can be the most dangerous knock-out punch to U.S. Treasury bonds.
The Fed running out of bullets. With strong political pressure from Republican Party and independents, U.S. Fed simply cannot keep on printing money at fast speed forever, and from what I can see it has no intention to openly tell the world that it is printing a lot of money (even when it is). Since the Fed said that its "operation twist" - selling short-term bonds with three or less years till maturity and buying long-term bonds with ten or more years till maturity - will end in June 2012, it has little justification to extend it further, especially when the economy and real estate market are showing strength. So, after the program ends 10 year and 30 year Treasury bonds will lose a big amount of daily bids. All things being equal, their prices should fall under weaker demand.
In conclusion, using the terminology of Texas hold'em, I see only one out - Europe falling over a cliff soon - for bulls of U.S. Treasury bonds and at least six outs for bears of U.S. Treasury bonds. The battle seems to be lopsided. As such, I am watching the situation closely and look for the right time to initiate a short position in iShares Barclays 20 Year Treasury ETF (NYSEARCA:TLT) or iShares Lehman 10-20 Year Treasury ETF (NYSEARCA:TLH), or a long position in ProShares UltraShort Lehman 20+ ETF (NYSEARCA:TBT), Direxion Daily 30-Yr Treasury Bond ETF (NYSEARCA:TMV), or ProShares Short 20+ Year Treasury ETF (NYSEARCA:TBF) in the near future.
Disclosure: I have no positions in any stocks mentioned, but may initiate a long position in TBT, TMV, TBF over the next 72 hours.