Actionable Items:
CEF Weekly Review: On average, the 13 closed-end fund (CEF) types registered a share price increase of 1.0% for the week ending 2/24/12. The high-low spread (average percentage price change difference between the highest and lowest fund types) registered this week was a narrow +1.2% versus +3.8% the previous week. On an aggregate unweighted basis, the weekly average price change for the approximately 600 CEFs in the GrowthIncome database was also up 1.0%.
(Click here for YTD CEF Performance. See "Research" Menu; "CEF Weekly Information" tab.)
CEF Weekly Fund Type Performance: The equities market again put in an uneven performance this week. S&P 500 swooned during the middle of the week only to later regain its footing to post a modest increase. The equity markets' rally is on low volume. It is also hesitant as the Dow continues to flirt with closing over 13,000. It again failed to hold that level at the close on its second attempt. And while an advancing equities market climbs a "wall of worry" this wall now has some barbed wire at its top.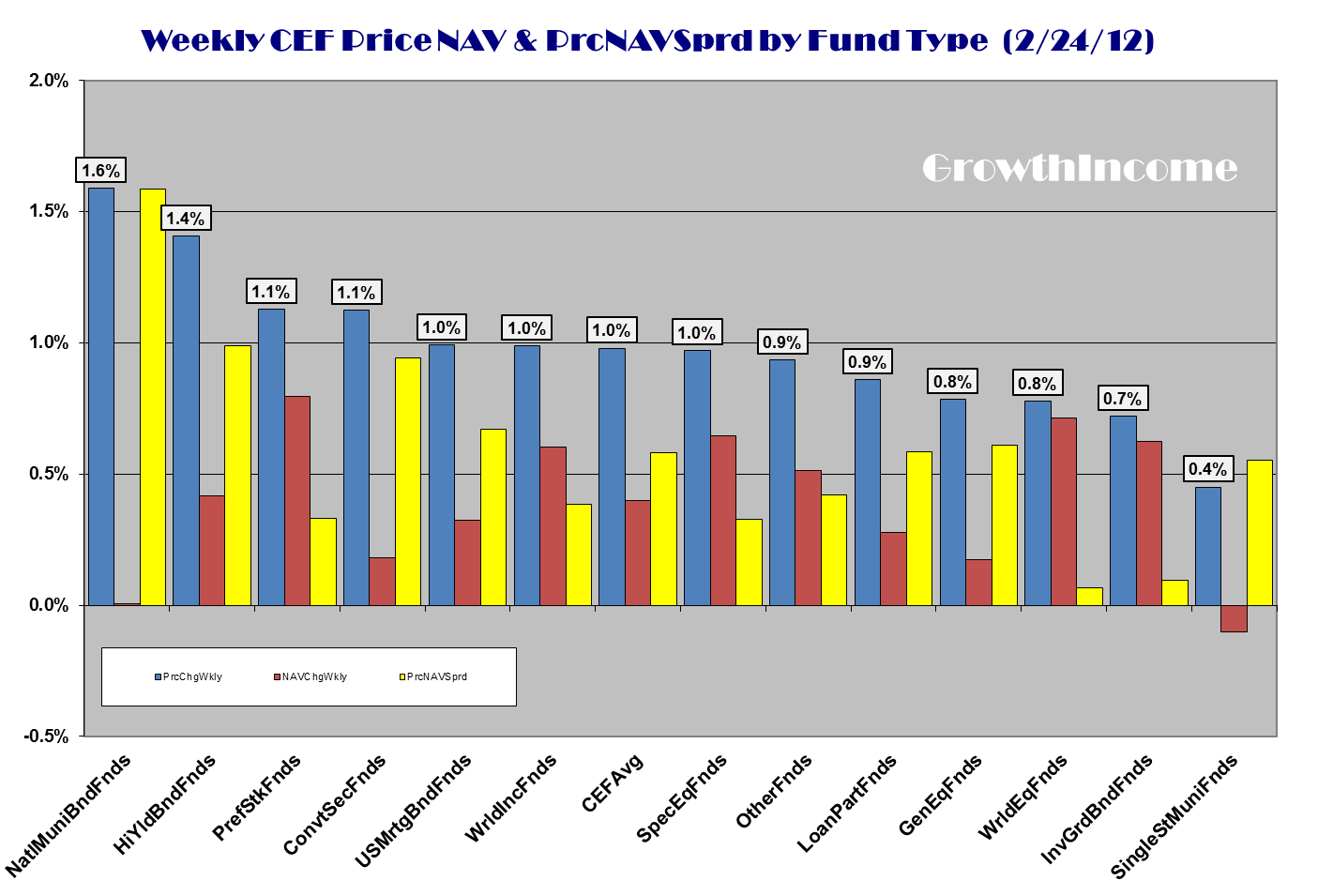 The equity markets' performance this week generated a conservative tone for the CEF fund types. While all the fund types advanced, fixed-income oriented CEF's on average produced better weekly share price performance than the equity-oriented funds. As mentioned previously, the spread between the highest and lowest fund types was fairly narrow.
Curious Performance: A couple of surprises was that NatlMuniBndFnds was the best performing fund type, up 1.6%, while SingleStMuniFnds was the poorest, up 0.4%. Typically, these fund types travel together and to see them at opposite ends of the weekly price performance is noteworthy. Possibly the proposed liquidation of several BlackRock small muni funds while trading at a premium refocused investors on the discipline of CEFs selling at premiums and discounts. The announcement caused the CEFs' share price to adjust downward towards their NAVs. Additionally, InvGrdBndFnds huddled near the bottom of the price performance pack.
Weekly CEF Winners and Losers: The CEFs with the greatest positive PrcNAVSprd* for the week was Federated Premier Intermediate Municipal Income Fund . FPT's share price advanced 6.6% while its NAV per share declined 0.7% generating a positive PrcNAVSprd of 7.3%.
FPT, as its name implies, invests in high-quality municipal bonds. FPT trades at a 7.9% premium and generates an annualized monthly yield of 5.0% (7.6% on a taxable equivalent basis). The stock price advance was in the face of it going ex-dividend at its regular distribution amount earlier in the week. Volume was not remarkable and there was no insider buying.
The CEF(s) with the greatest negative PrcNAVSprd for the week was for the most part single state muni bond funds for the states of California (EVM, EIA and NCL) and New York (NKO and BSE). California has been subject to ratings downgrades by both S&P and Moody's last month and the City of Stockton, CA was downgraded to "junk" on Friday. However, we didn't find a "smoking gun" for these price declines.
Another CEF share price that "hit the skids" was Avenue Income Credit Strategy . ACP share price declined 2.1% while its NAV increased 1.5% generating a negative PrcNAVSprd of 3.6%. ACP is a HiYldBndFnds fund type. Its annualized monthly distribution yield is 8.2% and it is currently trading at a 3% discount to NAV. Its total net assets are $175 million and a quarter of its assets are leveraged.
ACP is in the process of raising additional capital through a 1 for 3 rights offering. The ex-date, to be entitled to the rights, was Wednesday, February the 22nd. The subscription period will expire on March 23rd. The rights are transferable and will be trading on the NYSE under the symbol "ACP RT".
Economic & Earnings Outlook: (Click here for next week's economic calendar; click here for earnings' announcements and estimates.)
Insider Trading: This week saw some scattered insider buying.
Leland Hart, a portfolio of BlackRock Diversified Income Strategies Fund , purchased 5,500 shares at an average price per share of $10.09 for a total holding of 8,500 shares. What is interesting about this transaction was another portfolio manager, James Keenan, added 10,000 shares of DVF this month at $10.04 per share. Mr. Keenan has been a consistent buyer of the shares since the end of last year and now has accumulated 14,250 shares.
Leland Hart, who is also deemed an insider at BlackRock Floating Rate Income Strategies Fund II (NYSE:FRB), added 1,500 shares to his holding of FRB to increase his stake to 4,233 shares.
John G. Popp, CEO of Credit Suisse High Yield Bond Fund (NYSEMKT:DHY), added 5,000 shares at an average cost of $3.14 per share increasing his holdings to 10,000 shares.
CEF Distribution Announcements This Week: The following is a link to a table of CEF distribution announcements this week as well as the previous week's with yet expired ex-dividend dates. The list is not intended to be inclusive. Additionally, mid-month is a time when many CEFs go ex-dividend and the beginning of the month is typically the time distributions are announced.
CEF Focus Stock(s) for the Week: Our focus stock of the week is BlackRock Diversified Income Strategies Fund . DVF focuses on below investment grade floating rate debt securities. The stock trades at a 4.5% discount to its NAV and at an annualized monthly yield of 6.9%.
There are a couple of reasons it attracted our attention as this week's focus stock. The first is that two of the BlackRock portfolio managers have been accumulating the stock over the past couple of months. We typically find portfolio managers to be more informed than the directors as insider buyers.
Secondly, we're drawn to the concept of floating rate debt securities in an improving domestic economy. If the economy continues to show steady progress, DVF would provide some protection from the downside of creeping interest rates which will not be afforded other leverage fixed-income investment portfolios.
DVF is classified as OtherFnds as a result of its hybrid combination of high-yield and floating rate. Yet, this category is mostly populated with Option/Arbitrage type CEFs. While DVF's 4.5% discount is comparable to the 4.3% average discount for this group, HiYldBndFnds are on average trading at a premium and LoanPartFnds are trading around par.
Last Week's Focus Stock(s): Last week's focus stock was Aberdeen Chile Fund .
Chile is usually associated with copper production as it is the largest exporter of this critical manufacturing material. Copper prices slumped last week as Chinese inventories appeared to have risen and the prospect regarding the global economic growth still appears unsettled. Copper prices reversed course and rose sharply this week.
Yet, the bulk of CH's portfolio is investment in consumer staples, financial and communication enterprises. So, its exposure to copper is limited. In fact, the iShares MSCI Chile Index Fund ETF (NYSEARCA:ECH) was up 2.2% last week. It just seems that maybe CH got caught up in "stock bots" trolling for momentum and copper was a short.
CH advanced 1.3% for the week, while the copper ETF (NYSEARCA:JJC) was up 4.0% and the Chilean Index ETF was basically flat.
[*] All things being equal, price and NAV should move in tandem. A price movement greater than the NAV generates a positive PrcNAVSprd and may be interpreted as negative on a near-term basis and indicate that the stock is overvalued relative to its NAV which in theory is the stock's intrinsic value. The opposite would be true for a negative PrcNAVSprd.
Disclosure: I am long PCEF, CH, DVF. I own a diversified portfolio of CEFs and ETFs and am long stocks in the CEFBig10™ and CEFMuni10™.) The first is a balanced equity-income portfolio (CEFBig10™) and the second a tax-exempt income portfolio (CEFMuni10™).