The U.S. economy is either in the process of healing itself and will show signs that it can sustain growth without massive fiscal stimulus, or it is showing some temporary strength associated with factors that will fade (incorrect seasonal adjustments, misreading of data and temporary economic tailwinds) and the weakness that we have seen over the last 3 years will reassert itself.
I am always skeptical of writing that uses the fact that the stock market is higher as a good reason to suggest that the economy is better. In my opinion the stock market does no better job of forecasting economic growth than a set of tarot cards. When forecasting the economy is easy the stock market does well, when it is not, the stock market is like a pollen seed in the wind-- it has no idea where it is going next.
So what evidence is out there now that provides a clue as to which of the 2 scenarios above is correct?
The economy is healing itself. A self sustaining growth story!
1. No. 1 exhibit is jobs growth.
New claims, whether seasonally adjusted or not, are improving. The economy is adding jobs, of that there is no doubt. The range of job creation is in doubt and could be anywhere between 100,000 to 220,000 jobs per month. If very few of the new jobs created are weather related then the upper number is correct, if weather and the last effects of the Japanese tsunami are affecting the number, then the lower number is correct. The next 2 months will likely provide the answer as to which it is. Whichever it is, job growth is an improving picture.
2. Housing permits and starts are improving.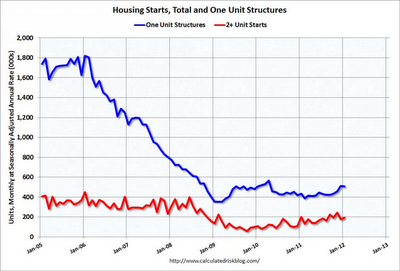 The January 2012 seasonally adjusted rate for housing starts was 699,000 new starts. Permits were 671,000 for December 2011 (last available data). Both data series are on an uptrend (the graph above is for the more important starts data). However, the present growth rate is extremely slow (as can be seen from the graph). For this to mark a trend that will lead to sustainable growth for the U.S. economy, the rate will have to pick up substantially from here. If house prices stabilize in the next few months, this could well happen. However, it would be fair to say that the jury is still out on this one.
3. PMIs are improving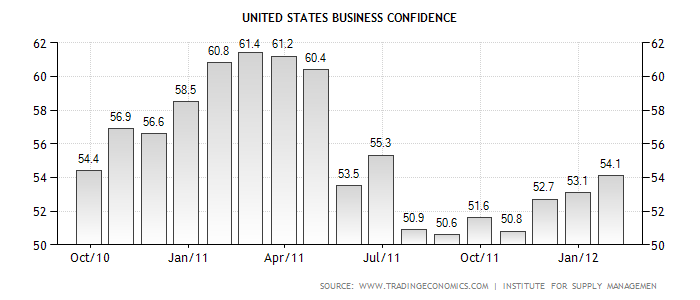 The last available composite PMI was 54.1, and you can see the improvement in the series above. If this continues throughout 2012 the self sustainability of this economic rebound will be confirmed.
It is clear that a good case can be made that improving job growth will lead to greater household income, which will improve house prices and lead to more housing construction. Once the housing situation improves, confidence will rise and spending in the economy will improve, leading to further job creation. This is the type of improvement that we have seen in the U.S. economy as it has recovered from previous recessions. It is the positive loop that has been missing over the last 3 years. If it now starts to take shape, the government will be able to withdraw stimulus to the economy and the process of balancing the budget can begin in earnest.
Temporary factors are clouding the true picture. The economy is weak!
1. Consumer confidence and spending.
Both are very muted and the consumer accounts for over 2/3 of the U.S. economy.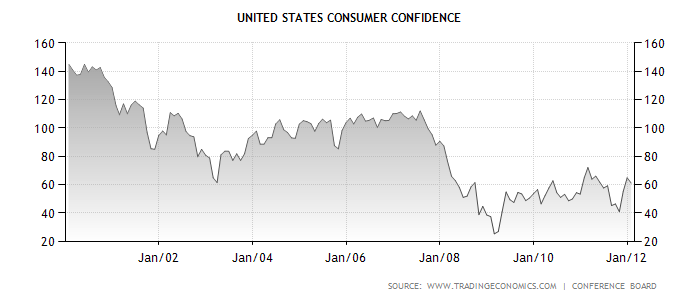 Consumer confidence figures are starting to weaken again and from an already low level.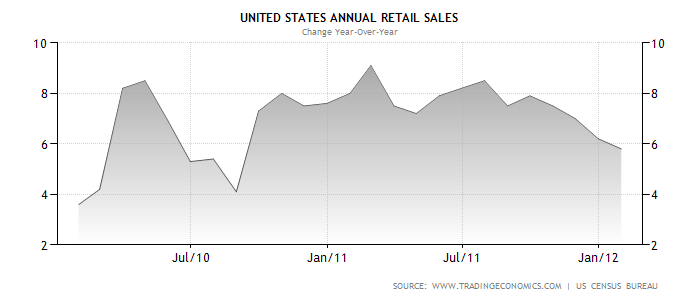 Retail sales are improving, but the year over year growth is slowing. Gas prices are providing a further headwind.This sector is not showing growth that supports the self sustaining recovery scenario.
2. Withholding tax
In the 2012 YTD period, the U.S. Treasury recorded personal income withholding tax revenue of $592.676 billion. In the comparable period for 2011, beginning October 1, 2010 and continuing through January 31, 2011, withholding taxes were $592.984 billion. In other words, the U.S. Treasury collected $310 million more in tax withholdings in the first 4 months of fiscal 2011 than in the first 4 months of fiscal 2012. These figures are distorted by the 2% payroll tax cut introduced in 2011. For the period October 1st to December 31st the figures are not comparable, but from the 1st January 2012 the withholding tax rate is comparable to 2011. However, the picture is not noticeably different in 2012, with January being good for withholding tax receipts and February bad. For 2012, withholding tax is up around 3% on 2011. These figures would suggest that the job picture as suggestd by the BLS releases is not as bright as we may believe, and is distorted by seasonal adjustments and normal sampling error (although it would be wrong to suggest that the job picture is not improving, it definitely is).
3. Rail Carloads
For the first seven weeks of 2012, U.S. railroads were up 0.3 percent from last year, and trailers and containers were up 2.2 percent from last year. This would indicate that growth is still very slow.
4. Good weather
2012 weather
The average contiguous U.S. temperature in January was 36.3 degrees F, 5.5 degrees F above the 1901-2000 long-term average -- the fourth warmest January on record, and the warmest since 2006. Precipitation, averaged across the nation, was 1.85 inches. This was 0.37 inch below the long-term average, with variability between regions.
2011 weather
It was the coolest January since 1994, with an average monthly temperature of 30°F, two degrees below freezing, and 0.8°F below average
It is not just that 2012 has been seasonally warm but that the comparable month for 2011 was seasonally cold. February has seen more of the same, and looks likely to be a record year for higher temperatures. It would be logical to suggest that this will have a positive effect on economic activity that may not be repeated and is distorting the data.
5. Baltic Dry index
The index has collapsed. However, shipping supply has increased and will play some part in the collapse of shipping rates. It is unlikely to account for all of this fall: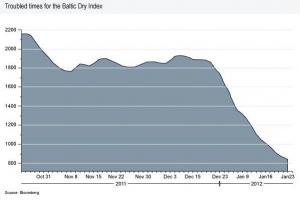 The index is not specific to the U.S. and reflects world growth prospects-- more than just American prospects. It is difficult to see a U.S. self sustaining recovery if there is a world growth slowdown.
6. U.S. budget deficit
The Congressional Budget Office has just updated the 2012 budget deficit to $1,330 billion dollars from their previous estimate of $1,101 billion. This suggests that some of the growth in the economy is due to increased government support and is not the result of an improving private sector.
This story has just as many supporting arguments as does the self sustainable growth story above.
Conclusion
If the economy is healing itself, this stock market rally is just beginning and the buy and hold strategy will work once again. However, if temporary factors are giving us the wrong long term growth signal then the correct move is to sell into this rally and wait for the next good buying opportunity. Both stories have their merits. I will leave you to decide which you think is the more likely scenario.

Disclosure: I have no positions in any stocks mentioned, and no plans to initiate any positions within the next 72 hours.
Additional disclosure: Long RWM, short S&P500 futures
Disclaimer: This article is not intended as investment advice. Before taking any action, please do your own research. Do not rely on any opinions or facts included in this article for decision making.