The FTSE Renaissance US IPO Index (IPOS) has extended its January rally into February and is now up 17.2% for the year, dramatically outperforming both the S&P 500 (+8.4%) and the Russell 3000 (+9.6%). While the index produced lackluster results in 2011, it is currently demonstrating the powerful rebound potential that has historically been seen after down periods.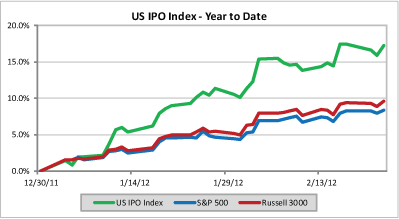 Consumer Goods and Technology IPOs continue to flourish as the Basic Materials sector stumbles
Two weeks into February, the US IPO index has significantly outperformed major equity benchmarks this month, generating a 6.4% gain in comparison to the 3.9% return for the S&P 500 and 4.4% return for the Russell 3000. Index outperformance in February has been led by three sectors: Consumer Goods, Technology, and Industrials. The Consumer Goods sector, made up of 11 companies with an aggregate index weight of 18.2%, was the index?s strongest sector for the second consecutive month, pushing its year-to-date weighted return to 5.1% after contributing 2.2% to index performance in February. The Technology and Industrials sectors also shined in February, respectively contributing 1.5% and 0.8% to overall index performance. However, not all sectors had reason to celebrate in February. The Basic Materials sector, comprised of 10 companies with an aggregate index weight of 3.5%, has negatively impacted index performance in February, detracting 0.5% from index performance. Leading underperformance in this sector with an index weight of 1.4% was rare earth oxide producer Molycorp (MCP), which has traded down 6.1% so far in February as recent focus on China's mining regulations put additional pressure on the company.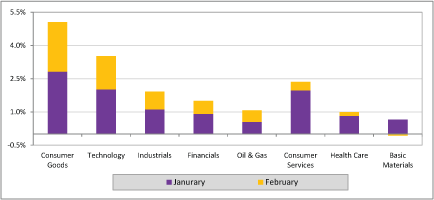 Read more about the best and worst contributors and the IPO pipeline FTSE Renaissance Global IPO Index Series
The FTSE Renaissance Global IPO Index Series is off to a great start in 2012, with all regional indices having posted double-digit returns thus far in 2012. For more information, click here.
FTSE Renaissance Global IPO Index Series
Index Name
Ticker
February Return*
YTD Return*
Global IPO Index
IPOSG
5.9%
14.6%
US IPO Index
IPOS
6.4%
17.2%
US IPO Investable Index
IPOST
7.0%
17.9%
Asia Pacific (ex-Japan) IPO Index
IPOAPX
5.6%
14.7%
Hong Kong/China Top IPO Index
IPOHKT
8.7%
18.0%
Latin America IPO Index
IPOSLM
11.5%
19.2%
EMEA IPO Index
IPOSE
4.1%
12.6%
Emerging Markets IPO Index
IPOSEM
6.3%
19.3%