Certain aspects of the investing world can be a rather exciting experience. Of course it all depends on the sectors and what type of investor one might be. Some investors often times dwell in the world of speculative biotech that provides the high volatility and exhilaration they crave. Companies like Keryx (NASDAQ:KERX) which is working on ground breaking cancer drugs, or Advanced Cell Technology (ACTC.OB) which is attempting to cure macular degeneration with stem cells are such examples.
These companies provide the pop and pizzazz that make speculative investing fun. Step back for a bit and the full picture slowly comes into play. For as much as I invest in these speculative stocks, I know there is another side to investing that needs equal attention. That side is boring dividend stocks. Boring is the name of the game here, but that does not mean they are unloved. These are the stocks that one hopes will be there through thick and thin, providing the necessary dividend payments time and time again. Here are three possibilities of stocks that are off the beaten path, which just might fit that bill for those craving stable income.
Atlantic Power (NYSE:AT)
Our first company is one that does not get much press. Atlantic Power is a leading publicly traded power generation and infrastructure company with a well-diversified portfolio of assets in the United States and Canada. This company basically falls into the boring and dull utilities investments category. Their power generation projects sell electricity to utilities and other large commercial customers under long-term power purchase agreements. The net generating capacity of the Company's projects is approximately 2,116 MW, consisting of interests in 30 operational power generation projects across 11 states and 2 provinces, one 53 MW biomass project under construction in Georgia, and an 84-mile, 500 kilovolt electric transmission line located in California. AT also owns a majority interest in Rollcast Energy, a biomass power plant developer with several projects under development.
Let's face it, AT is not one of the most exciting companies, but when you analyze its corporate strategy one does get that warm fuzzy feeling. Its strategy is to generate stable cash flows from existing assets and to make accretive acquisitions to sustain the dividend payout to shareholders. This is music to the ears of any income investor, but before we fall in love let's take a closer look.
The current dividend is paid out on a monthly basis and is close to 7.9%. Although this is a competitive yield, one has to question the payout ratio which has been rather high. The payout ratio was 93% for the nine months ending September 30, 2011, compared to 96% for the same period last year. So while the ratio is moving down, it is still high. To address this, management has stated that they expect the payout ratio to decrease in 2012 and be more conservative on a going forward basis. To add to this, one has to consider that AT's management has a demonstrated track record growing dividends. The company has increased its dividend four times since its IPO. See the chart for details.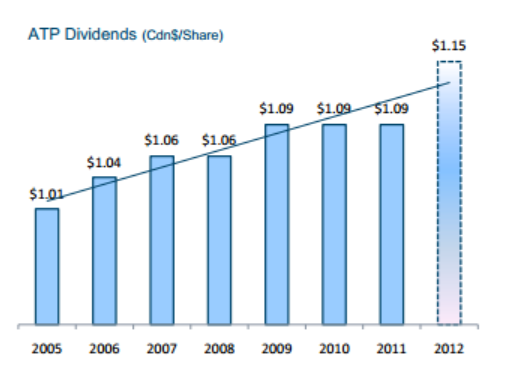 In more recent news, the company proves that it is still making deals to grow the asset base. In early February the company announced that it invested $23 million of late-stage development capital to own 51% of Canadian Hills Wind, LLC. Canadian Hills is the 100% owner of the Canadian Hills Project, which is a 298.45 MW wind power project in the late stages of development, located approximately 20 miles west of Oklahoma City, Oklahoma. So AT has yet another jewel in the collection now.
Basically AT is a growing company in a boring industry. If they can keep their current strategy in place then AT will definitely be loved in the end.
Pengrowth Energy Corporation (NYSE:PGH)
For our next company let's take a look at PGH. Pengrowth Energy Corporation engages in the acquisition, exploration, development, and production of oil and natural gas reserves in the Western Canadian Sedimentary Basin. It primarily explores for crude oil, natural gas, and natural gas liquids in the provinces of Alberta, British Columbia, Saskatchewan, and Nova Scotia. Pengrowth is a small company that is basically confined to Canada. Unlike the big international energy companies who generate lots of press and attention, PGH is relegated to a lesser affair.
As of December 31, 2010, the company had total proved plus probable reserves of 318.4 millions of barrels of oil equivalent. The reserve life index on the proved plus probable basis is 11.1 years. The current production mix is actually 50% liquids and 50% gas. Needless to say, natural gas prices have been severely depressed with little signs of a rebound any time soon. The bust in gas prices have turned off many investors to stocks like PGH. Until there is a rebound in gas prices, many investors will simply just look the other way.
So what is there to love about PGH? First they have 900,000 acres of undeveloped land which should help fuel future growth. They also have a monthly dividend of $0.07 per share that makes for a yield of 7.9%. The monthly dividend has been the standard since October 2009. For 2012 production is expected to increase by approximately two percent. The oil and liquids production mix will shift from 50% to 54% as new 2012 capital programs are put into place. These new 2012 capital programs are currently valued at $625 million. At the end of the year the company had a $1.0 billion revolving credit facility that remained undrawn. This was due to the fact that late last year PGH issued 28,310,000 common shares at Cdn$10.60 per share for gross proceeds of approximately Cdn$300 million.
What this boils down to is that many investors are finding PGH a bit boring, but others are finding lots to love. The company understands that an even mix of liquid to gas is just not going to work well now or in the future. PGH is focusing its cash on changing that mix as to concentrate on the liquid side of the house. As that shift happens, and with the proper hedging, PGH could become an income investors darling as it generates higher monthly cash distributions. It will take time, but patience might just pay off in this name.
Chesapeake Granite Wash Trust (NYSE:CHKR)
For our last name let's go a bit deeper and check out CHKR. Chesapeake Granite Wash Trust is one of the newest US oil and gas trusts to hit the market. The trust went public late last year on November 11, 2011. The trust's sponsor is none other than Chesapeake Energy (NYSE:CHK), which is a well known entity in the world of energy and natural gas.
The assets of the trust are pretty impressive. To make the trust come into being, CHK gave royalty interests in the wells positioned in the Colony Granite Wash play located in Washita County, Oklahoma. These wells tend to be low in cost to maintain and a good percentage of them go after the natural gas liquids. The current plans are that the trust will have around 69 existing wells to start the process. From there CHK is planning to drill another 118 wells to add to the assets. It is hoped that all of these new well will be completed by mid 2015. It is estimated that 47% of the total production is going to be from natural gas liquids which carry higher prices on the market.
For income investors the deal seems to be pretty good. The trust holders should receive 50% of the net proceeds from these wells. It should be known that the amount of the quarterly distributions to trust unit holders will fluctuate from quarter to quarter. In addition, if quarterly distributions fall below 80% of targeted levels, Chesapeake Energy will forgo a portion of its distributions to maintain the payout to public unit holders. That is a comforting thought for those who want to mitigate risk. Income investors who choose to invest should receive distributions until the trust is dissolved in 2031, so that leaves roughly 19 years left to go.
In more recent news, CHKR announced that its distribution for the period from September 1, 2011 through November 30, 2011 will be $0.7277 per unit. During the three-month period ended November 30, 2011, the sales volumes and realized prices were higher than estimated in the original prospectus. As a result it has been stated that the distribution will be 7% higher per unit over the target distribution of $0.68. With all this in place, it is easy to see how one could fall in love with CHKR.
In conclusion, it is easy to see how one can get completely engrossed in the speculative side of investing. That is the place where all the fun and excitement are, but it is the boring dividend stocks that provide the backbone and structure to any portfolio. To this day I will still be in the game of holding shares of KERX and ACTC looking for huge payouts on life saving drugs and technologies, but it is comforting to hold a basket of boring income stocks to round out the portfolio.