Today's corn prices are triple the price they were three years ago. High corn demand and high gasoline and diesel prices are having a ripple effect throughout every component of the food and agriculture system. In 2011, we saw many grocery store food item prices rise by double digits and Midwestern farmland prices went up 25%, attributable to high corn and soybean returns for farmers.
The consumer is getting squeezed at the supermarket and at the gas pump. According to the Bureau of Labor Statistics, in 2011, grocery store prices rose six percent on average, or nearly three times the rate of core price inflation excluding food and energy. The median American family spends ten percent of its after tax income on food, and 17 percent on food plus energy.
The following chart exhibits food items which rose by double digits in the year 2011, according to the BLS: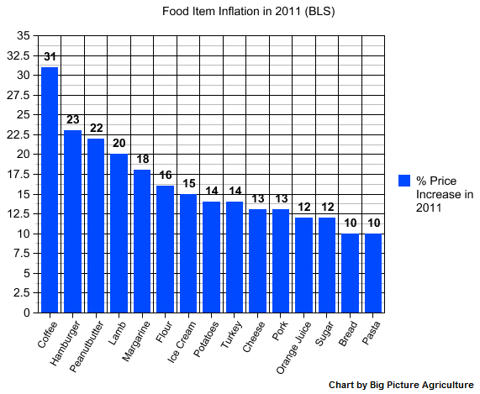 Prices of food and energy are closely related. Energy costs are embedded throughout our industrial agriculture and modern food system. Fertilizers, pesticides, herbicides, irrigation, drying, and diesel for tractors and truck transport account for many of today's commodity input costs. Industrial livestock methods rely upon high energy inputs as compared to natural grazing methods.
Additional energy is needed to process, package, prepare, and refrigerate the food products that we buy both for dining out and eating at home. The cost of diesel fuel rose a worrisome 18 percent last year. Gasoline prices increased 24 percent the past two years.
The following chart shows the percent price increases of various agricultural commodities for 2011: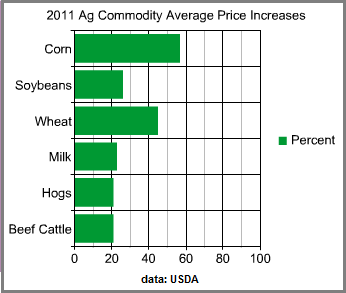 Since the economic downturn, grocery stores, restaurants, and fast food chains have been trying to avoid raising prices on the ailing consumer. To compensate, package sizes have diminished and traditionally low store brand prices have crept upwards, narrowing the gap with name brand prices. Processed and packaged food industries such as Kraft (KFT), ConAgra (NYSE:CAG), and General Mills (NYSE:GIS), are challenged by high energy costs and high commodity costs in their products. (NYSEARCA:PBJ) Customers trying to save money on food head to Walmart (NYSE:WMT), now the largest grocery provider in the United States. Over half of its total sales come from its grocery business.
Besides energy inputs, our ethanol policy and weaker dollar have contributed to higher food costs. Our relatively weak currency during these past several years has increased the cost of the food that we import and has also increased the cost of imported foreign oil used in our domestic food production system. The USD value could further weaken if a third round of quantitative easing takes place.
President Obama, Secretary Chu, and Secretary Vilsack all show strong support for ethanol and biofuels, which suggests that biofuel promoting policies may continue to contribute to food price inflation indefinitely for the American consumer. This administration has announced a lofty goal of powering the Navy with renewable fuels. Mandates for renewable fuels, though unrealistic, are scheduled to continue to rise through the year 2035, while millions of dollars in grant money and subsidies are offered for their advancement.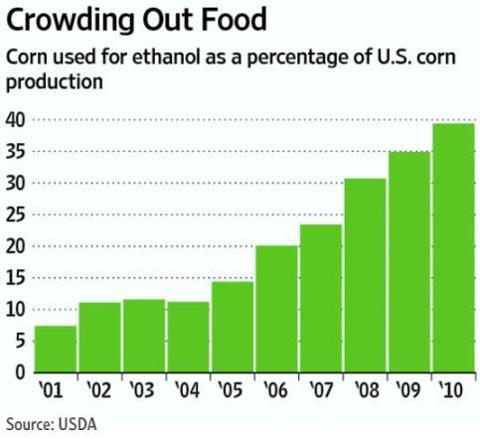 The corn ethanol program ramped up rapidly from 2006 through 2010. Ethanol's mandated use has stabilized at 40 percent of consumption of the U.S. corn crop, or 15 percent of global corn production. U.S. corn stock-to-use ratios are very low at an expected 6.3% by the end of this 2011/12 marketing year, especially if confronted with a Midwestern drought or other bad weather conditions.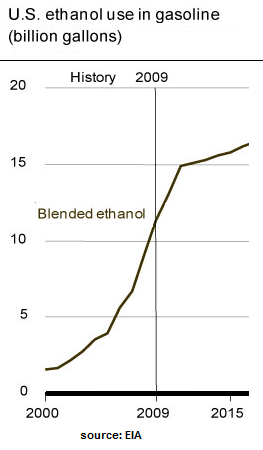 Thirty five million acres of the U.S.'s most productive farmland is being used to grow corn (NYSEARCA:CORN) to produce 15 billion gallons of ethanol annually. Corn and ethanol lobbyists would like to expand the use of E15 to further increase demand of ethanol domestically. It has been exported in growing volumes over the past two years.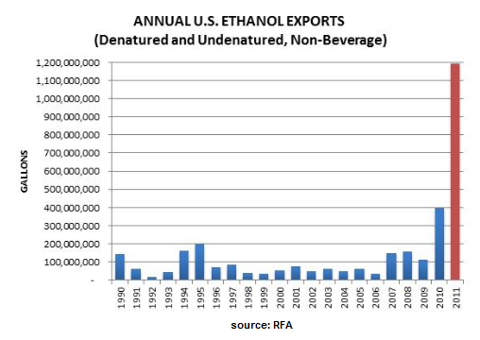 Farmers are responding to high corn prices by growing more of it instead of other crops such as wheat, oats, barley, sorghum and legumes. This drives the price of each of those commodities higher, and feed substitution takes place using cheaper alternatives to corn. (NYSEARCA:DBA) (NYSEARCA:JJA) Since corn is the crop hungriest for expensive industrial inputs, the ethanol policy rewards the fertilizer, herbicide, and seed giants such as Agrium (NYSE:AGU), CF Industries (NYSE:CF), Monsanto (NYSE:MON), DuPont (NYSE:DD), and Syngenta (NYSE:SYT). Corporations such as Poet, ADM (NYSE:ADM), and Cargill also own many of the ethanol production facilities.
Land prices have risen sharply in response to recent high farm profits, especially in the corn and soybean country of the Midwest. Although these farms are not over-leveraged as in the 70's, buyers should keep in mind that today's Ag commodity prices are, in part, policy driven, in addition to the export market support they continue to receive. It is possible that rising production costs, which cut into farm incomes, will dampen the land auction enthusiasm sometime soon.
Any changes to government ethanol and biofuels policies will have a direct impact on farmland prices. Currently, ethanol production is operating in the red due to lower gasoline demand and ethanol stockpiling prior to the 45 cent VEETC expiration at the end of 2011.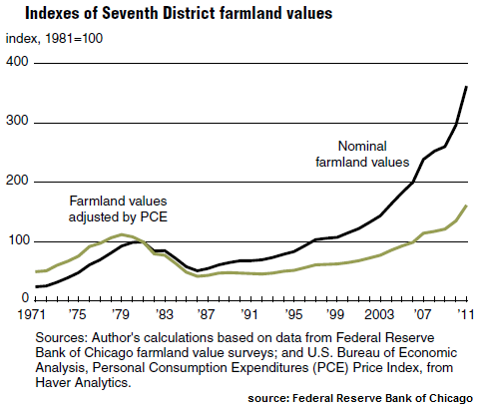 Livestock feed prices have skyrocketed in recent years, putting some producers out of business. Consequently, meat prices are rising sharply. Beef has inflated at a rate of ten percent per year for the past three years, and analysts expect that rate to continue for at least two more years. For a fast food giant such as Wendy's (NYSE:WEN), beef makes up 20 percent of food purchase costs. Prices for lamb, pork, and turkey all rose more than ten percent in 2011.
Since 2007, U.S. per capita production of chicken and pork has fallen by seven percent, and beef by 17 percent. (NYSE:TSN) (NYSE:SFD) Sheep numbers have declined 30 percent in the past 15 years. Turkey production fell ten percent this past decade. Cattle herds are at their lowest level in sixty years, although production gains in average weights have compensated for total beef numbers.
Reasons for higher meat prices and lower production include the economic downturn, high feed costs due to a ramp up in ethanol production, strong export sales of meat and farm commodities, and the Texas drought.
The following chart shows how much per capita meat consumption has fallen in the U.S. since 2007: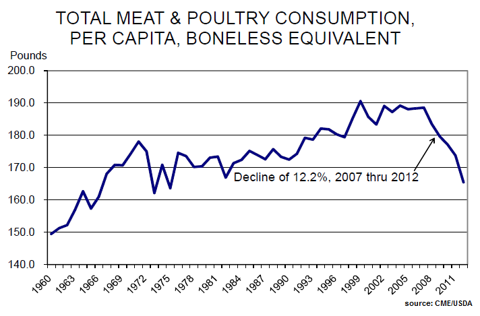 Meat consumption is one barometer of a nation's affluence. In recent years, as the developing nations have been increasing their consumption of meat, we have started to decrease ours.
Conclusion
If oil and energy costs continue to advance from today's already high level, expect changes in the food consumer's eating choices and in farm production.
Consumers will eat less meat and junk food, since those foods will rise most rapidly in price due to the high energy inputs embedded into them. Consumers will increasingly cook and garden at home to save money. Bulk food item sales will increase market share. Today's high volume of refrigerated items will decline in both the grocery store and the home. Dining out budgets will decrease. Other retail categories will suffer if food and energy costs continue to rise. Processed and packaged food companies will try to innovate to decrease their high energy costs, and all food corporations will try to expand their markets geographically.
Farmers will choose crops and production methods which lower their input costs, unless government policy intervenes. As the transport of food becomes more expensive, local producers and food suppliers with the most efficient distribution systems will gain an ever greater advantage.
On a bright note, if energy prices continue to rise, expect obesity rates to fall and American diets to improve, as we eat less meat and junk food and expend more calories to prepare and grow our own food.
Disclosure: I have no positions in any stocks mentioned, and no plans to initiate any positions within the next 72 hours.