In this installment of my analysis of recent purchases made by renowned investors and funds, I will analyze six major purchases recently made by Maverick Capital in the technology sector. The companies selected for analysis are shown below.
AVGO was a new purchase and by far the largest tech investment made by Maverick Capital during Q4 of last year. In addition, the fund initiated new positions in TDC and GOOG. The fund also increased its positions in AAPL by 45% and in MRVL by 32% during the same time period. In this article, I will evaluate the fundamentals of these companies and perform relative valuation to determine the attractiveness of the companies at current levels.
Some basic information about the companies is presented in the table that follows:

Outside of AAPL and GOOG, the firms have a market capitalization ranging from $9 billion to $15 billion. AVGO is the only dividend payer on the list and has been a strong performer during the last 5 years. NTAP and MRVL have lagged the sector in terms of share price performance during the last 1 year.
Next, I observed the historical growth rates of revenue, income and book value, and the projected long term earnings growth rates. These are summarized in the table shown below: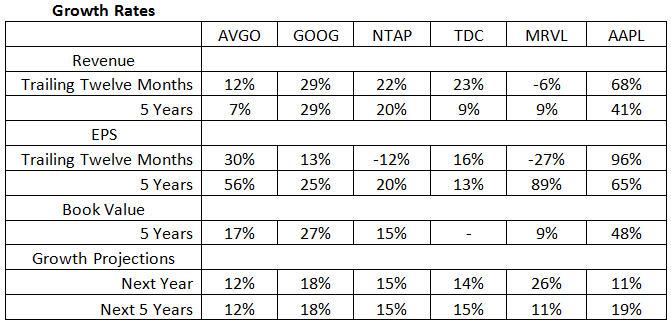 As shown in the table above, all the analyzed companies are expected to grow their earnings at a double digit pace during the next 5 years with AAPL leading the way at 19% and MRVL sporting the lowest growth rate in the group at 11%. GOOG has been a consistent performer over the last 5 years, and despite its market capitalization, analysts expect a very respectable growth rate of 18% over the long term. NTAP's earnings declined over the last year, but it is expected to correct its course and double its earnings in 5 years.
The next step in the fundamental analysis was the evaluation of margins and operational effectiveness of the 6 companies. The table that follows presents the evaluation results.


AVGO and AAPL provide the most impressive returns on assets and investments. NTAP's ROA and ROI are low in my opinion, as I prefer firms with a minimum ROA of 8% and ROI of 15%. MRVL also fails this test of minimum profitability.
Having developed a good idea about the fundamentals of the 6 tech companies, the next step was to perform relative valuation. The multiples used in the analysis were based on historical analysis of individual company and industry multiples.
The table below presents the valuation analysis results.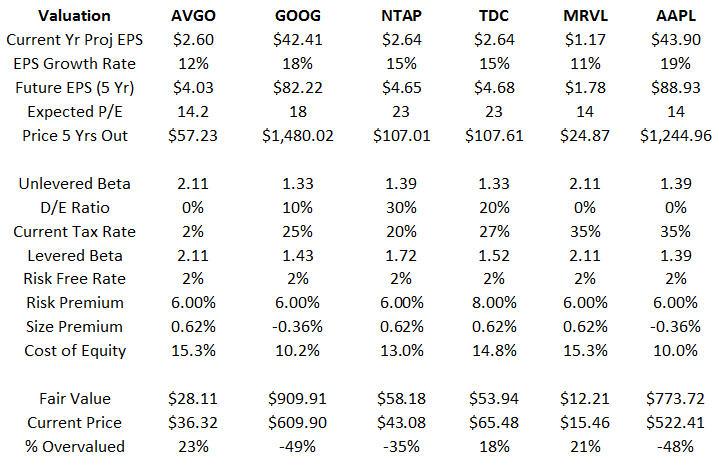 As shown in the table above, GOOG, NTAP and AAPL are significantly undervalued at current levels and make great investments for the long term. I would personally avoid NTAP because of the low return on assets. AVGO, MRVL and TDC are expensive and and should be avoided.
Disclosure: I have no positions in any stocks mentioned, and no plans to initiate any positions within the next 72 hours.