For those of you who have read my past articles, you have probably realized that I tend to use a straightforward "bread and butter" strategy on options. I generally prefer to buy options instead of buying shares to profit off of a small movement in the stock, rather than commit large amounts of capital buying shares. Throughout the many articles on Seeking Alpha, there seems to be "The Hypothetical Portfolio" trade where one uses a large hypothetical cash position to make large option purchases. This can be fun to follow along since there is no risk, but do you really need a lot of cash if you are new to the game of options?
For a beginner trader, the amount of zeros you have at the end of your trading account can be looked at as a numbers game. With a bigger cash position you will be able to take on more risk, but the possibility for bigger losses can occur since there is more skin in the game. I have been trading options for about five years in addition to a 401k, stocks that I invest into and alternative investments. I use $3,000 to $5,000 for options trading. While I could add more and take on more risk, I am content on being diversified in my financial circle and not be leveraged to solely trading options. In a large hypothetical portfolio the trades one can make can often be seen as not realistic, since in reality you only have only have a small fraction of cash compared to a large hypothetical portfolio.
In my opinion, for beginner option traders, sometimes a large hypothetical portfolio can make someone look like a financial messiah since they are able to make money beginner traders can only dream of. With that being said, in my hypothetical portfolio I place trades that are equal to the real money in my trading account. This allows for realistic trades and outcomes that one could encounter. The gains I have made over the years are not millions, but I enjoy taking the profits and cooking myself an excellent exotic meal, or thanking General Electric (NYSE:GE) for filling up my gas tank and thanking Alcoa (NYSE:AA) for picking up my last bar tab. My trading philosophy is simple- if companies can profit off of me, how can I profit off of them? I enjoy getting the thrill of making a gain in the market and even if the gain is only $40 after commissions and fees, this is still $40 I didn't have in the first place. Like most option traders, I have had my shares of ups and downs, but every trade has been a lesson. Not every trade of mine will go as planned, but if you continue to educate yourself and have the discipline, you can succeed at options.
Whether you agree or disagree, a simple option strategy can work for a beginner or average investor to replicate a stock's performance using a small amount of capital. For example, would you rather use $400 to make a small profit off of and be happy or buy shares (for example stock trading for $30 x 100 = $3000). Investing in stocks versus investing in options can be profitable both ways, but I enjoy using less to make more. One simple options strategy that has worked well for me since November is the In The Money Option Strategy. For a look back on this strategy please check out part 1 and part 2 to get an understanding.
If you are new to the game or a seasoned trader here are some simple option plays to consider if you still bullish on the overall markets.
Trade Idea #1: SPDR Select Fund Utilities (NYSEARCA:XLU)
The utility sector can often be seen as a boring play, but utilities are something that most people need in order to live. With that being said, utilities can often be seen as a monopoly since there are high barriers to entry and lots of regulations utility companies have to deal with. In 2011 the Utility trade worked well from August 2011 till January 2012 where the SPDR Utility ETF was slightly over $36. If you are worried about a market pullback the utility trade could come in focus since the sector has many companies with attractive dividends. When looking at a one year chart of the SPDR Utility ETF one will notice how it has had some nice bounces off its 200 day moving average that could provide an attractive entry point. The utility sector is only up 5.98% in three months compared to financial, technology and industrials which are up over 20% in three months. This can be attributed to money coming out of less risker sectors (utilities and telecommunication for example) and going into the financial, technology and industrial sectors. With a shift in money flowing elsewhere, this sector hasn't been sold off as much as expected, despite low natural gas prices and unusually high winter temperatures. One option trade I am considering is buying the June 2012 $33 call for $2.20 or ($2.20x100=$220). However, I would like to wait for a pullback near the 200 day moving day average and investors should be able to get a cheaper price.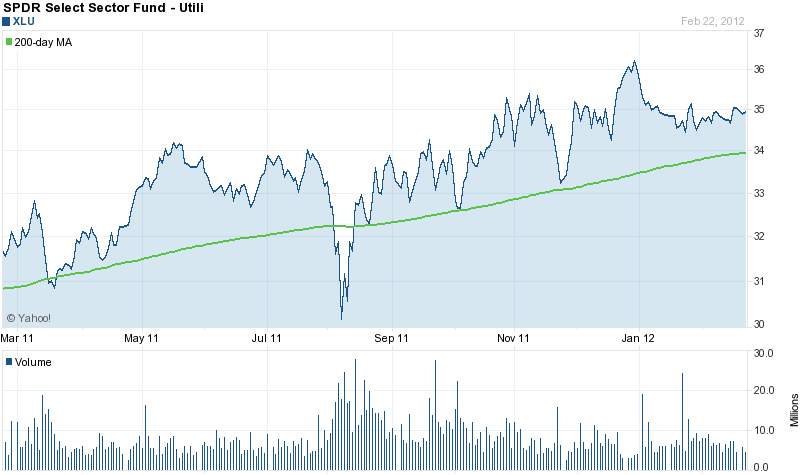 Trade Idea #2: SPDR Select Consumer Staples Fund Consumer Staples
Do you like Procter & Gamble (NYSE:PG), Pepsi (NYSE:PEP), Coca Cola (NYSE:KO) and Altria (NYSE:MO)? These are just some of the many names that comprise this ETF. Ever since August 2011, this sector has slowly making a stair stepping climb upwards and the SPDR Consumer Staples Fund is up 11.35% in three months. Stocks in the SPDR Select Consumer Staples Fund are typically good investments for good or bad economic times, since these stocks have products that people use on a daily basis. When looking at a one year chart of SPDR Select investors will notice this ETF is trading in a bullish channel. For an options trade, check out the June 2012 $31 call going for $2.20 (or $2.20x100=$220). The SPDR Select ETF is currently in the middle of this bullish channel, but if this ETF starts to go lower I would be looking to enter this trade near the low $32 range.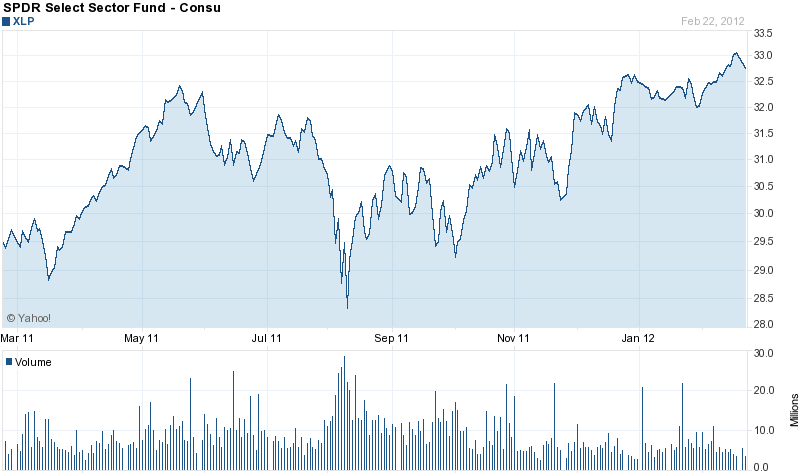 In conclusion, I am still bullish on the markets despite the run up we have seen over the last three months. However, I wouldn't be surprised if over the next week or two the market goes back and forth with the Dow nearing 13,000 and the S&P 500 above 1350. I realize the ETF option plays mentioned above are not going to make anyone rich overnight, but if you're looking into less risker option plays, these may work for you.