By Giorgio Ferrero
As I constantly look for new trading opportunities, I came across the idea of analyzing the technical data on BRIC stocks. BRIC is an acronym that refers to Brazil, Russia, India, and China. Thus, the stocks I searched for are based in these countries. To screen the best companies that we would be interested in, I used the following criteria.
1. Market Cap = +$10 billion or more
2. Optionable
3. Average volume of 1 million shares
5. At least 5 years of price data
6. All companies are based in the BRIC counties
Next I wanted to search the techincals on these companies in a way that is tradable for us. Thus, I searched the Feb-Apr option expiration date returns for the 18 stocks that fit into my criteria. We investigated the following AmBev (ABV), Banco Bradesco (NYSE:BBD), Baidu (NASDAQ:BIDU), Brazil Food Stores (NYSE:BRFS), CEMIG (NYSE:CIG), New Oriental Education (NYSE:EDU), Gerfau (GGD), HDFC Bank (NYSE:HDB), Infosys (NASDAQ:INFY), IBN (NYSE:IBN), Itau Unibanco (NYSE:ITUB), Mobile Telesystems (NYSE:MBT), Melco Crown (MPEL), Petroleo Brasileiro (NYSE:PBR), Tata Motors (NYSE:TTM), Vale (NYSE:VALE), Telefonica Brasil (NYSE:VIV). The results are as follows: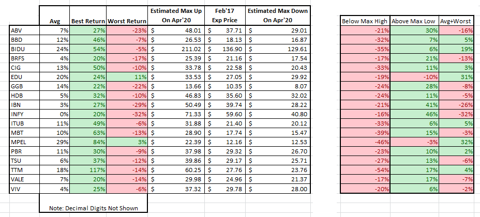 The table above shows the absolute best/worst returns for each stock (18) that fit into the 6 conditions that I listed earlier. Again the returns are for the Feb-Apr option expiration date period. Please note that some of the stocks listed above do not have 10 years of price data (BBD,BIDU,BRFS,EDU,ITUB,MPEL,TTM,VALE). However, they do have at least 5 years of price data. Based on the 10 year best/worst returns, I have estimated the max high/low price of each stock for Apr '20. This is not to be understood as to where I think the stock will go by Apr '20 but instead where I do not think the stock will to by Apr '20. In order for any of these stocks to reach my estimated max high/low prices on Apr '20, investors would have to show an unprecedented about of buying/selling to break the 10yr max return range.
To save you time, I added the average return to the worst return (as shown on the far right column). This column may help you identify which stocks performed the best relative to their drawdowns during this period.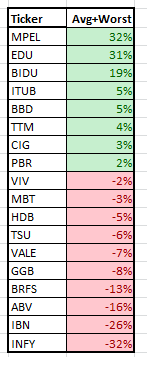 As you may conclude MPEL, EDU, and BIDU have been the best outperformers among these 18 companies listed. However…price data for BIDU is 6years, and only 5 years for both MPEL and EDU. For trade ideas, I would strongly suggest looking at the tickers in the green having positive Avg+Worst return characteristics.
Baidu has historically been a strong stock to trade for the next 2 months. BIDU increased in value for 5 of the past 6 years while EDU and MPEL have gone up 100% of the time since inception during the Feb-Apr option expiration time frame. Right now, it seems as though EDU and MPEL are the best stocks to choose since they are historically the best performers and that they are at value, trading below their estimated max low for Apr '20 right now! Careful though- past performance is not indicative of future returns (despite my hopes). Once again, I think Baidu is the play here, you may also find great trades in ITUB, BBD, TTM, CIG, or PBR, but for now I suggest the following trade.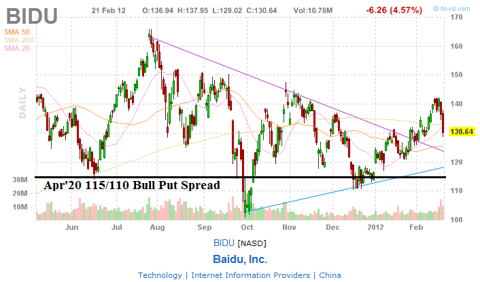 Option Trade: BIDU - Sell Apr'20 115/110 put spread (Bull Put Spread)
(Sell 115 Put/Buy 110 Put)
Size - 10% of Giorgio's Corner Portfolio Size = (2 spreads)
Entry: Sell Limit: 0.85
Stop Loss: 2.65
Exit Price: 0.00
Max Return: 20.48%
(Note: Return calculation does not include commission; Max Return is calculated as Return at Risk not Return on Margin)
This trade suggests selling the short strike (115 Put) 11.27% below the estimated max low of $129.61. Yes, Baidu sold off roughly 4.5% on Tuesday, but there was no big headlines I could find to justify the price change besides analyst ratings from last week. Please remember that the $129.61 price is estimated on the only year BIDU ever returned a loss during the Feb-Apr time frame.
I will talk about more trading opportunities that may derive from technical analysis in this article as market conditions change
Disclosure: I do not own any investments in ABV, BBD, BRFS, CIG, EDU, GGB, HDB, IBN, INFY, ITUB, MBT, MPEL, PBR, TSU, TTM, VALE, or VIV. I do own long shares of BIDU. I'm short shares of VXX, TVIX, GLL, and ZSL. I own bear call spreads on SPY, VXX, GLL, and ZSL.
Charts are from Finviz.com
Earnings Data is from e*Trade.com
Disclosure: I am long BIDU.