It seems that pretty much everyone who you can shake a stick at it is promoting Apple (NASDAQ:AAPL). Now I'll be one of the first to give credit where credit is due and applaud Apple's successes and remain hopeful of the company's future endeavors. These will no doubt include the iPad 3, 4, and 5 along with multi-generations of iTVs, the cutesy Apple iCar and the crime-fighting supercomputer showcased on the TV show Person of Interest.
So who in their right mind should possibly consider selling shares of Apple?
I was touring around the Mac Observer forum seeing what percentage of these investor's portfolios were made up of Apple shares. The postings were largely from 2008 but it gives you an idea of the mentality that might still be out there today.
Many of these investors were 100% in Apple

One investor claimed he was old and still had 60% of his funds in Apple

One person had 400% exposure and he broke it down into 25% his money, 25% second mortgage and 50% margin
To be fair, these investors should be up 300% by my calculations based on when they posted this information. But does the current reward of Apple truly warrant such an extreme weighting of the portfolio? Let's crunch a few numbers and look at some potential risk factors.
How High Can You Go?
The analysts seem to consistently guess too low on earnings so we'll bump it up a little. However the larger the number gets, the more difficult it becomes to achieve ultra-high growth numbers. It is one thing to grow earnings from $2.36 in 2006 to $28.05 in 2011 and it is another to maintain sustained 64% growth where earnings per share would be over $330 in another 5 years. I'm not saying that Apple doesn't have a lot of growth left in it, but the bigger you get, the more difficult it becomes to grow at an exponential rate.
We will assume a higher growth rate than the analysts and assume 25% annually. Assuming a constant P/E ratio (which is fair due to lower P/E ratios associated with maturing companies), we have share price growth equal to our earnings growth. Thus our upside is 25% per year for the next 5 years. Is 25% potential upside worth weighting our portfolio up to 100% or leveraging it even higher?
Momentum and Parabolic Rises Equal Risk
Again, let me be clear that I believe Apple will continue to rise - that is not the issue here. The fault I have is with the firm specific risk or even volatility risk when you create a 'portfolio of one stock'. Apple is riding high on momentum having went parabolic over the past 5 weeks.
If you are just loading up your portfolio now, you should be aware that it has jumped above its 3 year trend and could settle back in the $425 range for a breather. It might be hard to swallow having a winning stock- but with a short-term loss of 17% or more and needing to hold for over half a year just to get back to even. Even really good stocks don't go rocket up forever; they move in stages or thrusts with pullbacks and consolidations.
Alternate Strategies with 25% Upside
What I am hoping you take away from this is the need to have some diversity in your portfolio. If you are a highly leveraged Apple investor, even lowering your Apple holdings to 50% is better than a leveraged 400%.
What will you replace your beloved Apple stock with after lowering your firm specific and volatility risk? Here are a few options to consider:
Healthcare sector: Below is the 5 year chart of how this healthcare strategy has performed over the past 5 years. Interestingly, it has returned similar amounts to holding shares of Apple during the same time frame. Granted there are added trading costs with such a strategy.
The trading rules are quite simple - I buy healthcare stocks with a high value rank where the company is headquartered in the USA, with a less than 3 billion market cap and with the current year's estimated earnings higher than 2 months ago. I sell if the value ranking drops or if the current year's earnings estimate suddenly drops below what it was 2 months ago.
Stocks that make this list today are Tenet Healtcare (NYSE:THC), Health Management Associates (NYSE:HMA) and Community Health Systems (NYSE:CYH).
CAN SLIM and Fiscal Momentum
But maybe you don't like the slow-moving stocks that bore you to death and you prefer some high-flying action. Both share price and fiscal momentum combined can be a powerful combination. With market timing rules that track the S&P 500 earnings trend, this strategy has returned an annualized 28.86% over the past 5 years, despite being sidelined for over one and a half years.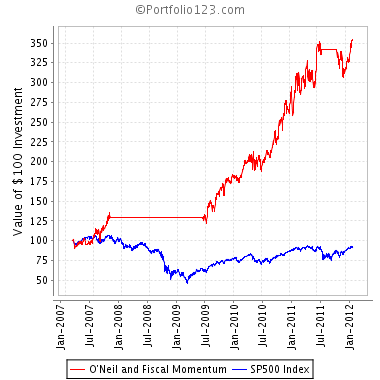 Names making this list are Lululemon Athletica (NASDAQ:LULU), Align Technology (NASDAQ:ALGN) and Lincoln Electric Holdings (NASDAQ:LECO). These stocks are typically more volatile than the market, but if you have at least 10 different companies, the portfolio volatility should be greatly reduced.
Wrap-Up on Apple
So yes, stay bullish on Apple and continue to look for timely entries. But if your portfolio is more than 50% weighted towards this one company, I strongly urge you to sell some of your shares. You should diversify using some high alpha strategies that will still provide you with large potential gain, without putting all of your Apples in one basket.
Disclosure: I have no positions in any stocks mentioned, and no plans to initiate any positions within the next 72 hours.