The bulls managed to do it again, though they didn't do it very well. Last week was the eighth winning week out of the last ten, though stocks only advanced 0.33% (and did so on light volume). The uninterrupted rally off the late-November low now stands at an amazing 17.8%, which is a mighty long stretch by any standard. How much more gas could be left in the tank?
We'll at least partially answer the question below, right after we run-down last week's and this week's key economic data.
Economic Calendar
Last week's lack of economic numbers may have been part of the reason for the market's lack of movement, though we did get some helpful information. For instance, home sales - both new and existing - showed a glimmer of hope.
Existing homes sold at an annual pace of 4.57 million in January, up from December's 4.38, while new homes sold at a pace of 321K, down slightly from December's 324K pace. However, the buzz is that there's now a lack of inventory of new homes - more could have been sold if they were being built. [There's no way of verifying that claim, but the idea was posed by credible sources.]
The only other data of interest was on the unemployment claims front. Initial claims held steady at 351K, while ongoing claims fell from 3.444 million to 3.392 million. Both are at or near multi-year lows, and though critics are plentiful, we are seeing measurable progress in terms of eradicating joblessness.
Economic Calendar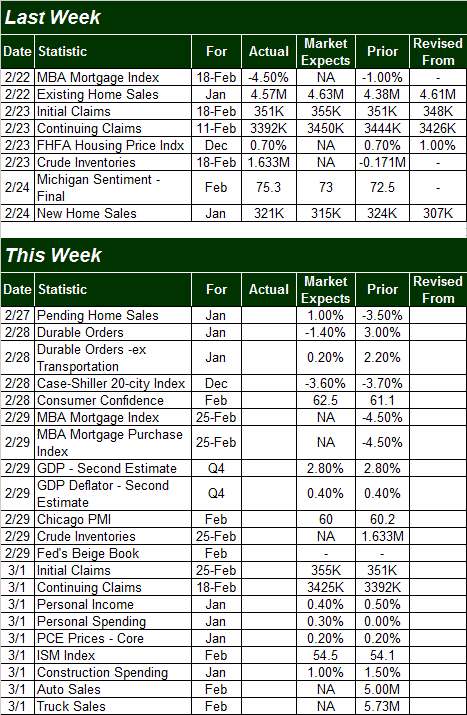 The coming week is going to be much busier right off the bat, beginning with Monday's pending home sales to round out the real estate picture that began being painted last week. The pros are looking for a 1.0% improvement, which wouldn't be hard to muster following December's 3.5% dip. Looking out past that….
* Tuesday: Look for decent (+0.2%) growth in durable orders, but the number that we're really going to be interested in on Tuesday is the Conference Board's consumer confidence score. It now stands at 61.1, down from December's multi-month high of 64.8. But the overall trend is pointed upward here, and the experts think we'll see a modest rise to 62.5.
* Wednesday: It's not the final estimate, but the second estimate for GDP data is usually pretty close. Economists are likely to confirm the Q4 GDP growth rate of 2.8%… the third consecutive improvement.
* Thursday: It's going to be a busy day, kicking off with the usual unemployment claims numbers; the market's actually looking for a slight increase in the number of unemployment claims. We'll also hear about personal income and personal spending on Thursday, both of which are expected to have grown fairly well in January (by 0.4% and 0.3%, respectively).
* Friday: Nothing's in the lineup for the last trading day of the week.
Dow Jones Industrial Average
We're going to focus on the Dow (NYSEARCA:DIA) (INDU) rather than the S&P 500 (NYSEARCA:SPY) (SPX) this week simply because the Dow is at - but not over - a major milestone. If it's hurdled, it could breathe new life into the bullish effort. If it holds up as a ceiling for just a little bit longer, it could convince the buyers that there's nothing left in the proverbial gas tank, and inspire some profit-taking (and jump-start a pullback in the process).
That milestone for the Dow Jones Industrial Average, of course, is 13,000.
Though it's only a psychological line in the sand because it's a big round number, psychology is enough to start and stop rallies in today's sentiment-driven market. That's why the bulls and bears have drawn the battle line here rather than above or below the 13,000 mark. Last week's high was 13,013.75, and the close was at 12,982.95 - both are close enough to the battle ground to say that so far, and not surprisingly, the contest is a stalemate. Take a look.
Dow Jones Industrial Average - Daily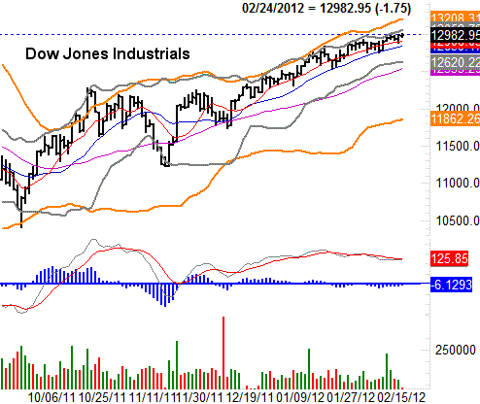 With just a quick glance the trend looks compelling, and we'd be the first to say that the trend is your friend until it's clear that friend has abandoned you (which the Dow hasn't yet). On the other hand…
This trend IS losing steam; though the index is still making bullish progress, the MACD lines have been pointed lower since late January. The bullish volume is starting to wane as well. While we saw a major accumulation day on the 17th, the Dow Jones Industrial Average didn't actually make any meaningful progress that day, or any other day since then. Point being, sooner than later, there are going to be more sellers than buyers.
When might that day be? The same rule that we're applying to the S&P 500 will also apply to the Dow: the 20-day moving average line (blue) will need to fail as support and let the Dow slide under it before we can fully entertain bearish notions.
With all that being said, we still want to explore the S&P 500 this week.
S&P 500
We're seeing the same basic red flags with the S&P 500 that we're seeing with the Dow… fading momentum and fading buying volume. We're seeing something else with this chart to though - the CBOE Volatility Index (VIX) (NYSEARCA:VXX) (NYSEARCA:VXZ). Specifically, we're seeing the VIX not make much downward progress any longer even though the SPX is still inching higher. Is this an omen? Maybe, maybe not. It is another sign that buyers are starting to think twice though, which (as was said above) could be the beginning of a reversal effort.
Still, the VIX will need to move above its upper 20-day Bollinger band and 50-day moving average line around 20.60 before the tide has convincingly turned for the worst.
SPX & VIX - Daily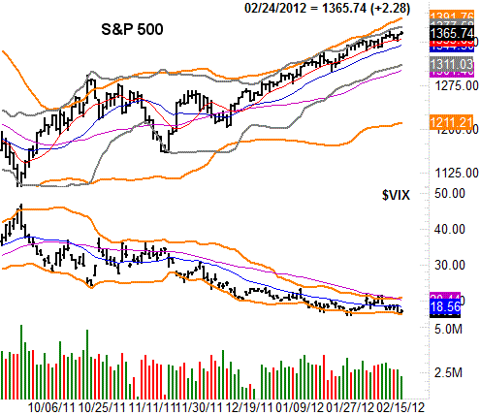 Earnings Scoreboard
With earnings season all but over - 93% of the S&P 500's companies have reported Q4 results - we can start draw some conclusions about how things went in the fourth quarter of 2011.
Overall, the S&P 500 with financial stocks (NYSEARCA:XLF) saw a 5.6% improvement in year-over-year earnings. Without financials though, the improvement ramps up to 7.1%. In dollar terms, the S&P 500 is on pace to report earnings of $24.15 on an operating basis (and $19.22 on a GAAP basis) versus $21.93 in the fourth quarter of 2010. As a result, the S&P 500 is poised to report earnings of $96.86 for all of 2011, translating into a P/E of 14.1. For comparison, forecasters are looking for $105.00 in 2012.
As for sectors, the big winner was the industrials group (NYSEARCA:XLI) with an average 15.5% increase in year-over-year income. The big loser was telecom (NYSEARCA:XTL), with a whopping 25.7% dip in earnings. Worse, of the eight telecom stocks in the S&P 500, six of them fell short of earnings expectations.
Either way, with the exception of telecom one thing is becoming clear with earnings…gone are the days where any and all sectors is likely to show double-digit growth or losses. Now that the economic recovery is all grown up, we're starting to see normalized - and tepid - growth numbers. That's not a bad thing though. In fact, it can be a good thing in that it allows the winners and losers to stand out from their peers.
Disclosure: I have no positions in any stocks mentioned, and no plans to initiate any positions within the next 72 hours.