Today, we take a look at the fifty largest companies (by market cap) and their historical performance during March over the past fifteen years. Our research compiles the opening and closing prices for each company during March since 1997 and gives the company's overall consistency during March, as well as the total average, maximum gains, and maximum losses seen during March over this period. The first graph depicts the most and least consistent stocks during March since 1997 with GlaxoSmithKline (NYSE:GSK) seeing gains close to 90% of the time during March and Wal-Mart (NYSE:WMT) and Toyota Motors (NYSE:TM), on the other end, experiencing gains only 40% and 33% of the time, respectively. Inside today's story we will more fully describe each company's performances and suggest trading strategies that can use our research.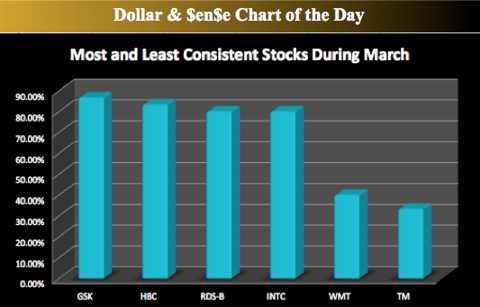 GSK has performed the best during March, with gains 87% of the time. GSK averages 5.1% gains each March with its largest gain being 15% and largest loss being -13.4%.
The next best company has been Royal Dutch Shell (NYSE:RDS.B), bringing in gains in 80% of Marches and boasting average gains of 6.5% each March. What makes RDS-B such a good buy during March is that in the three Marches they did experience losses they are only -0.51%, -0.68%, and -0.91%! RDS-B's largest gain has been over 18% and with max losses of less than 1%. RDS-B is a great candidate for a long position.
HSBC Holdings (HBC) has performed equally as well with an 80% consistency and a 4.7% average return. The max drawback on HBC has been -6% with the maximum gain of 26.2%
The two worst performing stocks during March have been WMT and TM bringing in gains only 40% and 33% of the time, respectively. WMT averages -0.28% each March, with a maximum gain of 10% and maximum loss of -9%. TM has had a maximum gain of 25.1% in 2009, which makes TM hard to short during March.
Intel (NASDAQ:INTC) has also had very strong consistency in the month of March.
Trades:
1. RDS.B - We like going long the stock given that the max drawdowns have been limited and oil seems very strong right now.
2. GSK - Buy March 16th $44.84/$45.84 Bull Call Spread and go long the stock. Once again, strength and drawdowns is here.
4. WMT - Buy March 16th $57.50/$55 Bear Put Spread based on the fact that there is limited upside and the company just reported weak earnings.
Making Cents of the Market,
Mike Mackin
Disclosure: I am long GSK, RDS.B.
Additional disclosure: I am short WMT.