One of the biggest gainers of last week's trading is Sourcefire (NASDAQ:FIRE) which gained 25% after the cyber security firm released a strong set of quarterly results. As more corporations and government units recognize the threat of cyber terrorism, Sourcefire is perfectly positioned to benefit from these developments.
IPO became a long term success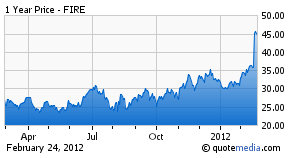 Sourcefire went public in 2007 at $15 a share when the company raised approximately $85 million in new funding. While the IPO was an immediate success, returns for the first two years were disappointing as shares hit a low of $5 in the beginning of 2009. From that moment on shares rallied to $25 within the year. Shares consolidated around this level until shares broke through the $30 level in the beginning of 2012. Including last week's jump, investors have already seen a 40% return year to date.
Fourth quarter results
Revenues for the final quarter of the year rose 40% to $53.2 million, marking a notable increase in its growth rate. Revenues exceeded Sourcefire's own expectations as the company expected fourth quarter revenue to come in at $45.5-$47.5 million as recent as November 2011. Net income fell 7% to $4.1 million, or $0.14 per share on higher tax liabilities.
Full year revenue for 2011 came in at $165.6 million which was up 27% on the year. Net profits fell 70% to $6.2 million ($0.21 per share) as the company made a strategic choice to sacrifice short term profitability in an attempt to increase growth.
Outlook
Sourcefire expects fourth quarter revenue to come in at $40-$42 million which would represent a 33% growth (at the midpoint of the guided range) compared to last year. This beats analyst expectations which were anticipating a guidance of around $38.4 million. Accelerating Sourcefire's growth profile comes at a price. The company expects to lose between $0.03-$0.05 per share which is no problem as the company ended 2011 with $150 million in cash and short term investments.
Investment thesis
It is terribly hard to value a company like Sourcefire. Subtracting the $150 million in cash from its $1.3 billion market capitalization values the company at 7 times its 2011 annual revenues. Sourcefire's strategy is to forgo short term profitability in order to boost revenue growth. This strategy has paid off well for shareholders.
Sourcefire's valuation might be on the high end on a stand-alone basis. However, some investors are speculating on a potential bid from a well-established technology company who wants to expand in the "hot" security information technology industry.
While judging the probabilities of an eventual take-out are terribly hard to estimate, investors should be aware that there is significant downside risk in case such an event might not materialize.
Disclosure: I have no positions in any stocks mentioned, and no plans to initiate any positions within the next 72 hours.