We believe ChipMOS (NASDAQ:IMOS) represents a uniquely compelling investment opportunity and should hit at least $30 per share within 12 months. Shares trade at just over 3.5x EV/trailing free cash flow, 3.2x EV/forward free cash flow, have almost $4 in normalized EPS per share, and an ongoing stock buyback. Our price target is NOT based on an economic or semiconductor industry recovery, but should be achievable if the current global economic backdrop simply remains intact. We believe several catalysts could drive upside to our target.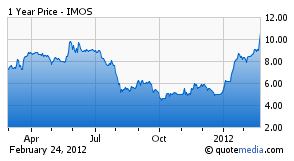 When we construct our investment portfolio, we attempt to identify a group of uncorrelated stocks that we believe offer asymmetric outcomes - i.e. 10-20% downside, and 50-100% upside. It is rare that we find a stock which we believe has fair value that is several hundred percent above the current price, however, ChipMOS is that rare case.
So given our extremely positive view of ChipMOS, we were thrilled to see the first Wall Street analyst coverage of IMOS (since the mid 2000s) by Richard Shannon of Craig-Hallum who on Friday initiated with a Buy rating and $19 price target. We give enormous kudos to Mr. Shannon for picking up coverage, given ChipMOS's huge cash flow, which makes ChipMOS an unlikely candidate for requiring investment banking services anytime soon. In addition, given the relatively low trading volume, Craig-Hallum's trading desk is unlikely to make significant money trading the stock. That said, Mr. Shannon should win huge praise for making a fantastic call that should make clients a lot of money - this is the paradigm of what great sell-side research is.
We agree with virtually all of Mr. Shannon's call, but believe there are a couple of points he doesn't make or that deserve further elucidation.
The main premise of our call is that ChipMOS has tremendous free cash flow (over $4 per share), and would have huge GAAP EPS (also over $4 per share), but because of significantly above trend cap-ex in 2007 and prior, ChipMOS has depreciation expense that makes EPS appear miniscule. Specifically, in 2007 ChipMOS spent $497 million on cap-ex versus approximately $80 million during the last few years and projected for the next few years. As a result, depreciation has been running approximately $200 million annually, versus cap-ex of $80 million. If depreciation were equal to cap-ex in 2011, as it eventually will be, trailing EPS would be about $4. As Mr. Shannon correctly notes, 2012 is the first year that depreciation starts to roll-off, resulting in EPS of $1.58, by his estimate (although FCF/share exceeds $4). In 2013, depreciation falls again, adding another $1.50 to EPS, assuming business does not grow.
We note that ChipMOS has used its enormous FCF to de-lever its balance sheet. Debt should be reduced to approximately $110 million by 4Q11.


Source: ChipMOS corporate presentation
Massive Free Cash Flow will benefit shareholders
With approximately $120 million in free cash flow likely in 2012, ChipMOS will likely use most of it for further debt reduction, however, ChipMOS has a $10 million buyback in place - a point Mr. Shannon mentions only briefly.
Having followed ChipMOS management's behavior the last several years, we are convinced this is a team that gets it and is motivated to enhance shareholder value. We expect that the company will increase its buyback when the first $10 million is used up and that management will discuss its commitment to ongoing buybacks when they report 4Q11 results on March 16th. We note that even at $20 a share, if the company spent $20 million on buybacks, it would increase FCF/share by about 2.5%; in other words, at twice the current price a buyback would be meaningfully accretive.
In addition, if ChipMOS hits a price where a buyback is not accretive and viewed as the best allocation of capital, the company could institute a dividend. If it used approximately 25% of its free cash flow, the dividend would be about $1 a share - meaning that at $30, the stock would be yielding a healthy 3.4%. We fully expect that management will utilize excess cash in 2012 and beyond to enhance shareholder value.
Quick point on the Shannon Model
Mr. Shannon's model assumes 10% revenue growth for 2012, in-line with management guidance, and has GAAP EPS of $1.58 (to go with FCF/share of $4.08). He assume COGS ex depreciation of 61% (or GM of 39%), flat from 2011. The thing is, the OSAT model is a very high fixed cost business. The incremental costs on utilizing a facility at 85% versus 75% (the current utilization) is very low, and the incremental margins tend to be at least 50% - and even higher on test facilities. If we applied a 50% GM to the 2012 revenue growth, Mr. Shannon's EPS would be approximately $0.30 higher. In addition, he assumes flat share count, while share count should decline based on buybacks.
Current valuation is absolutely absurd
To get additional context on just how ridiculously cheap ChipMOS' valuation is, one can look back to 4Q09. In 4Q09, ChipMOS' 2 largest customers, Spansion (CODE), and ProMOS were in bankruptcy. ChipMOS was saddled with $494 million of debt, and equity that ranged in value from approximately $60 million to $100 million. ChipMOS' own survival was greatly in doubt. Despite this, ChipMOS had an enterprise value that ranged from $550 million to $600 million, or $20 to $23 per share, versus $15 today - when ChipMOS' business is strong, has a much more diverse customer base, huge FCF, a buyback, and terrific prospects. Clearly, this is a compelling opportunity.
Several potential upside drivers
We believe several factors could create upside to Mr. Shannon's estimates. ChipMOS has grown its LCD driver-IC revenue from 13% of sales in 1Q09 to 37% in 3Q11. Given the ongoing demand created by iPad and iPhone from Apple (NASDAQ:AAPL), Kindle from Amazon (NASDAQ:AMZN), new smartphones using Google's (NASDAQ:GOOG) Android platform and upcoming ultrabooks, 2012 could shape up to be a terrific year for this segment, and assembly and test capacity could become tight. We note that in late 2003, capacity became tight, and between October 2003 and February 2004, ChipMOS shares rocketed from $8 to over $50 as the company was able to raise prices. Each percent that ChipMOS is able to raise LCD driver-IC pricing, would add approximately $0.08 to annual EPS, by our estimates.
In addition, the introduction of Windows 8 from Microsoft (NASDAQ:MSFT) could be a catalyst for a PC pick-up, which could have a positive impact on DRAM demand and pricing. Further as we previously wrote, IMOS could benefit from DRAM industry consolidation. We note, that even without consolidation, company's such as Micron (NASDAQ:MU), have noted that they believe DRAM pricing has bottomed.
Finally, should the semiconductor industry have any type of robust recovery, we'd anticipate both upside to IMOS' guidance which we believe is conservative, and potential multiple expansion for the sector.
Our view on valuation
We believe that 12 months from now ChipMOS will be essentially debt free, with almost $2 in trailing EPS, approximately $3.50 in forward EPS, over $4.00 in FCF per share, an ongoing buyback, and a healthy dividend. Should the company dual-list in Taiwan, as management has suggested they will, we think its reasonable that IMOS trades in line with its closest comp, Chipbond, which trades at 11x CY13 EPS.
At that multiple, shares are worth almost $40. We think our target of $30 is absolutely achievable, and again, is predicated merely on the steady, foreseeable decline in depreciation, and not on any external factors going right for the company. Should anything actually go well, this could be one heck of an exciting ride.