Tesla Watchers Learn A New Word: "Bricked"
Tesla Motors (NASDAQ:TSLA) took something of a public relations hit several days ago, when news broke in the blogosphere about a potentially catastrophic problem with Tesla vehicles' battery packs. As Michael Degusta explained:
Tesla Motors' lineup of all-electric vehicles - its existing Roadster, almost certainly its impending Model S, and possibly its future Model X - apparently suffer from a severe limitation that can largely destroy the value of the vehicle. If the battery is ever totally discharged, the owner is left with what Tesla describes as a "brick": a completely immobile vehicle that cannot be started or even pushed down the street. The only known remedy is for the owner to pay Tesla approximately $40,000 to replace the entire battery.
Degusta went on to note that if a Tesla battery gets "bricked" the $40k replacement required is not covered by Tesla's warranty. Tesla responded on its corporate blog, arguing in part that keeping a Tesla charged was analogous to making sure a conventional car's gasoline engine was properly supplied with motor oil (since running a gasoline powered car engine without out oil would destroy it). Essentially, Tesla put the onus on its cars' owners to make sure their cars' batteries remained charged, and detailed some of the electronic measures it had put in place to remind owners.
Hedging Tesla And 5 Other Widely-Traded Car Makers
After reading about the bricking kerfuffle, I was curious to see how the cost of hedging Tesla shares compared with the costs of hedging shares of other carmakers trading in the U.S. The table below shows the costs-- as of Friday's close-- of hedging Tesla and the 5 other most actively-traded car manufacturers against greater-than-20% declines over the next several months, using optimal puts. As the table below shows, Tesla is currently the most expensive of these stocks to hedge at this threshold.
A Comparison
For comparison purposes, I've added the SPDR Select Sector - Industrials ETF (NYSEARCA:XLI) to the table. First, a reminder about what optimal puts are, and a note about decline thresholds; then, a screen capture showing the optimal puts to hedge one of the car companies below, Toyota Motor Company (TM).
About Optimal Puts
Optimal puts are the ones that will give you the level of protection you want at the lowest possible cost. Portfolio Armor uses an algorithm developed by a finance Ph.D. to sort through and analyze all of the available puts for your position, scanning for the optimal ones.
Decline Thresholds
In this context, "threshold" refers to the maximum decline you are willing to risk in the value of your position in a security. You can enter any percentage you like for a decline threshold when scanning for optimal puts (the higher the percentage though, the greater the chance you will find optimal puts for your position). I have used 20% decline thresholds for all of the names here.
The Optimal Puts for TM
Below is a screen capture showing the optimal put option contract to buy to hedge 100 shares of Toyota Motor Company against a greater-than-20% decline between now and July 20th. A note about these optimal put options and their cost: To be conservative, the app calculated the cost based on the ask price of the optimal puts. In practice, an investor can often purchase puts for a lower price, i.e., some price between the bid and the ask (the same is true of the other names in the table below).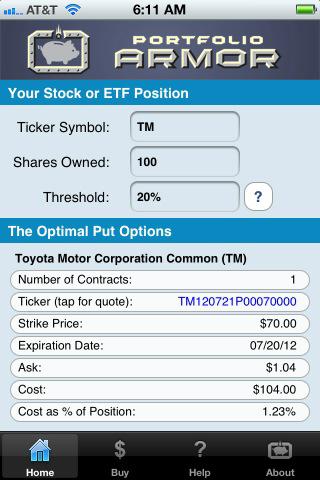 Hedging Costs as of Friday's Close
The hedging costs below are as of Friday's close, and are presented as percentages of position values. The stocks are listed in descending order of share volume in Friday's session, with the company with the highest volume-- Ford Motor Company (NYSE:F)-- listed first.
| | | |
| --- | --- | --- |
| Symbol | Name | Hedging Cost |
| F | Ford Motor Company | 5.64%** |
| GM | General Motors Company | 5.68%** |
| TTM | Tata Motors Ltd | 3.84%* |
| TSLA | Tesla Motors | 16.6%** |
| TM | Toyota Motor Corporation | 1.23%* |
| | Honda Motor Company, Ltd | 3.77%* |
| XLI | SPDR Select Sector Indust. | 3.79%** |
*Based on optimal puts expiring in July
**Based on optimal puts expiring in September
Disclosure: I have no positions in any stocks mentioned, and no plans to initiate any positions within the next 72 hours.