It is really interesting how a lot of investors avoid investing in banks, yet will invest headfirst into a high technology company (think Qualcomm (NASDAQ:QCOM)), without truly understanding the business model. I can understand the issue with a large bank that has a significant amount of derivatives. However a small community bank's core business model is very easy to understand; company collects deposits, loans the deposits out and makes a spread on the interest charged. Simple as that.
The research presented here is on a small community banking company that I have known my entire life.
Summary
County Bank Corp (OTCPK:CBNC), or more informally known by locals as Lapeer County Bank and Trust, is a local community bank, established in the county I was raised in. Established in 1902, CBNC has locations in Lapeer, Metamora, Attica, North Branch, and Imaly City (all in Lapeer, Michigan). As a company, CBNC offers your typical services any localized community bank offers.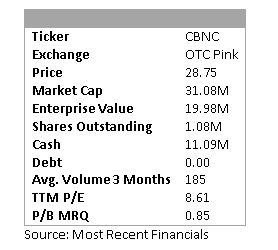 Investment Thesis
CBNC is a hidden community bank that few follow due to the relative size and OTC Pink listing. My core investment thesis is based off of a recently announced merger with another localized community bank. The stock price has not reacted at all, even though the merger will almost double assets at a very low cost. Furthermore, if for some reason the merger does not go through, investors can still pick up a well -run, undervalued security on a relative and absolute basis.
The Issue
I believe that the biggest concern with CBNC is the fact that they are traded on the Pink Sheets. Essentially, the company is dark. Thus, since the year of 2004, the company stopped filing their financials through the SEC. This is problematic for a few different reasons.
The first issue is visibility. The lack of investor visibility due to the Pink Sheet listing, has led to a very thinly traded stock. Most days, the company does not trade at all. Furthermore, the average ten day volume and three month volume (according to Yahoo Finance) is 160 and 185, respectively. For big money investors, day traders, and value investors who can't seem to hold onto a stock for more than a year, this becomes a problem. Though, if you are an actual investor who can buy and hold a company for the long-run and have patience with buying, CBNC may bode for further research. As Buffett would say…
"Only buy something that you'd be perfectly happy to hold if the market shut down for 10 years."
Moreover, if you are looking for a decent sized block of CBNC, here is a link to the company's market maker.
Another issue many investors may have is the fact that the company does not file quarterly or even annual reports with the SEC. Investors who have never studied OTC companies before, take non-filing companies as scams. This is far from the truth. Many OTC companies do not file due to the fact that they save money by not filing, thus they can give more back to their shareholders. Furthermore, CBNC provides annual and quarterly updates here.
Interestingly, CBNC filings are audited by Crowe Horwath LLP, one of the largest accounting firms in the world.
Here is a quick brain exercise for you. Why would a dark company be cooking their books? What is their incentive? It's not like they are trying to attract shareholders, or else they would not be dark. On the flipside, a company listed on the NASDAQ or the NYSE actually seems to have a higher incentive to cook their books due to an increase in investor activity. According to popular opinion, dark companies are the book cookers, not the large established Enron or WorldCom types.
If you can push through the liquidity issue and the fact that the company does not file with the SEC, CBNC may interest you. Most investors will not get through these issues. That's fine with me though. I will take advantage of this inefficient stock while you play with the larger guys.
The Merger
On February 18th, 2016, CBNC announced that the company and Capac Bancorp, Inc., holding company of CSB Bank signed a definite agreement to merge in an all-stock transaction. If the agreement goes through, CSB will be merged into CBNC. Additionally, CBNC will issue 0.90 shares of common stock in exchange for 741,900 shares of CSB. Overall, the value of the merger is around $27/share or an aggregate of ~$20mm.
Currently CBNC and CSB both have seven locations. Additionally, CBNC and CSB have ~$329.9mm and ~$240mm in assets, respectively. As you can see, the combined merger of these two companies will almost double CBNC's asset base. Furthermore, both CBNC and CSB have been key competitors to each other, thus, the merger will eliminate a good majority of the community bank competitors in the area in which they serve.
Further synergies created by this merger are; larger lending limits, larger loan transactions, expanded services into three counties, wealth management, retail brokerage, more advanced technologies, and extended deposit account options. Interestingly, shareholders will also have greater liquidity and employees will have more career advancement opportunities (sticker employees/less turnover).
In terms of topline growth, we can only speculate due to CSB's non-public status. Though, we do know that CBNC and CSB have very similar structure sizes (in terms of assets and locations). Furthermore, CSB's assets are only ~25% less than CBNC's. Theoretically speaking, we could estimate that CSB's net interest income is 25% less than CBNC's, based solely upon assets.
| | | | | | |
| --- | --- | --- | --- | --- | --- |
| | TTM | 2014 | 2013 | 2012 | 2011 |
| Net Interest Income | 10.461 | 10.937 | 10.881 | 11.051 | 11.603 |
In millions
From the TTM net interest income of $10.461mm and a projected 25% less net interest income from CSB, $7.847mm, CBNC's implied, forward net interest income, post-merger, should be around $18,306mm. Given the fact that the current market cap is around $31mm, post-merger would make CBNC a very cheap security.
Let's go even further with this example and hypothesize a projected bottom line.
| | | | | | |
| --- | --- | --- | --- | --- | --- |
| | TTM | 2014 | 2013 | 2012 | 2011 |
| Net Income | 3.668 | 3.643 | 3.462 | 1.867 | 2.118 |
| Net Income Per Share | 3.40 | 3.37 | 3.20 | 1.73 | 1.96 |
In millions
If the merger with CSB adds $2.751mm (25% less than the TTM net income) to the forward net income, CBNC will be raking in ~$6.419mm in net income going forward. Furthermore, the net income per share would be around $5.94/share. At a market cap of $31mm, this would give an investment in CBNC a breakeven point of ~4.83 years (market cap/expected net income). This also does not include added synergies realized after merger.
With an EPS of ~$5.94/share and a current price of $28.75/share, the forward estimated P/E would be 4.84x. Significantly undervalued, even for an unknown Pink Sheet local community bank.
After the merger is complete, CBNC will become the 16th largest bank in Michigan in terms of assets and the 14th largest in terms of deposits. Due to the small relative size and the market not knowing the company exists, I do not think the merger will get priced into the company, at least in the near-term. Given the fact that the merger is expected to happen in 3Q16, this gives patient investors plenty of time to build a decent position in the company, pre-merger.
Valuation
CBNC presents itself as an undervalued security on a relative and absolute basis.
| | | | | | | | | | |
| --- | --- | --- | --- | --- | --- | --- | --- | --- | --- |
| | Market Cap | Exchange | Assets | Locations | Net Interest Income | Net Income | TTM Trailing P/E | MRQ P/B | Trailing Dividend |
| County Bank Corp. | 31.35M | OTC Pink | 323.9M | 7 | 10.461 | 3.668 | 8.61 | 0.85 | 3.76% |
| Oxford Bank Corporation (OTCPK:OXBC) | 10.76M | OTC Pink | 322M | 10 | 9.303 | 7.251 | 1.70 | 0.55 | N/A |
| Mackinac Financial Corporation (NASDAQ:MFNC) | 62.06M | NasdaqCM | 746M | 17 | 23.527 | 1.700 | 11.22 | 0.80 | 3.50% |
In millions
'The comps used above are two different Michigan based banks
OXBC may be the most similar comp up there. OXBC and CBNC both serve different counties, yet both of these counties are neck to neck (relatively close). The counties that OXBC and CBNC serve are very similar and both, more so, rural. It appears as if OXBC is around the same size that CBNC is based upon locations and assets. However, OXBC seems to be much more undervalued compared to CBNC. The reason for the high net income for OXBC is due to a $6.340 million income tax recovery break.
OXBC is getting put on my 'to research' list.
MFNC is a good example of what CBNC may turn into if merger is a success. The counties in which MFNC serves in are relatively rural (like CBNC's). Furthermore, if the merger goes through, CBNC will have 14 locations with an estimated $569mm in assets. On an 'asset/location' basis, CBNC and MFNC have on average $40.64mm and 43.88mm assets per location, respectively.
On a 'net interest income/location' basis, CBNC and MFNC bring in, on average, ~$1.5mm and ~$1.4mm, respectively. When looking at MFNC it appears as if they are less profitable than CBNC, on a net income basis. However, MFNC takes a few, larger, non-cash charges. When looking at MFNC's net cash provided by operating activities, profitability is more in-line.
One issue that has not gotten touched upon is the issue in regards to dilution. According to the merger agreement, CBNC will issue 0.90 shares for 741,900 CSB shares. This will dilute shareholders by 667,710 shares or on a percentage basis of 61.8%. This is a significant amount of dilution and is concerning for existing shareholders.
Sometimes dilution is not that bad (as long as the value of diluting shareholders is much higher than the cost). For an example, if this merger will allow the company to increase their net interest income, net income and assets at a high double digit rate, dilution may be warranted. Furthermore, if their intangible brand image and 'rural moat' will increase in value, it further may be warranted. However, if the merger is not value enhancing, dilution may kill equity holders.
In my opinion, I believe that the merger has potential to be very value enhancing. Further, it will allow the company county growth outside of Lapeer, let the company make larger loans and provide for other useful synergies.
As a whole though, CBNC is an undervalued security no matter what way you look at the company (pre-merger and post-merger). Furthermore, CBNC will own around 24% of the market on a bank to location basis in Lapeer County after merger. Interestingly, the merger will allow the company to expand into two new counties instead of their original, Lapeer County. An expansion into other counties will help set up the company so they can continue expanding if needed.
The majority of the competition in the current county CBNC serves are fragmented larger banks (Chase, PNC, Hantz, etc. -majority of one location each), and other tiny county banks/credit unions. I believe that their biggest competitor is either OXBC or Independent Bank (NASDAQ:IBCP). Though, CBNC controls the highest market share in Lapeer County.
Whichever model you choose to use for the valuation of CBNC (relative comps, P/B or P/E), they all point to the fact that the company is undervalued. If the merger does not go through the company is moderately undervalued. Though, if the merger pulls through, the company is extremely undervalued.
Now all we need to do is figure out how likely this merger is expected to happen.
Will the Merger Go Through?
I have a very high conviction that the merger will go through successfully. In fact, I believe that the probability of the merger not pulling through, has much less of a chance happening than if it does go through. If this was a game of Poker, I believe that we would be sitting on a full house.

Source: Probabilities in Poker
Why do I believe that the merger opportunity with CBNC has the probabilities of a full house pull through? There are three simple reasons, industry consolidation, economies of scale, and two-side agreement.
Industry Consolidation
The number of community banks in the nation have fallen off a cliff since the 1980s.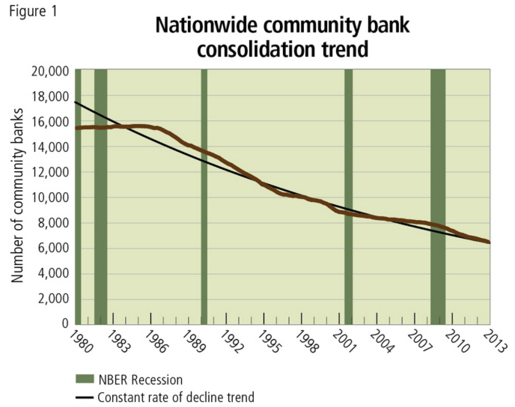 Source: Community Bank Consolidation
The biggest argument for the continual consolidation of community banks revolves around more regulation. An increase in federal regulations (Dodd-Frank to name one), has led to an increase in labor, at the expense of tiny community banks. Furthermore, after the 'Great Recession', regulatory and supervisory activity has further increased, thus continuing the tailwind of community consolidation.
A further tailwind in terms of consolidation for community banks is lack of organic growth in the industry. At almost every major corner, in every county, is a bank. Most rural counties are dominated by a small community bank (usually named after the county). Due to the strategic locations already taken in the banking industry, it is much easier to grow via acquisition instead of organically.
Moreover, historical low interest rates are another culprit for the lack of organic growth. With interest rates at historical lows, growing organically is near impossible. The best way to grow cash flows is through M&A's. Thus, combining institutions can actually be a cheap and effective way to grow.
Given the simple business model of community banking, synergies are instantly created.
Finally loan growth has also been a challenge post-recession. I remember reading somewhere that if there is a straight stock market crash (without effecting housing), the economy can recover relatively quickly (2-3 years). However, if a crash involves real estate, the recovery can be very timely (>10 years).
Michigan got hit very hard during the recession, due to their over concentrated labor force tied to the auto-sector. This has forced many banks such as CBNC and CSB to merger together. It's simple; loan growth is challenging. To offset low loan growth, the best way that these banks can grow is via consolidation.
Economies of Scale and the Two-Sided Agreement
It is very valuable and attractive for both parties (CBNC and CSB) to consolidate. Management teams at both companies understand this (as seen by the two-party agreement). Combining assets and business models, will help to grow CBNC's economies of scale.
The banking industry is scalable. As more assets are combined, typically SG&A will not rise as much. Interestingly, the banks that have <$50mm in assets take the biggest hit to earnings compared to their larger counterparts (>$100mm in assets). Thus, as the two banks are combined, there will be an instant accreditation to the bottom line (in the form of lower labor expenses)-Think about it; you don't need two CEO's, CFO's, COO's, etc. running a 14 branch consolidated bank; though it was needed for two separate community banks.
A further bullish indicator that the merger will be a success is due to the two-sided agreement in both companies. I have not talked to management (yet), though I believe management teams from both companies understand that if they do not consolidate, they will be eaten up by the larger companies.
Interestingly, the companies will be able to leverage each other's positions in the rural markets they serve to grow their asset base. I took a quick drive around the counties and snapped some pictures of the bank locations both companies own.

This location is on a four way stop of a major rural intersection. This is CBNC's Elba location. It is a valuable location, for rural customers, for another bank is miles away.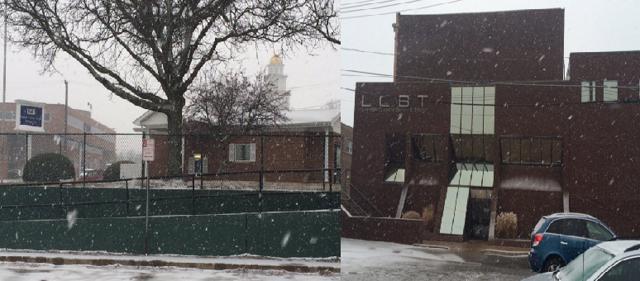 Here is CBNC's headquarters, with a side drive through location a couple hundred feet away. Their headquarters are in downtown Lapeer. I do not believe there is another competitor's bank in downtown Lapeer, which proves the value of this location.

This bank location is on one of the busiest four-way intersections in Lapeer (M-24 and M-21). This bank recently was renovated and improved (it looks much slicker and appealing to the eye now). Also, this is a walk in location plus drive through. The only other bank relatively close to this location is a PNC Bank (on the same road) and an Independent Bank off another road a mile or so away.
This location is always busy (probably due to the prime location). I believe this location is just as powerful as having the only gas station on a busy four-way intersection.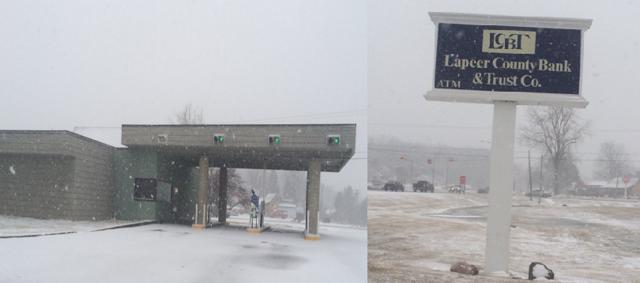 This is CBNC's Attica location. As with the majority of their locations, this is also located on a busy four-way stop (busy for a rural area). I am not aware of any major competitor location near this bank. This location is a drive through and walk-in.

Here is CBNC's Deerfield/North Branch location. Interestingly, this location use to be inside of a grocery store across the street (the grocery store that helped put me through undergrad). Many employees utilize this location for their banking needs due to the convenience. Furthermore, this is very valuable real estate due to the, very busy four-way intersection and lack of competition.
CSB's locations are a decent driving distance from where I live (45 minutes to an hour away). Thankfully for technology, I Google mapped the locations to check them out. Here is a list of the locations…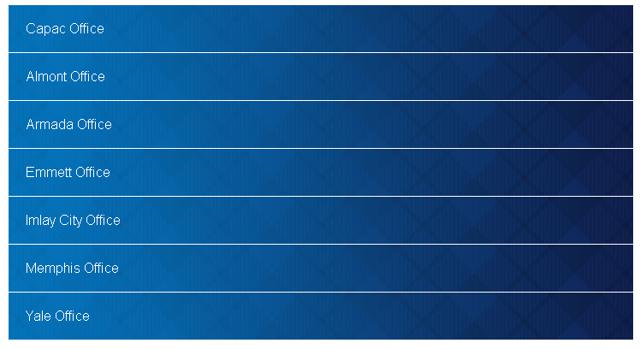 Source: CSB Bank Locations
All of these locations are located in very rural communities. Additionally, the majority of the locations are located at busy intersections (like CBNC's). The merger should enhance community brand awareness (planning on changing the name in the future), while giving CBNC an opportunity to expand into two different small rural communities.
A merger between CBNC and CSB will also unlock and continue to enhance the community value of these banks. Community banks are seen within a small rural community as more genuine, over the counterpart regional and nationwide banks. This is a sort of brand enhancement/powerful intangible asset.
When the two companies merge, further economies of scale will be unlocked. In fact, given both companies' strategic locations and lack of competition, this will increase the overall intangible value of the company, while creating a type of moat. Furthermore, any competitor who wants to increase market presence may throw up a bid on CBNC (easier than to directly compete).
Once a rural customer banks with a company such as CBNC, typically, they do not change banks (customers are very sticky). Thus, it is much harder for a big bank to open shop across the corner from one of CBNC's banks. Additionally, from just living in this area and knowing the company, they have a very good reputation, which further enhances their intangible brand. Proof of their good reputation can be found on the company's Facebook page…

Source: Facebook Homepage
These are very good ratings for a small community bank. I am not surprised by these ratings either, due to the community involvement with CBNC.
11th Consecutive Year of Free Community Shred Day
LCBT Social Security Seminar November 30, 2015
LCBT announces scholarship winners
Mark your calendar for the annual Ice Cream Social!
Finally, here is a portion of the CEO/Chairman's annual letter that shows more of their community involvement…
"We hosted three community shred days, our 13th annual ice cream social, informational trust events, awarded nineteen charity ads to deserving social and philanthropic organizations and assisted the economic vitality of our community with over $69,000 in donations and contributions. We awarded four $1,000 scholarships to deserving applicants to assist them in their pursuit of post high school education."
CBNC has also been named one of the top community banks in the country, which further proves the value of their brand image…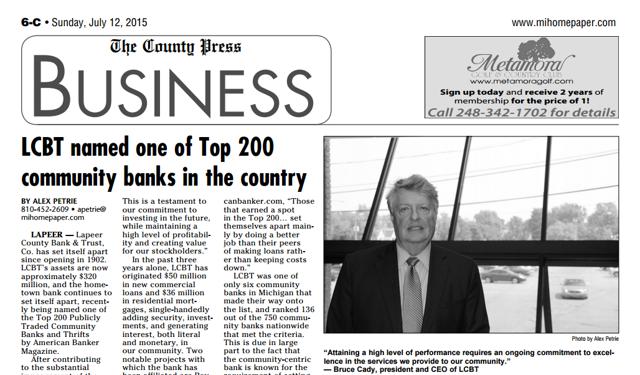 Source: Lapeer County Press
This recent announcement of a merger may be the start of further M&A activity for the bank down the road as well. Given the industry trends, it would make sense for CBNC to continue performing smaller bolt-on acquisitions down the road. I believe that OXCB would make a good addition to their business model, given the fact that OXCB is relatively close, looking for outside investors for funding and has significant NOL's.
Though, even if CBNC does not grow inorganically going forward, there will be significant value unlocked from the merger with CSB. In fact, I would not be surprised to see small dividend increases and even a special dividend, post-merger.
Macro Tailwind- Rate Hikes
During the recession, the Fed brought interest rates to near-zero levels. This had an effect on small community banks by crunching their net interest margin. Larger banks could offset the crunch due to other streams of revenue (trading and investment segments). However, because small banks primarily deal with loan and deposits, they were affected much harsher than their counterpart large banks.
Even though low interest rates hurt small community banks much harder than large banks, a rebound in interest rates will positively affect small community banks at a greater rate than larger banks. Typically, when rates rise, small community banks will see their net interest margin increase at a decent clip. This is due to the community brand. What I mean is that small community banks are not pressured to raise interest paid on deposits (like larger banks). Their community relationships allow them to offer much lower rates on deposits which ultimately benefits their bottom line.
Ted Peters, former CEO of two community banks stated the following…
"In general, small banks will remain asset-sensitive, meaning, they will reprice their loans faster than they will reprice their deposits," Peter said. "Small banks will do well when interest rates start to increase."
The recent Fed interest rate hike by 0.25% is a bullish macro tailwind for CBNC (remember this was the first rate hike in nearly ten years). Also, the Fed said that it plans on gradually increasing rates going forward in 2016 at a slow but steady pace. In fact, 32% of traders (Bloomberg Data), expect rates to range from 0.75-1.00% by 2016 year end.
Overall, continual rate hikes are long-term tailwinds for CBNC.
Value Trap?
I think a big concern for a lot of investors is that CBNC will bounce around the same price due to lack of visibility. Furthermore, I believe that some investors may think CBNC will not get properly priced even if the merger goes through. Sign of a value trap? I think not.
Here is an interesting quote by legendary Ben Graham…
"In the short run, the market is a voting machine but in the long run, it is a weighing machine."
What this means to me is that in the short-run, there will be prices that diverge from a company's intrinsic value. However, as time passes, the divergence gap will close. I am fully convinced that CBNC will continue to appreciate back to its intrinsic value going forward.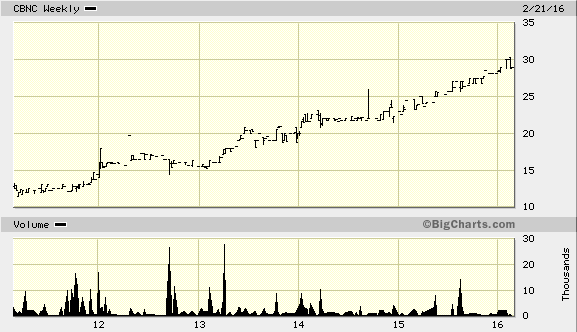 On February 9th, 2009, the stock price of CBNC hit historical lows of $7.00/share. As of this writing (February 22nd, 2016), the company is trading at $28.75/share. Do you think the investor who bought in at $7.00/share and held today thinks that CBNC is a value trap? I wouldn't think so after a 310.71% gain (26.5% annualized).
I have made contact and been talking to a few professional investors in the microcap community banking space. As with most microcap stocks, community banks, most of the time, only trade heavily around earnings and dividend increases. What is interesting about CBNC is that they have paid a dividend every year for the past 76 years (the majority of these special dividends). However, the company recently enacted a quarterly dividend ($0.26/share), in which it's their 10 consecutive quarter of paying it.
In my opinion, I believe that the company will raise its dividend post-merger. This should act as a catalyst for the stock price, helping to close the divergence between intrinsic value and market value.
Overall, if a dividend is not raised, I believe that the market will continue to act as a weighing machine in the long-run. This will insure that an investment in CBNC is not a value trap.
Risks to Thesis
In my opinion, the biggest risk to CBNC is from a high proportion of their current loans defaulting. A ramp up in defaults would come from a deep recession. Many workers in this county are tied to the manufacturing industry (specifically for auto) and service industry (retail). If there is a global recession, there is prone to be higher defaults on the current loans. Though, CBNC did make it through the Great Recession, which is a sign of strong management and conservative loaning services. Further, CBNC, in 2014, had their 3rd most profitable year (with record assets)-a sign of recovery.
Interestingly, in 2014, the company eliminated all provisions to the allowance for loan and lease losses (ALLL) for the current year. This is a sign of great credit and risk management, which helps to mitigate defaults.
The merger may not be as accretive as expected. If this is true, my target price may be skewed to the upside. A way to mitigate this risk is by putting more conservative estimates in the model for what may happen if net income is only increased by say 25%. Though, I do believe my model is conservative given the assets of CSB and the comp comparison of MFC.
The merger is diluting existing shareholders at a high rate. If the merger is not as accretive to the bottom line and helpful to the topline, it may be a waste of shareholder value. Due to industry demographics, I believe that it will be an accretive merger.
It may be hard to buy and sell. There is very low liquidity in this company which makes for a problem. However, this risk can be mitigated if you are a long-term investor focused on buying real businesses rather than ticker symbols.
The company may never up-list to a more visible exchange (OTCQX). Some investors would view this as a risk. In my opinion, it is much better for CBNC to not pay the listing costs for the up-listing to a higher exchange. Staying on the Pink Sheets will allow CBNC to give more back to shareholders in the form of dividends. I would rather see the company continue to trade on the Pink Sheets.
A further increase in Federal regulations could harm the profitability of CBNC as a whole.
Overall, I feel like the risks of investing in CBNC are very minimal. The company's security has a margin of safety. There is a merger on the horizon, which should greatly enhance the value of the bank. Finally, there are macro tailwinds that will also help improve profitability. There is an asymmetrical risk/reward skewed to the upside.
Conclusion
Community banks are one of the most overlooked sectors of the stock market, with significant opportunities for microcap investors to take advantage of. Typically, community banks are very stable businesses with a great brand awareness within their community. CBNC's community awareness and market dominance within their small community has allowed them to develop a strong brand.
Furthermore, their strong brand will be leveraged with another small community bank (NASDAQ:CSB), post-merger. Not only will their rural community moat increase, but they will also become one of the largest community banks in Michigan.
Interestingly, because of the fact that no one knows CBNC exists, investors can buy an inefficiently priced security, that will get much cheaper post-merger. In the mid to long-term (2-5 years), I believe that CBNC will trade closer to its intrinsic value. Long-term value investors should do well holding this company.
After Thoughts
Going forward, I plan on following this company very closely. I bought a small position due to the perceived attractiveness of the security in the near and long-term. Furthermore, I plan on attending the shareholder meeting and establishing connections within the company. Since I know the area relatively well, if any investor finds interests in CBNC and would like to chat, or for me to do deeper qualitative due diligence, feel free to reach out to me. Further, I would really like to know who the 15 people that follow CBNC on Seeking Alpha are (please reach out to me)-Very interested to know your opinion.

Source: Seeking Alpha CBNC
Disclosure: I am/we are long CBNC.
I wrote this article myself, and it expresses my own opinions. I am not receiving compensation for it (other than from Seeking Alpha). I have no business relationship with any company whose stock is mentioned in this article.
Editor's Note: This article covers one or more stocks trading at less than $1 per share and/or with less than a $100 million market cap. Please be aware of the risks associated with these stocks.