Normally, dividend cuts are not a positive sign, but in Frontier Communication's (NYSE:FTR) case, it may be. Before Frontier announced earnings last week, the stock had a ridiculous dividend yield of nearly 17%. However, during the company's earnings call, management announced that they will be dropping the dividend from 18.75 cents quarterly payment to 10 cents.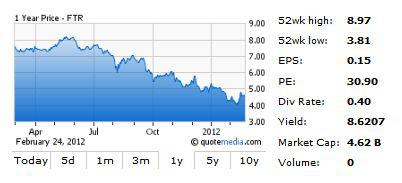 The stock will now have a yield of around 9%, which is still pretty solid for most income investors. The cut is a positive for many reasons. Let's look at how much cash Frontier will save from the cut.
The company pays around a $186 That's saving over $80 million per quarter, which amounts to $320 million per year. Frontier is in an industry that is considered to be dying, but as long as the company continues to reinvest in the business, it will be able to stabilize its declining customer base.
Frontier's dividend cut was smart because the yield will still remain higher than many of its competitors. Income investors will be more inclined to purchase shares of Frontier against companies like CenturyLink (NYSE:CTL) and Windstream (NASDAQ:WIN).
CenturyLink currently has a yield of 7.4%, while Windstream has a yield of 8%.
Frontier's forward P/E is around 17, which is more than both Windstream and CenturyLink, which are 14 and 16, respectively. However, I believe this is due to analyst underestimating the synergies of their deal with Verizon (NYSE:VZ).
Frontier estimates that the landlines that it bought from Verizon will translate to a cost synergy of $650 million by the end of this year. The other issue, just by looking at the earnings on a GAAP basis, is that the company has a lot of depreciation and recently it has incurred significant integration costs due to the Verizon deal. On a free cash flow basis, the company generated over $1.1 billion in 2012, which is quite impressive considering the company's market cap is around $4.5 billion.
The dividend cut will eventually increase Frontier's earning power as it uses the cash to pay off debt, which would decrease it's interest expense. Frontier is heavily leveraged with $8 billion in debt and a quarterly interest expense of $160 million. The $320 million it saves will surely help pay off debt faster than expected. Not to mention the cost savings that will come at the end of this year will also be used to pay off debt as well. I believe there is a strong chance that Frontier will eventually increase its dividend, but not in the near term. i believe the company's decision to cut dividend payments will help the company long term. This is a step in the right direction. Investors should consider taking a stake in the company as they will also be able to grab a nice 9% yield.
Disclosure: I am long FTR.