Herbalife announced a decent set of fourth quarter earnings last week. Investors are pleased with the strong earnings report, an upbeat 2012 outlook and a 50% increase in dividends. Shares closed the following session 7% higher to $67, which is a new all time high for the company.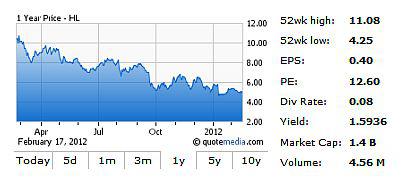 Long term growth story
The most recent price action is topping on the cake for investors in Herbalife (NYSE:HLF), which already had a decent run over the last couple of years.
Trading in the low teens as recent as 2009, shares have started a long term upward trend, peaking at $60 in August of last year. From that moment shares have consolidated in the $50-$60 range. Last week's gain marks the definitive breakthrough of the $60 resistance level.
Fourth quarter results
Herbalife had a blowout quarter in the last months of 2011. Net income grew to $105 million ($0.86 per share) which is up 25% compared to last year and comes in way ahead of expectations of $0.73
Full year sales are up 26% to $3.5 billion, while full year net income is up 37% to $3.31 per share. All geographic regions supported growth. Notable was revenue growth in Asia, which was up 37% on the year and represents a quarter of total revenue.
Outlook
Strengthened by a strong final quarter of 2011, management is confident for the future and raised its full year 2012 guidance to $3.40-$3.60 per share. Herbalife expects to earn $0.76-$0.80 for the first quarter of 2012.
Given the strong financial position (Herbalife has no net debt) the board of directors have decided to raise the quarterly dividend to $0.30 per share, boosting the dividend yield to almost 2%
Fair valuation
After the 7% jump in the stock price, Herbalife is valued at 18 times earnings. This seems a reasonable price for a company which has seen its earnings per share grown from $1.32 in 2007 to the expected $3.50 for 2012, which is a growth of 165%. At the same time, the stock has gone from $20 to $67, a growth of 235%.
This implies that the price-earnings ratio has gone from 15 to 18 times over this 5-year period when the company has seen a dramatic acceleration in growth.
Therefore most of the appreciation in the stock price has come from real earnings growth, rather than an increase in valuation multiples.
Valued at 18 times earnings, Herbalife seems a good addition to any long-term portfolio. Vast growth opportunities, a superior geographical diversification and a 2% dividend yield all favor a long term investment in Herbalife. In my opinion the fair value lies north of $75
Disclosure: I have no positions in any stocks mentioned, and no plans to initiate any positions within the next 72 hours.