Introduction
This is the February portfolio checkup capturing all of the events and changes to my portfolio over the past month. February was another chaotic month, the first half of the month saw the S&P drop from about 1940 to 1830 to then rally the second half of the month to end up slightly for the month.
This month was a much slower month for my portfolio as the increase in prices was a turnoff and lots of values disappearing.
Goals
Let's rehash the goals I laid out last edition and see how we are doing.
Projected dividend income > $4,000
> $100 in dividends received each month
>= inflation rate of dividend growth (goal set at 2% this year).
Goal 1
This goal is still at risk, it will require lots of additional purchases which may or may not happen this year. After seeing a lot of the weakness in the markets I am holding strong with my cash and only buying strong companies at decent values. The entire second half of the month I basically ignored the market as the overall S&P level rising took away lots of my potential buy list.
Goal 2
This goal was heavily disputed when I announced it, I am willing to concede it is more of a "nice to have" but a perk of picking individual holdings rather than indexing is having steady income month to month. I did accomplish this goal this month with $160 of dividend income.
Goal 3
Right now this goal is in danger as the major cut to BHP's dividend has caused the overall dividend income to drop for the year. I have learned my lesson and am planning on avoiding commodity companies. Right now I am about -2% growth for the year.
Portfolio Changes
New Positions
None
Existing Positions
Starbucks
On February 5th Starbucks stock dropped about 5.5%, bringing it to the $55 range. Starbucks in my opinion is one of my core holdings that I am expecting to bring great income over the next several decades. I added another 40 shares. The current yield isn't spectacular but has been growing quickly and the company throws off a ton of free cash flow.
Disney
On February 10th Disney announced earnings and the market did not react kindly sending shares down into the 80s. I picked up another 6 shares at a price of $88. Based on forward looking estimates the stock is trading around 16x 2016 earnings which is very quickly entering into undervalued territory based on its drop from its peak at $120 a share.
Sells
None
Dividend Increases
Corning increased by 12.50%! This is a big win as I wrote in my article pitching Corning as a new dividend growth gem.
Dividend Cuts
BHP Billiton cut their dividend 75% when they announced earnings, delivering a big blow to my income. I am keeping my shares for now, they announced they are going to have a progressive dividend which makes a lot more sense, paying out a percent of income and not being handcuffed to a specific amount. The company is also a titan in the commodity sector and recently had their credit rating A reaffirmed. Long term I may look to sell if my holdings back into the green.
Strategy Update
After watching the pain in the commodity markets whether it be oil or materials, my strategy is shifting as I will be largely avoiding these sectors all together. The dividend income is not steady enough to justify the risk by lack of pricing power of these companies. Of just the past few months we've seen cuts by Kinder Morgan, ConocoPhillips and now BHP Billiton.
One exception to this rule would be someone like Exxon Mobil (NYSE:XOM) due to their enormous size and being vertically integrated. This may have some downstream impact onto other industrial companies that are heavily exposed to the oil sector but so far this hasn't materialized.
New Rules
None this month.
Charts and Graphs
2016 Dividends
Here, we can see the dividends by month and quarter.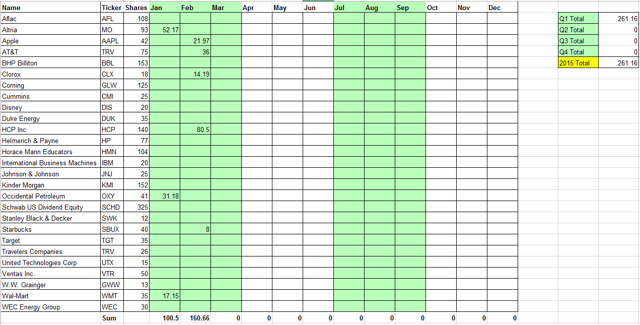 February was a strong month with $160 of dividend income vs. $100 in January bringing us to $260 for the year thus far.
Growth
Next it's important to look at some growth metrics. As I didn't start DGI until later on in 2016 many of the early values have null values.
That said, February saw 106% growth over February of last year which is outstanding. This obviously isn't going to be the normal growth rate but for this year I will take it.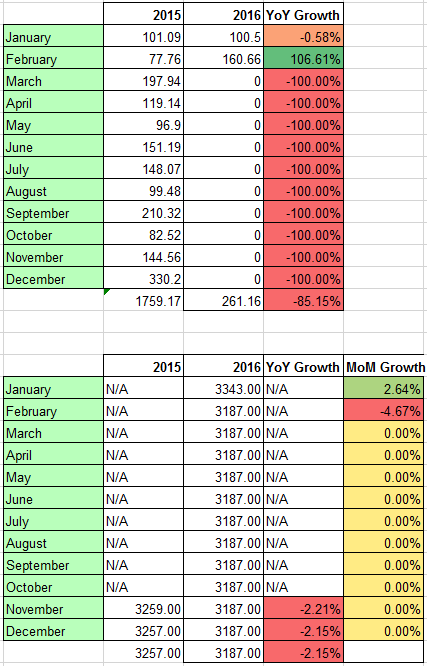 The second chart takes a yearly look at forward looking income. With the huge cut to BHP's dividend this month my yearly looking income dropped 4.67% month over month and turned negative for the year.
Like I have referenced earlier, I have learned my lesson and am avoiding companies and sectors that don't fit my investing style, namely lacking any sort of pricing power. It's much easier to hit lots of singles than swinging for the fence.
The Portfolio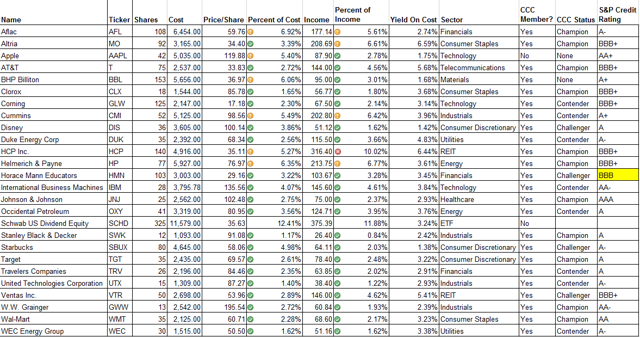 Looking at the colored indicators on my portfolio, my BHP Billiton warning sign on income has disappeared due to the massive dividend cut. It's not how I wanted to balance my income but it will have to suffice for now.
The other warning is HCP in terms of overall income. HCP also went through some bad news this month with its earnings report. It's still too early to tell but I think it's a little premature to assume the dividend is at risk when they've had experience on this for 30+ years.
Other than those two notes I am happy with how the portfolio is looking.
Income By Sector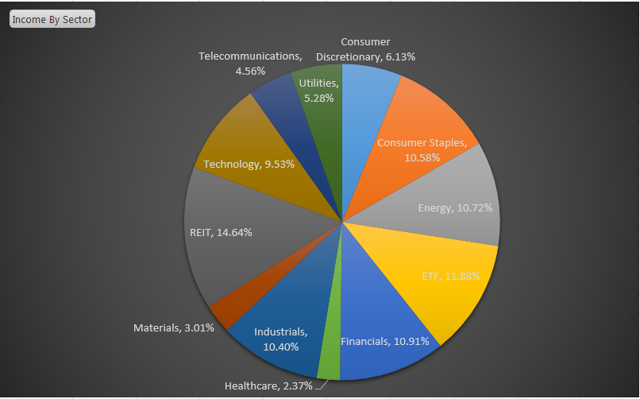 This cut of data gives an easier way to visualize if I have too much or too little income coming from a specific sector. After the dividend cut the materials sector income has been drastically reduced from a little over 11% down to 3%.
My REIT holdings now standout as the sector with too much overall exposure. I hope it becomes more balanced over time by additions to other sectors rather than any potential dividend cut.
Champion, Contender, Challenger View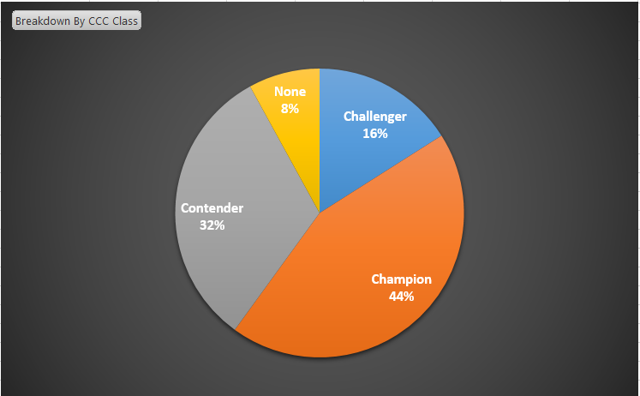 The breakdown took a hit this month by recategorizing BHP from a dividend contender to "none". Besides that I am still quite happy with the overall composition of companies.
The Portfolio
The portfolio now contains the following companies: AFLAC (NYSE:AFL), Altria (NYSE:MO), Apple (NASDAQ:AAPL), AT&T (NYSE:T), BHP Billiton (NYSE:BBL), Clorox (NYSE:CLX), Corning (NYSE:GLW), Cummins (NYSE:CMI), Disney (NYSE:DIS), Duke Energy (NYSE:DUK), HCP Inc (NYSE:HCP), Helmerich & Payne (NYSE:HP), Horace Mann Educators (NYSE:HMN), International Business Machines (NYSE:IBM), Johnson & Johnson (NYSE:JNJ), Occidental Petroleum (NYSE:OXY), Schwab US Dividend Equity ETF (NYSEARCA:SCHD), Stanley Black & Decker (NYSE:SWK), Starbucks (NASDAQ:SBUX), Target (NYSE:TGT), Travelers Companies (NYSE:TRV), United Technologies Corporation (NYSE:UTX), Ventas Inc (NYSE:VTR), W.W. Grainger (NYSE:GWW), Wal-Mart (NYSE:WMT), WEC Energy Group (NYSE:WEC).
To Do And Conclusion
February was an interesting month with how quickly the market rallied after some commentary by the Fed as well as the ECB becoming more accommodating. With many of my holdings and things on my watch list rallying strong, my interest in the overall market has waned over the past few weeks.
I am hoping we still get our great correction with lots of values being presented. In the meantime I will dink and dunk as things come into my price range. In a future episode I will present my watch list with desired price ranges listed.
Just as an anecdote, many of my recent additions have since rallied strongly. It's nice to see the paper gain but it just goes to show many defensive positions have strengthened the past few months.
| Stock | Gain |
| --- | --- |
| Target | 13.5% |
| United Technologies | 12% |
| W.W. Grainger | 11% |
| AT&T | 10.5% |
| Wal-Mart | 10% |
| Duke Energy | 9% |
| Corning | 7.75% |
| Stanley Black & Decker | 4.5% |
I was also right in my calls on Cummins and IBM though the timing was not perfect (as to be expected). I am about neutral with both of those.
In general I think I am on the right track, I don't want to fall into a recency bias but going for the singles instead of the homeruns seems to have merit. The strategy isn't even complicated, it's essentially picking companies off of David Fish's CCC list and finding the ones with solid business prospects that have been temporarily mispriced by the market. They are all common names, no high flying momentum stocks, no penny stocks, no micro cap biotech stocks. Of course as these are all dividend growers I will sit, collect my income while waiting for new opportunities to present themselves.
My homework for this month is to dilute my over income reliance on REITs while trying to add to healthcare.
How did you do this month? Hope everyone is enjoying the extra day.
Disclosure: I am/we are long ALL STOCKS MENTIONED.
I wrote this article myself, and it expresses my own opinions. I am not receiving compensation for it (other than from Seeking Alpha). I have no business relationship with any company whose stock is mentioned in this article.