Gold remains among the shiniest capital market performers in 2016. And given how poorly the gold price has performed in recent years despite the fact that we have persisted in an environment of sluggish global growth and extraordinarily aggressive monetary policy that has the potential to ultimately lead to profound pricing instability and geopolitical unrest, the potential long-term upside for the yellow metal is substantial.
But given that investors have been head faked so many times by upside moves in gold over the past four years, it is reasonable to question whether this latest advance is the start of something sustaining or if it will prove fleeting once again. One troubling sign in this regard is that silver is spinning a decidedly different tale than its yellow metal counterpart.
It is not that silver (NYSEARCA:SLV) isn't having a decent start to 2016 in its own right. For the year to date through Friday, silver had gained +6% for the year to date thus far, which is a solid return in a year where the S&P 500 Index (NYSEARCA:SPY) is still down by -5% and has been down by double digits along the way. But these returns pale in comparison to the advance in gold (NYSEARCA:GLD), which is up impressively by more than +15%.
This divergence in year-to-date performance between silver and gold is notable given their generally high historical correlation along with the fact that silver has a meaningfully higher beta relative to gold. Put more simply, with gold higher so far this year, one would reasonably expect that silver would be doing even better year to date. But that has not been the case, at least thus far, in 2016. This has been particularly true since February 11, where gold has held its ground while silver has definitively rolled back over to the downside.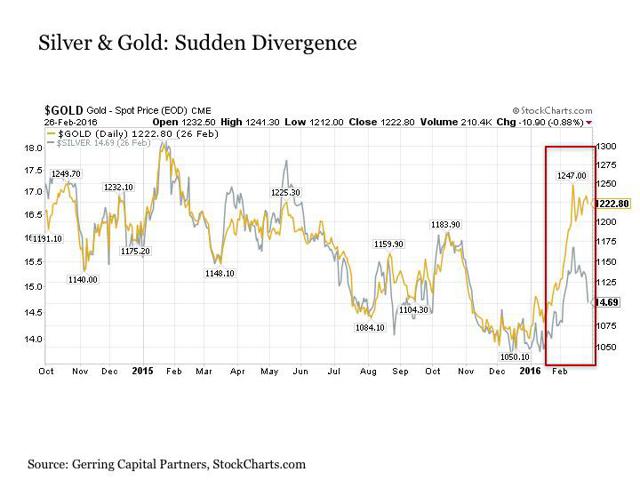 The fact that silver and gold are spinning different tales raises an important question. Which of the two metals is likely to be proven right in the end? Will silver accelerate to the upside to catch up to gold? Or will gold come falling back down to silver?
Precious metals might understandably be cautious in this regard, as the weight has certainly been to the downside for both gold and silver in recent years. And this downside has come despite what remains a fairly compelling argument as to why these metals could have reasonably been rising, perhaps sharply, over the past few years instead of falling.
To investigate whether gold or silver might be following the truer path in the current market environment.
Let's begin this investigation with a look at the influence of the U.S. dollar (NYSEARCA:UUP) on both precious metals. We will begin with silver. What we have seen since last summer is that the path of silver has been meaningfully influenced by the direction of the U.S. dollar. The chart below shows what is effectively an inverted chart of the U.S. dollar (NYSEARCA:UDN) where it is weakening when the green line is rising and strengthening when the green line is falling.
What we have seen for silver since the start of 2016 is consistent with what we were seeing prior in the back half of 2015 and also in line with what we would reasonably expect from the precious metals at any given point in time. That is, when the dollar has been strengthening (green line lower), silver has been falling in price, and when the dollar has been weakening (green line higher), silver has been rising in price.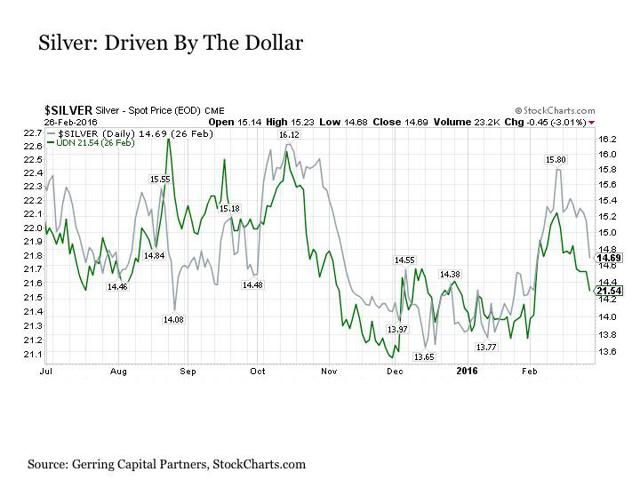 The same principles had been holding true for gold since last summer. And it was still proving true through mid February. For when the dollar was strengthening, gold was falling, and when the dollar was weakening, gold was rising. That is, of course, until the recent market bottom on February 11. For while silver began retracing back lower amid the recent U.S. dollar strengthening since February 11, gold has held its ground at least so far. Although it has not broken out to new highs since, it has not fallen much either.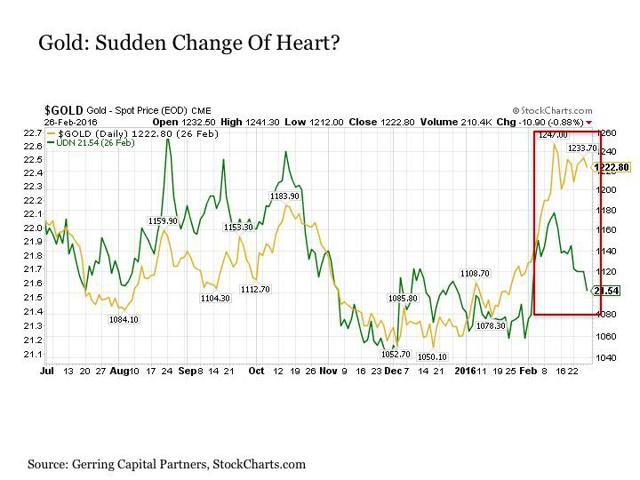 A second factor we will consider is the direction of the U.S. stock market. While the price relationship between the U.S. stock market and the precious metals has not been as strong as the U.S. dollar, it is still sufficiently meaningful that it warrants discussion. Once again, the following charts depict the price path of silver and gold versus an inverse of the S&P 500 Index. In short, when the blue line is rising, the stock market is falling and vice versa.
Particularly since last summer, we have seen silver and stocks generally moving in opposite directions over any period of time. When stocks have been falling, silver has rallied. And when stocks have recovered, silver has sold off. And this has remained true during the most recent bounce in the S&P 500 Index since the February 11 lows.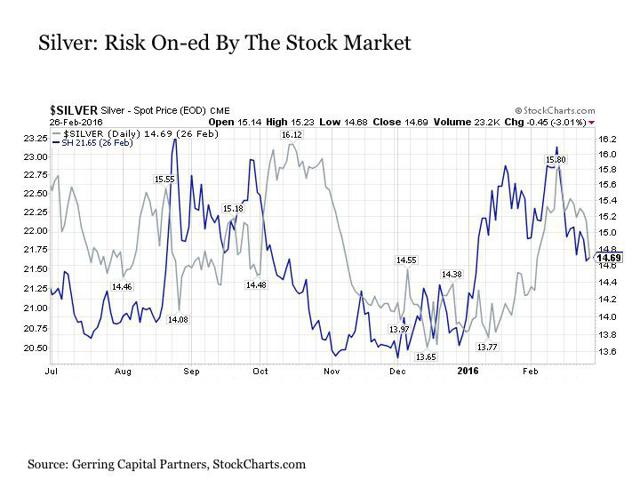 But once again, gold has shown staying power at least so far despite the rallying stock market since February 11. This, of course, marks a notable contrast from the relationship that had existed between gold and stocks since last summer up until mid February.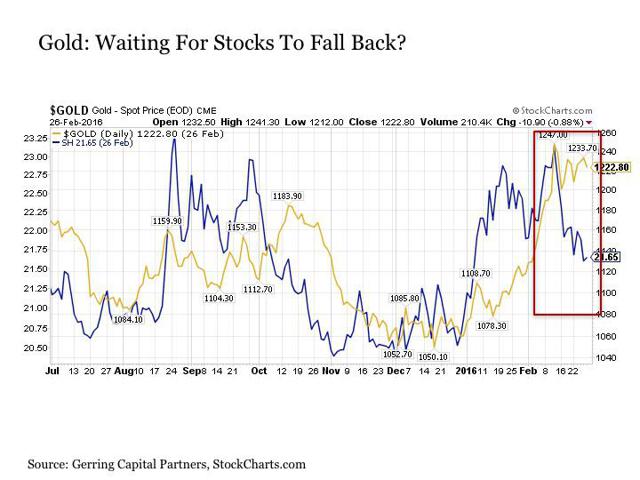 Bottom Line
So which metal is right? At this point, it is too soon to say. Perhaps gold is anticipating a renewed decline in stocks and weakening of the U.S. dollar that silver is simply missing. But given the notable and sometimes curious price behavior we have seen from the precious metals market over the last few years, I remain reluctant to draw too many conclusions from a precious metal that is trading in isolation, as a great deal more reassurance could be derived if the trade in gold and silver were confirming one another.
Moreover, I have found it notable some of the analysts in the mainstream media that have been explaining gold's recent strength being due to factors that, while I do not disagree, have been the same exact factors that have been true for much of the last several years when gold was chronically declining.
At present, the trade in silver is receiving greater confirmation from correlated forces in the market, while gold is now increasingly moving in isolation. Perhaps we will see renewed U.S. dollar weakening and the stock market will roll back over to the downside. In fact, I expect the latter to occur at some point in the near term. If this ends up being the case, gold is already pricing in such outcomes.
But for those seeking to position in the precious metals in the current market environment, silver may prove the better choice at least for the moment given its recent price decline relative to gold and shift in lockstep with the recent rise in stocks and strengthening of the dollar. Conversely, if stocks continue to rise and the U.S. dollar keeps strengthening, then it is gold that is now threatened to fall back from a higher perch in catching up to the downside.
Disclosure: This article is for information purposes only. There are risks involved with investing including loss of principal. Gerring Capital Partners makes no explicit or implicit guarantee with respect to performance or the outcome of any investment or projections made. There is no guarantee that the goals of the strategies discussed by Gerring Capital Partners will be met.
Disclosure: I/we have no positions in any stocks mentioned, and no plans to initiate any positions within the next 72 hours.
I wrote this article myself, and it expresses my own opinions. I am not receiving compensation for it (other than from Seeking Alpha). I have no business relationship with any company whose stock is mentioned in this article.