Bloomberg has a way of at least slightly missing the point when writing its headlines and lead paragraphs, such as on this article, "Natural Gas Puts Most Expensive Since 2009 Amid Glut".
Natural gas's 46 percent drop since June has done nothing to awaken bulls in the options market, with puts on a fund tracking the commodity reaching the highest price in more than two years.

Implied volatility for 30-day options to sell the U.S. Natural Gas Fund LP was 4.14 points higher than calls to buy on Feb. 21, according to data compiled by Bloomberg. The relationship known as skew reached 5.41 on Feb. 15, the biggest gap since October 2009.
At first glance, you'd get the impression that all 30-day puts on the US Natural Gas Fund (NYSEARCA:UNG) were expensive compared to calls. The second paragraph sort of gets to the real dynamic of what's going on in the options market - by mentioning the "skew," but that doesn't clarify which puts are likely to be the most expensive.
At-the-money puts and calls: Trading in parity
Remember, at-the-money puts and calls must trade at parity because selling a put and buying a same-strike call is the same as being long the ETF at the strike price. If you can collect a premium for doing that - and then simultaneously short the ETF, you'd lock in that premium with no risk.
If that "risk-free" premium exists, there's usually a good reason. You might be able to collect a substantial premium for doing this on a hard-to-short stock, but you'll probably find that the premium gets eaten away by the hard-to-borrow fees. (The market is pretty efficient that way as I pointed out here in an article on Groupon)
And if you take a look at the difference in implied volatility for at-the-money UNG options expiring in 30 days, you'll see that they stay pretty much in line.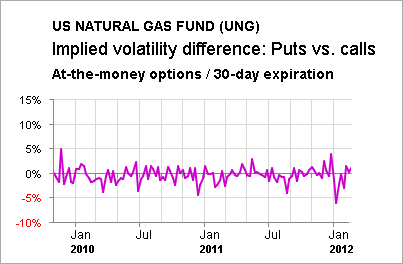 Yes, the line dances around a bit, but the difference is small and basically nets out at near zero.
Out of the money puts and calls: Skewing in different directions
Now take a look at a similar graph, except this one shows the difference in implied volatility for UNG options that are 20% out of the money. That's pretty far out of the money, but commodities can be volatile.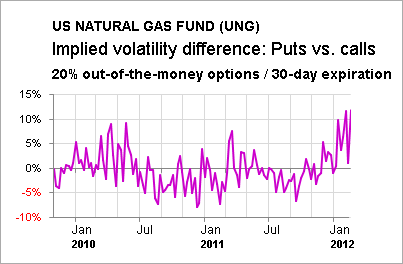 Sometimes those options trade in rough parity, but certainly not now. Puts are exceedingly expensive relative to calls. In fact, on Feb 21, with UNG trading at 21.35 - a 17 put expiring in March had an implied volatility of 63.4% vs. 46.35% for a 25 call. But the at the money options were nearly alike, with a 21 call having an IV of 43.6% against an IV of 44.9% for the 21 put.
The "skew," or difference in out of the money options, does represent a market view. Out of the money puts are expensive because buyers want those options and sellers are a whole lot pickier at what prices they'd be willing to sell them for. If you really want to see something really skewed, take a look at the UNG options that expire in 6 months. The ATM options have nearly the same IV, but the OTM puts expiring in 6 months cost way more than calls.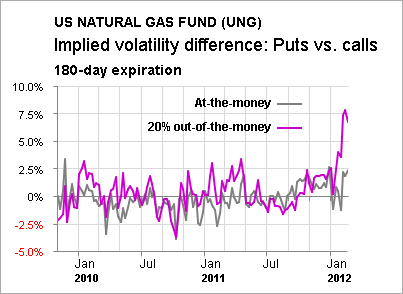 What's wrong with UNG?
So why would those out of the money UNG puts be so expensive?
Well, this ETF holds natural gas futures contracts. This market has been in contango for most of the last several years. That means that nearly every month the fund sells its current futures contracts, and then spends more for the next month's contracts. So even if natural gas prices go up for some reason, a contango creates naturally downward pressure on the ETF.
Bloomberg actually does explain this fairly well:
Contango causes the security to perform worse than natural gas, because it forces the fund to sell low and buy high each month. The ETF has fallen 95 percent since it was introduced in April 2007, while natural gas futures declined 65 percent. The ETF did a one-for-four stock split after the market closed on Feb. 21 to bring the unit price up from near record lows.
Bu that doesn't mean Bloomberg always explains things well. So when you see a Bloomberg article claiming that puts of some kind are "expensive," check the options chain. You'll usually find that there's not much of a difference in at-the-money options, but could be plenty of difference in the out-of-the-money strikes.
Disclosure: I have no positions in any stocks mentioned, and no plans to initiate any positions within the next 72 hours.