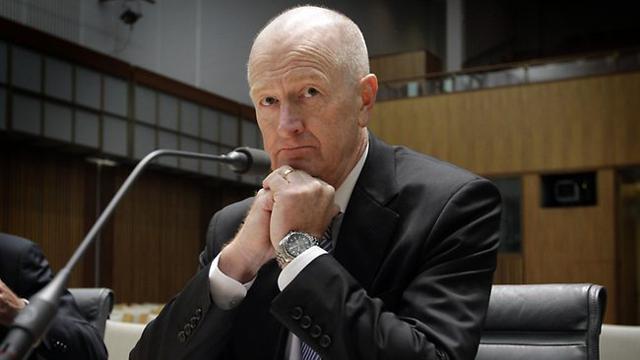 The Reserve Bank of Australia governor Glenn Stevens announced today that the central bank would be keeping interest rates on hold at 2 percent. This means that rates have been held at this historic low now since May 2015. Today's decision came as little surprise to the market, with all economists surveyed prior to the decision expecting rates to be kept steady for another month.
The focus moves to April's meeting now. As focus now moves to April's meeting, several economists are already jumping on subtle differences in rhetoric coming out of the Reserve Bank. As many of you will be aware, leaders of central banks are meticulous with the wording of statements. Many observers might dismiss it as a matter of semantics, but we economists are a wily bunch. The subtle yet quite profound change in Governor Stevens statement today could easily slide under the radar, but for us it is one that stood out and encourages us to consider our long-held belief that interest rate cuts are not far way, is getting closer to a reality.
Within today's statement Governor Stevens said that "… continued low inflation would provide scope for easier policy, should that be appropriate to lend support to demand." The change from previous statements is that the word "would" has now replaced the word "may". Subtle as it may be, we, like many economists, are interpreting this change as a signal that it has take a stronger stance on future easing. This for us does seem very likely, considering the terrible economic data we recently spoke about regarding a surprising increase in the Australian unemployment rate. At a time when we were all expecting unemployment to be decreasing, the Australian Bureau of Statistics recently announced an increase in the unemployment rate to 6 percent, from 5.8 percent.
The Caixin Manufacturing PMI disappointed. Disappointing data came out of China shortly after the Reserve Bank of Australia announced its decision. February's Caixin Manufacturing PMI came out at a disappointing 48.0, compared to the consensus economists' forecast of 48.3. February was always going to be a slow month with the Lunar New Year, but few expected it to be as slow as this. We like to look at the state of Chinese manufacturing as a gauge of its economic health. As Australia does have quite significant exposure to the Chinese economy, a slowdown there would be economically very detrimental to Australia's own growth prospects. We have slight concerns over this result, but have to acknowledge that it may not fully represent what is going in China and we shouldn't jump to conclusions just yet. March will be the key data in our opinion, and definitely something we are eagerly awaiting.
We see May as being the most likely month for interest rate cuts now. We still believe it is a when, and not an if, for interest rate cuts in Australia. Employment data between now and the next meeting should help guide us to when rates will be cut. In our opinion, we still feel they will come within the first half of the year. Admittedly we are running out of months quickly having reached the half way point, but if we don't see an improvement in employment this month, then it could be as soon as April. Felicity Emmett from Australia and New Zealand Banking Group (OTCPK:ANZBY) has penciled in two 25 bps rate cuts this year. One in May and one in August, and still feels they could happen should unemployment levels disappoint. She was also quoted as saying "We still believe that softer demand and low inflation will see the Bank provide some further monetary stimulus this year."
We share the view of Felicity Emmett and thus continue to short the Australian dollar against the U.S. dollar. Once again we feel that there is a strong chance that the Australian dollar will most probably trade within the 70-72 U.S. cents range until the market starts to price in a rate cuts. Tomorrow has a key piece of data being released in Australian GDP growth. If this is lacking we could get a further boost to the idea of interest rate cuts. But the key pieces of data we are now waiting for are the unemployment rate on March 10 2016 and the all important inflation rate in late April.

Sourced from the ASX
It is worth noting that at present the market is pricing in a 27 percent chance of an interest rate cut at the next meeting, as shown in the table above. It is of course early days, but definitely something worth keeping an eye on between now and then.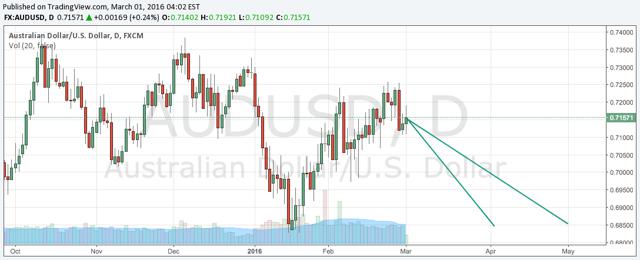 Sourced from DailyFX
On the chart above we have laid out our forecast. We do envisage the Australian dollar moving sideways until the market begins to believe an interest rate cut has a high probability of occurring. When it eventually does eventuate we are almost certain the Australian dollar will sink beneath 70 U.S. cents and test those January lows. We feel the onset of a further rate cut in August would then bring the Australian dollar down toward the 65 U.S. cents mark.
By shorting the Australia dollar today, we would expect traders to arrive at a return of over 9 percent. The strengthening of rhetoric in favor of easing today makes this a clear trade for us, and one we expect to be very profitable. We see any rises to around 72 U.S. cents or higher as opportunities to increase our position. As we have stated before, we use futures contracts to do our trading with the AUD/USD pair. But you can recreate this without the need of a futures account by shorting the CurrencyShares Australian Dollar Trust ETF (NYSE:FXA), or buying the ProShares UltraShort Australian Dollar ETF (NYSEARCA:CROC). We feel it our duty to point out the 2x leverage on CROC. So please do approach with caution as double the gains means double the losses.
Good luck with your trades!
Disclosure: I/we have no positions in any stocks mentioned, and no plans to initiate any positions within the next 72 hours.
I wrote this article myself, and it expresses my own opinions. I am not receiving compensation for it (other than from Seeking Alpha). I have no business relationship with any company whose stock is mentioned in this article.
Additional disclosure: Shorting the Australian dollar through futures contracts.