Jeremy Grantham, famed value investor and chairman of investment firm Grantham, Mayo, & Van Otterloo Co., has been a long-term bull on timber. Timber is an income-producing asset class that provides investors an alternative to stocks and bonds.
Grantham is famous for making a bold and controversial call on not participating in the tech bubble and is an ardent value-seeking investor. Grantham remains a long-term bull on "resources in the ground." While Grantham continues to believe equities as measured by the S&P500 (NYSEARCA:SPY) remain overvalued he believes timber represents a store of value. In his latest quarterly investor letter, Grantham reiterates his call for natural resources including timber.
Timber assets provide investors strong yield in a low-interest rate environment. Interest rates are unlikely to rise due to sovereign debt issues and a weak recovery. Investors seeking yield should pursue equities with cash flow characteristics, which will provide strong dividends.
Manageable Cash Flow
The cash flow qualities of timber assets are similar to that of a zero-coupon bond. Investors hold these investments for a number of years for the investment to mature. The tree is planted and depending on the type is harvested within 15 to 30 years, providing income and appreciation when it is sold. Timber assets provide diversification, stable and manageable cash flows and dividends by buying land with differing harvest maturities.
Timber Thesis
Timber has low correlation to other asset classes.
Investment in land as an appreciating asset.
Timber represents an inflation hedge.
Rayonier Inc. (NYSE:RYN)
Dividend Yield: 3.6%
Market Capitalization: $5.4 billion
EV / EBITDA: 12.5x
Beta: 1.12
Plum Creek Timber Co. Inc. (NYSE:PCL)
Dividend Yield: 4.3%
Market Capitalization: $6.3 billion
EV / EBITDA: 20.8x
Beta: 1.01
Potlatch Corporation (NASDAQ:PCH)
Dividend Yield: 4.0%
Market Capitalization: $1.3 billion
EV / EBITDA: 15.0x
Beta: 0.96
Weyerhaeuser Co. (NYSE:WY)
Dividend Yield: 2.9%
Market Capitalization: $11.2 billion
EV / EBITDA: 14.5x
Beta: 1.18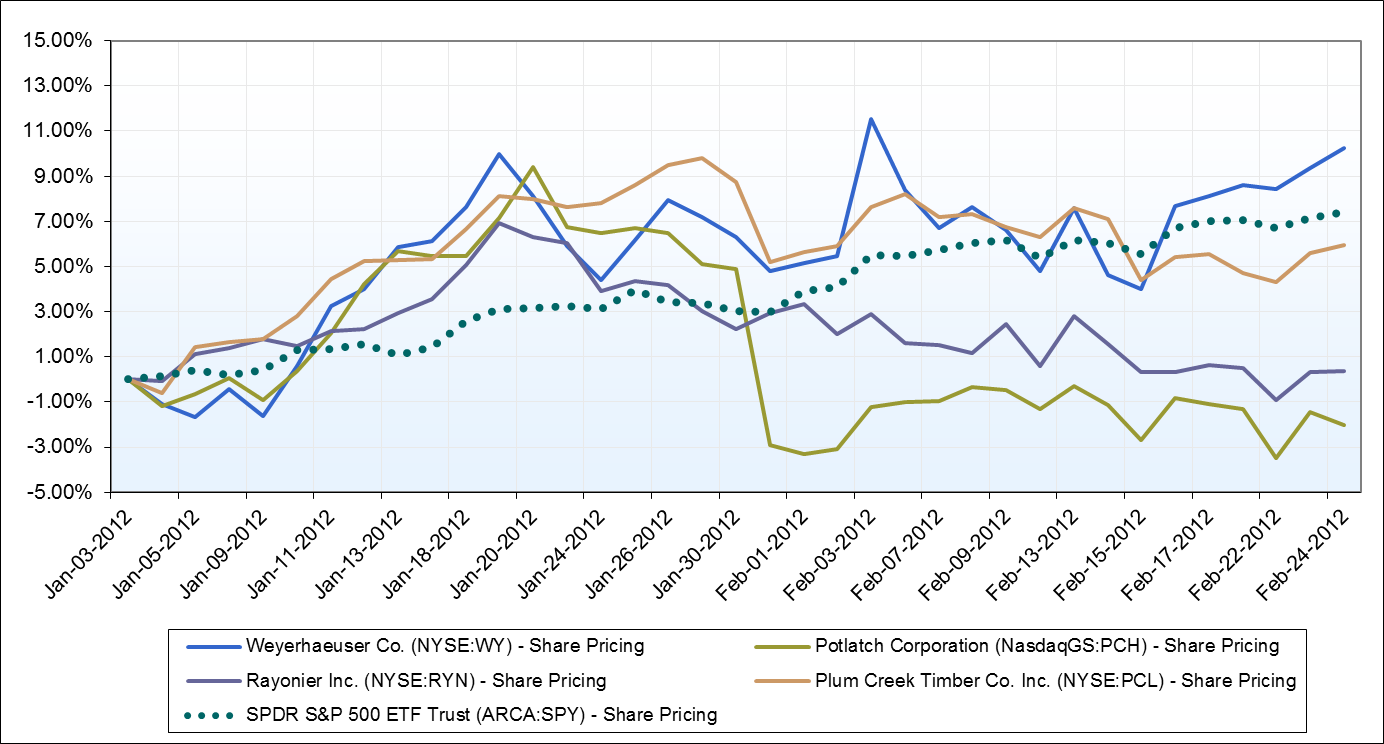 Disclosure: I have no positions in any stocks mentioned, and no plans to initiate any positions within the next 72 hours.