Background
This month's article marks the twelfth installment in my on-going series which outlines my efforts to achieve dividend growth success. The portfolio is nicknamed the MnM portfolio, which is a moniker for "Minne 'n Monthly."
The title of this month's article focuses on the continued strong pace of dividend increases that were announced in February and up to publication. Through the first two months of 2016, 8 positions have increased their dividend, starting the year off on a strong note. In addition, I performed a little bit of trading with regard to my position in Realty Income (NYSE:O). I will elaborate on this in more detail below.
Note: The portfolio holds at 26 positions. I am still targeting a portfolio size of ~35 - 40 positions over time. I feel that at that level it is enough that I can effectively follow them all, and equally weighted would provide strong diversification as each would represent approximately 2% - 3% of the portfolio total. I also receive 100 free trades each year from my brokerage, so I can trade in small quantities without worry about brokerage trading costs.
That being said, here's what happened in February.
February 2016
I have captured the activity for February and for the year-to-date in the standard rollforward summary below. The portfolio was up $1,426.67 for the month, net of dividend income and realized gains on Realty Income.
The net performance of the portfolio of 0.94% year-to-date continues to outperform the S&P 500, which was largely flat for the month of February and through February continues to trade down by just over 5% for the year. The portfolio collected $229.66 in dividends and interest during the month all but $.01 of which was recurring.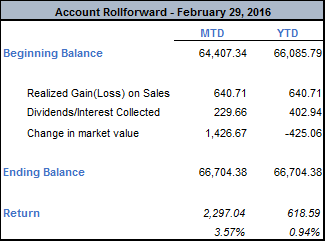 The portfolio was comprised of the following securities as of February 29, 2016: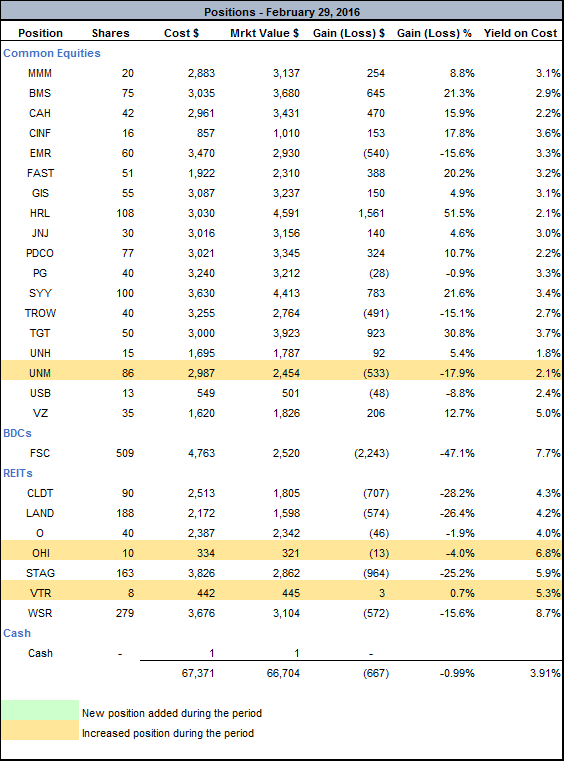 The following sections go into greater detail of the events that have occurred since the end of January.
Sales
In case you missed the near-daily articles, Realty Income has had a solid run-up lately. I highlighted this a while back as well here. As with many others on Seeking Alpha, I am of the opinion that the run-up in the stock has gotten to be a bit overdone and while I hate to call a top, I did take the opportunity to trade the stock a bit, buying in and out for some gains during the month.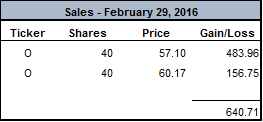 My strategy was a bit different than others, many of whom opted to simply sell some or all of their positions. My goal was to try to capture some gains on volatility, while keeping in mind that if I ended up on the wrong side of the trade (Realty Income increased in price after I had sold), that I would be more than happy to reallocate the proceeds to other holdings and re-enter Realty at some point in the future. My goal is to be opportunistic, but at the same time trying to keep my position in O intact.
My trading resulted in realized gains of $640.71, most of which was put back into O when I re-bought near the end of the month. Some of the gains; however, were put into other share purchases during the month. This will explain why my net additions in the following section outpaced the portfolio income for the month.
I continue to believe that Realty is trading too high, and should it hit $60 again in March, I will likely move to cash again to see if I can continue to capitalize on volatility.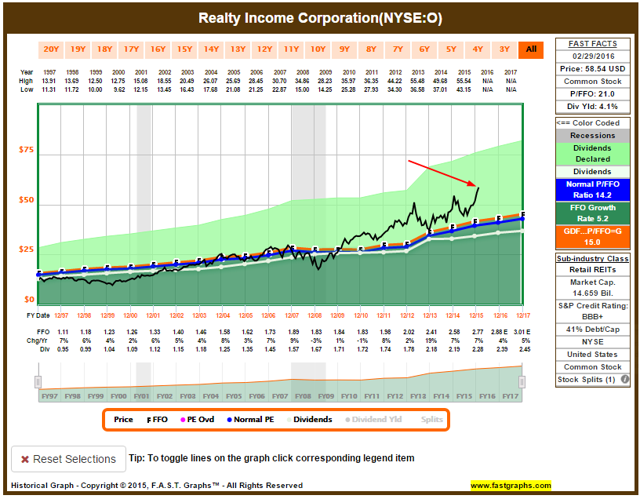 Source: FASTgraphs.net, 1 March 2016
Additions
This month I chose to continue building my stakes in Ventas (NYSE:VTR) and Omega Healthcare (NYSE:OHI). Additionally, I added a share in Unum (NYSE:UNM) at the end of the month as the stock has sold-off recently.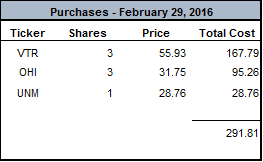 I continue to find value in both Ventas and Omega, both of which I feel are trading at attractive multiples. I will continue adding to them should they hold at the current multiples.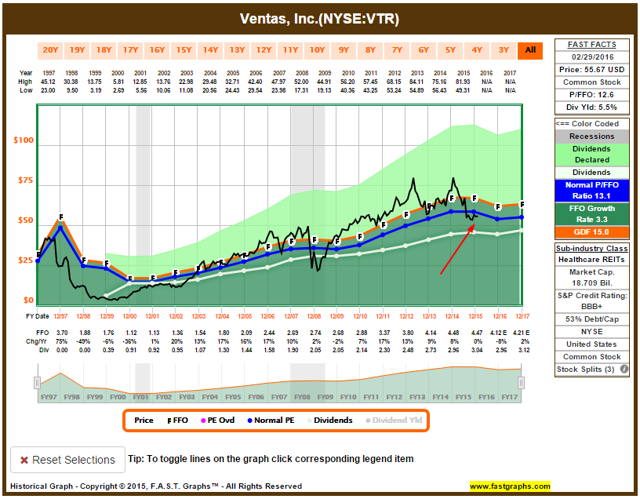 Source: FASTgraphs.net, 1 March 2016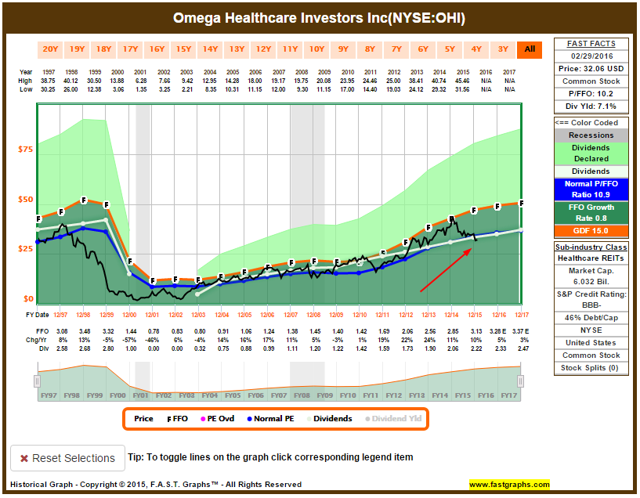 Source: FASTgraphs.net, 1 March 2016
Dividends Collected
As mentioned already, I collected $229.66 in dividends and interest during the month, all but $.01 of interest was recurring. I have updated my forward-looking dividend summary for the acquisitions during the month.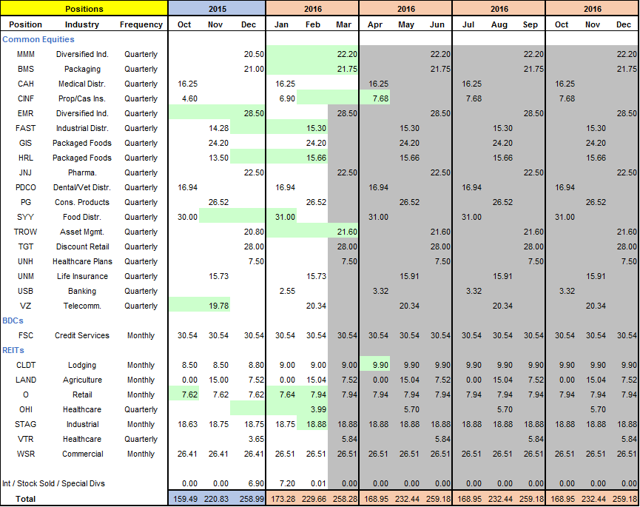 The income for the month represents a 4.0% increase in dividends over November 2015 (the prior quarter), largely driven by dividend increases and the addition of Omega Healthcare to the portfolio.

Dividend Increases
As I highlighted in the title of the article, the portfolio had four positions announce increased dividends. I had anticipated the increases from dividend stalwarts 3M (NYSE:MMM), T. Rowe Price (NASDAQ:TROW) and Bemis (NYSE:BMS), but was pleasantly surprised to receive a nice bump from Chatham Lodging (NYSE:CLDT) as well. I wasn't sure if they would raise the dividend given the struggles in the lodging space and the fact that they issued a special dividend not long ago.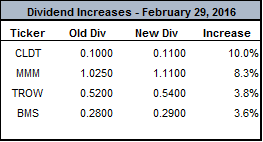 With the 2016 dividend increase tally now at 8 increased positions of the 26 in the portfolio (just over 30%) it seems likely that the pace of increases will slow a bit during the coming quarter. Either way I am happy with the early results.
Looking ahead the next wave of increases is likely to come from the "Health" segment of the portfolio with Johnson & Johnson (NYSE:JNJ), Patterson Dental (NASDAQ:PDCO), UnitedHealth Group (NYSE:UNH) and Cardinal Health (NYSE:CAH) all having historically increased around this time. Proctor & Gamble (NYSE:PG) should be increasing the dividend as well.
Summary
February was a fun and eventful month for the portfolio. The portfolio is performing very well thus far in 2016, outpacing the broader indices. Income continues to grow at a stellar clip. Dividend increases came in as expected, and Chatham somewhat surprised.
I will write more about it in the not too distant future, but the MnM Portfolio is going to grow soon. Life happens and I am voluntarily changing jobs for a new opportunity. That being said, I will be rolling an additional $12k or so of funds into the portfolio, and additional research will be needed in effectively deploying the funds (i.e. new positions, filling in positions, etc.).
Also, I appreciated all the feedback last month, and of all the stocks mentioned I think Old Republic (NYSE:ORI) intrigues me the most. I do have a bias towards insurance. I will add a number of the suggestions to my watchlist.
Lastly, I also wanted to say THANK YOU all for joining me in this journey. It's hard to believe it was about a year ago that I took the jump and began writing on Seeking Alpha. I never thought I would write. You've seen my successes and failures, you've fact checked me, tested me, and maybe even trolled me a little (but fortunately not too much). I've learned a great deal from you as I have shared my results -- you have my thanks.
Disclosure: I am/we are long THE STOCKS LISTED IN THE PORTFOLIO.
I wrote this article myself, and it expresses my own opinions. I am not receiving compensation for it (other than from Seeking Alpha). I have no business relationship with any company whose stock is mentioned in this article.