In case you're just joining us, I've been bearish the stock market for the past 6 months. Over the past 6 months, we've seen the S&P 500 (NYSEARCA:SPY) fluctuate and swing wildly to the downside. Even though we've seen the bottom fall out of the market and the S&P 500 trade to the lowest levels in several months, I think we need to start cautiously look towards the long side.
Now don't get me wrong, I still think there is a possibility that the market will continue its downward momentum. However, if anything, we must be data-driven in our analysis. And as I've been pouring over the numbers, a couple of things have stuck out to me.
First, one of the primary drivers I have examined is the ISM Manufacturing Index. I found that manufacturing changes are strongly predictive of changes in the S&P 500 and the readings from several months ago indicated months of downturn. We've seen this downside, but not in the full fury that I was expecting. In fact, even though the ISM Manufacturing index is showing a reading below 50 (which historically signals that a recession is in the works), we may in fact experience a bottom soon.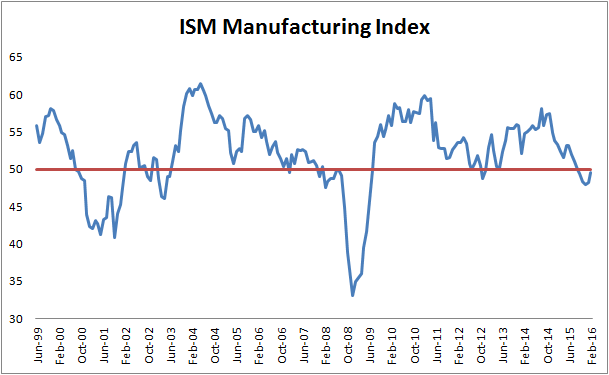 If you look at the chart above, you can see it - we're witnessing a rebound in manufacturing activity. This means that even though manufacturing activity is at levels typically associated with economic weakness, the recent gains indicate that the blip may be short-lived. To frame this up with some data, here's a chart showing a rolling quarterly view of the index.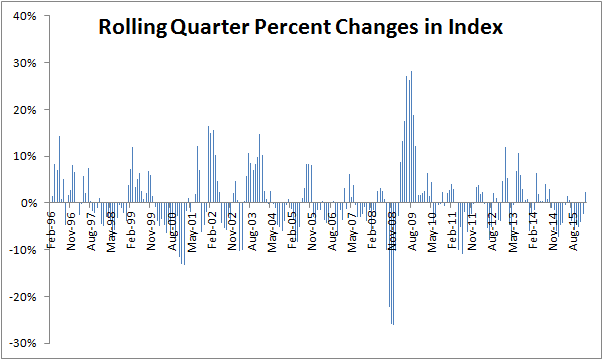 Did you catch it? The index is now registering a positive percent change on a rolling quarterly basis. What this means is that a comprehensive economic indicator which monitors employment, production levels, inventory levels, orders, and deliveries is indicating that business activity is picking up. In other words, the economic downturn we were calling for may have actually run its course without giving us that much volatility in the overall market.
Even though manufacturing (and the economy at large) is now strengthening, we need to stop for a second and remember that the economy has been troubled since late 2014. In fact, since November of 2014, we have only seen 3 months in which the trailing quarter change in PMI was positive. This is significant in that it indicates that business has been lagging for a while and the bottom may be in. From a fundamental standpoint, it may be time to buy stocks to capitalize on the trend of strengthening economic activity which will filter through to the stock market.
I really don't like making a decision based purely on descriptive analysis. Why do we spend so much time trying to understand economic relationships when we can simply allow clear data to speak and direct our decisions? Here's what I'm getting at - if my assumption that growing economic activity equates to a positive stock market return is true, this should reflect through in the data. Let's see what the data says.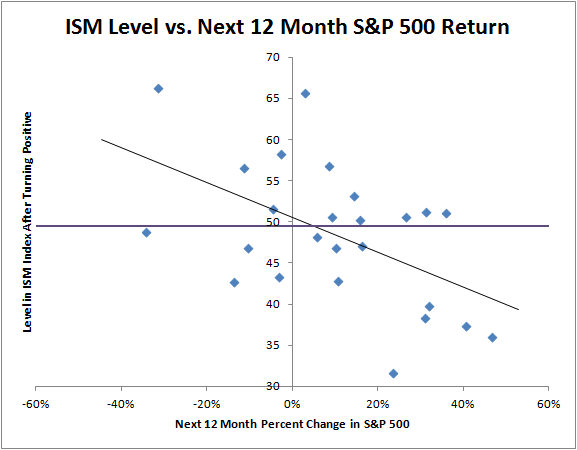 The data is pretty straightforward and conclusive. When the ISM Manufacturing Index is negative for 6 or more consecutive rolling quarters and then turns positive, the stock market rallies most of the time. In fact, the farther the index falls, the stronger the market rallies. To give perspective on historic levels, I've highlighted the most recent reading of 49.5 - basically we've experienced an average slowdown in economic activity which is rebounding. I really didn't think I'd say it this soon, but it's probably time to buy the S&P 500, in particular the S&P 500 ETF .
Disclosure: I/we have no positions in any stocks mentioned, and no plans to initiate any positions within the next 72 hours.
I wrote this article myself, and it expresses my own opinions. I am not receiving compensation for it (other than from Seeking Alpha). I have no business relationship with any company whose stock is mentioned in this article.