By Mike Kapsch

While many industries (airlines, power, trucking, etc.) continue struggling due to uncertainties in the global economy, one market experiencing no growing pains is mobile data traffic.
Just this month, Cisco Systems (Nasdaq: CSCO) released a report called the Cisco Visual Networking Index: Global Mobile Data Traffic Forecast Update, 2011-2016.
And the numbers were simply astounding.
In 2011:
Global mobile data traffic grew 133%, more than doubling for the fourth year in a row.
Average smartphone usage nearly tripled.
The number of mobile-connected tablets tripled to 34 million.
Mobile data traffic was eight times the size of the global internet in 2000.
But what's even more eye opening is the road ahead…
Mobile Data Set to Get Much, Much Bigger
By 2016, Cisco predicts mobile data traffic will be 18 times bigger than it is today.
By that time, it's estimated that over 100 million smartphone users will download over 1 GB of data per month. That's the equivalent of downloading roughly 200 songs or sending and receiving over 1,000,000 emails every month.
I know that may sound like a lot at first. But it's really only about two hours of video, which Cisco says will account for two-thirds of global mobile data traffic by 2016.
Plus, the number of devices capable of consuming data is also sending data traffic much higher. Take a look at this chart: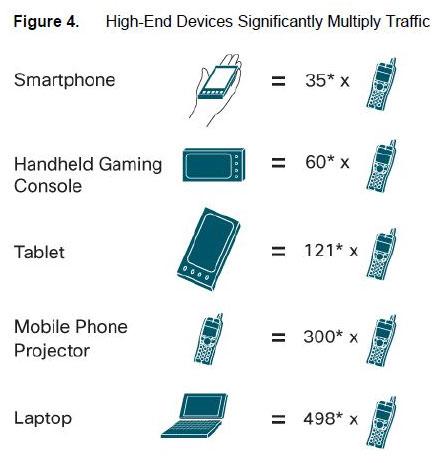 Cisco reports the average smartphone is capable of generating as much data traffic as 35 basic-feature phones. And laptops can easily use 498 times the amount of data a typical phone can.
For wireless providers, this is both good and bad news.
The Yin and Yang for Wireless Networks
The good news for wireless network providers is they won't need to worry about a shortage of business anytime soon.
The bad news, as MIT's Technology Review says, "Wireless networks are showing signs of congestion… The major U.S. carriers – AT&T (NYSE: T), Verizon (NYSE: VZ), Sprint (NYSE: S) and T-Mobile – all are groaning under the growing demands of bandwidth-hogging smartphones, tablets and wireless data cards for laptops."
In fact, The Wall Street Journal recently reported some carriers could face "crippling shortages… as customers clog the network with video and music downloads to their iPhones and tablet computers."
In order to keep pace with big data demands from customers, wireless providers are taking drastic steps to increase the amount of data on their networks.
Providers are even looking beyond traditional Wi-Fi, to technologies like "white spaces," to increase the amount of data they can provide and the speed at which their devices run.
And one company that could benefit from the development of these white spaces is Neustar (NYSE: NSR). Back in September 2011, Neustar was one of 10 companies the FCC gave the "ok" to dabble in the technology.
No matter which method the carriers devise to expand the wireless spectrum though, one sector will definitely benefit – semiconductor companies that provide wireless infrastructure chips such as Texas Instruments (Nasdaq: TXN), Integrated Device Technology (Nasdaq: IDTI) and Atmel Corporation (Nasdaq: ATML) could potentially make a fortune.
Disclosure: Investment U expressly forbids its writers from having a financial interest in any security they recommend to our subscribers. All employees and agents of Investment U (and affiliated companies) must wait 24 hours after an initial trade recommendation is published on online - or 72 hours after a direct mail publication is sent - before acting on that recommendation.