On Thursday last week, Whiting Petroleum (NYSE:WLL) had released its latest set of results for the fourth quarter of 2015. As expected, the company posted a steep decline in both its top and bottom lines due to the weak oil pricing environment, but despite this, the stock has appreciated close to 17% since the results were released.
The reason behind Whiting's recent rally can be attributed to the company's decision of cutting its capital expenses by 80%, along with the fact that it has decided to put a hold on fracking from April 1. This move has been received well by investors as Whiting's shares have pulled up from their 52-week lows of late. Additionally, the recent uptick in oil prices from around $26 a barrel on February 11 to almost $34 a barrel currently has also helped Whiting make a comeback.
Going forward, I think that Whiting will be able to keep its recent momentum intact as the company is slated to benefit from a number of factors. Let's take a look.
The market could attain balance
In February, according to a Bloomberg survey, OPEC's oil production was down by 79,000 barrels per day on the back of production declines by Nigeria and Iraq. Considering that Iraq is the second-biggest oil producer in the OPEC, a production decline of 125,000 barrels per day played a key role in bringing down the cartel's output. More importantly, Saudi Arabia kept its production at January levels, consistent with its pledge of freezing output at January levels.
Looking ahead, Saudi will continue to work with other major oil producers in the OPEC to keep a lid on production, as the Kingdom wants to reduce the volatility in oil pricing. In my opinion, this is the beginning of a process to rebalance the oil market as major oil producers are feeling the pinch of lower prices.
In fact, OPEC member Venezuela loses $685 million in income for each $1 decline in oil prices and needs oil price to remain at $160 a barrel to balance its budget. On the other hand, the likes of Russia, Saudi Arabia, and Iran require oil prices of $105, $106, and $131, respectively, to balance their budgets. Hence, it is not surprising to see why key OPEC members are starting to yield to their earlier stance of fighting for market share.
On the other hand, non-OPEC production is anticipated to drop this year. As per the EIA, non-OPEC oil production in 2016 is expected to drop by 600,000 barrels per day this year after growing by 1.4 million barrels per day last year on the back of lower production from the Lower 48 states. This is driven by the fact that a number of oil companies in the U.S. have been forced to reduce their capital spending budgets once again this year in light of the continued volatility in oil and gas prices.
Additionally, the consumption of petroleum and other liquids is expected to rise in the coming years. For instance, after increasing by 1.4 million bpd last year, the EIA expects that consumption will rise once again by 1.2 million bpd this year and by 1.5 million bpd next year. Hence, it is not surprising to see that the market is expected to attain a demand-supply balance next year: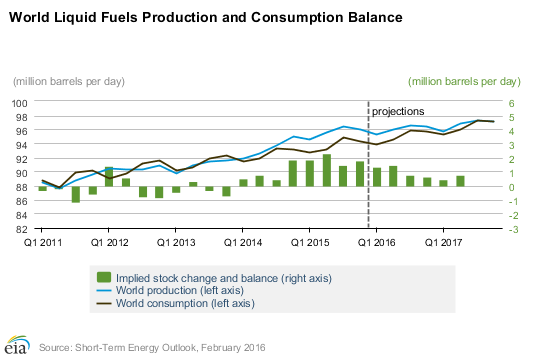 Source: EIA
Whiting's cost reductions are on track
Whiting did impressively last year on the cost reduction front. Its lease operating expenses went down by 22% in 2015, while general and administrative expenses saw a decline of 32%. This is shown in the chart given below: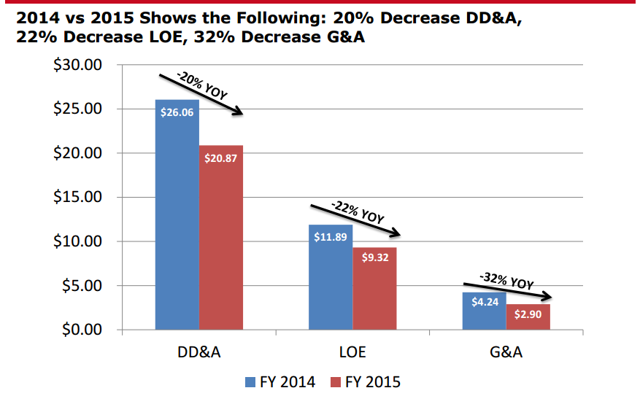 Source: Investor presentation
Even after this decline in costs, Whiting had managed to keep its production up by 40% in 2015 on the back of advanced fracking techniques such as using 30% more frac sand. As a result, the company can manage to reduce its capex by 80% this year to just $500 million, the majority of which will be spent in the Bakken and Niobrara, while the rest will go to maintenance activities. More importantly, the impact on production will not be as severe as compared to the capex decline, as Whiting intends to pump between 128,000-138,000 BOE/day this year as compared to 155,210 BOE/day in the last quarter of 2015.
This will help the company reduce the burden on its balance sheet to some extent and allow it to improve the cash flow performance due to the massive drop in capital spending. In fact, of its total budget, Whiting will spend just 10% on exploration this year. Hence, Whiting can direct its capital savings this year toward reducing the debt, and the fact that the company does not have any large debt maturities until 2019 will give it enough time to bring the balance sheet back in shape especially because it will be able to satisfy its debt covenants.
Conclusion
Whiting Petroleum is sitting back and waiting out the adverse pricing environment in the crude oil industry. It has done the right thing by reducing costs dramatically and keeping production low in order to limit its losses. So, according to me, Whiting Petroleum's shares are worth holding on to as the positives in the oil market, along with its operational efficiency, will allow it to improve its performance in the long run.
Disclosure: I/we have no positions in any stocks mentioned, and no plans to initiate any positions within the next 72 hours.
I wrote this article myself, and it expresses my own opinions. I am not receiving compensation for it (other than from Seeking Alpha). I have no business relationship with any company whose stock is mentioned in this article.